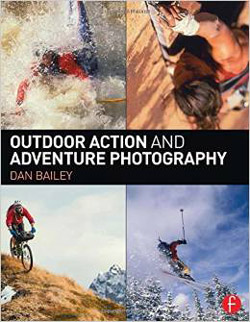 This Sunday evening, May 31 at 5:30 pm, I'll be doing an adventure photography presentation and book signing for my brand new Focal Press book, Outdoor Action and Adventure Photography.
The event is being hosted by The Trek Store of Anchorage. During the presentation, I'll talk about my system for carrying my camera gear and shooting while biking, hiking, skiing powder climbing mountains and exploring out in the world, and I'll show a mix of photos from some of my recent adventures.
And, of course, I'll be signing copies of my 300-page outdoor adventure photography how-to book, which is currently in the Amazon Top 20 Sports Photography Books ranking. The Trek Store will have copies for sale.
If you don't live in Anchorage, or if you'll be unable to attend, you can grab a copy of my book at Amazon. Reviews are starting to come in, and so far, they're very positive.
I'm so excited about this book. Not only did the publisher do an amazing job with the layout and printing, it's packed with tons of relevant and detailed information that can help you become a much better outdoor photographer, no matter what kinds of outdoor pictures you like to shoot, or what your skill level with photography is. You can read an excerpt of the book here on the Focal Press website.
If you've already bought a copy of my book, I'd like to thank you for your purchase and kindly ask you to leave your own review at Amazon. Reviews makes a big difference to increase the book's visibility and it helps other outdoor photographers find it when they're looking for an instructional manual that matches their style.
Thanks so much! I hope you have an adventurous weekend!
Related articles across the web