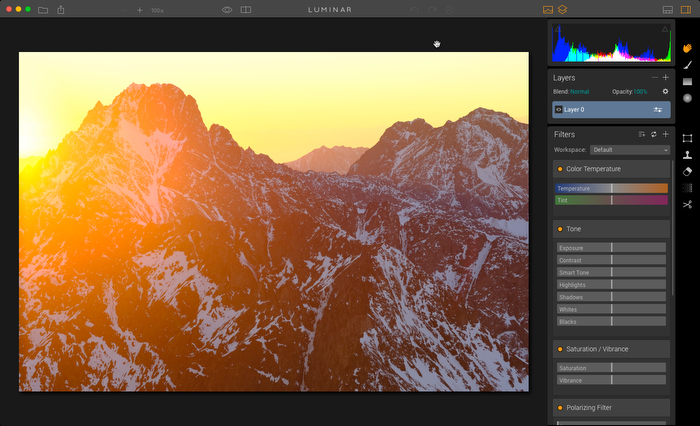 This week, software company Macphun introduced a brand new photo editing app for Mac, called Luminar. Built from the ground up, Luminar offers a powerful photo editing solution with a beautiful and very easy-to-use, totally customizable user interface.
Designed to run as either a standalone program, or as a plug-in with Lightroom and Photoshop, Luminar gives you an expansive array of creative options, including filters, blending, brushes, layers, masks, RAW conversion, gradients, color and tonal adjustments, split toning, sharpening, noise reduction, etc…
However, the real strength of the program is that you can run Lunimar in whatever way you feel comfortable with; in whatever way matches your skills, or your timeframe.
If you're comfortable with making adjustments yourself, you can make use the vast array of sliders and adjustment tools. If not, or if you just want to streamline your workflow and save time, you can apply any number of creative filters and presets that are included in the program.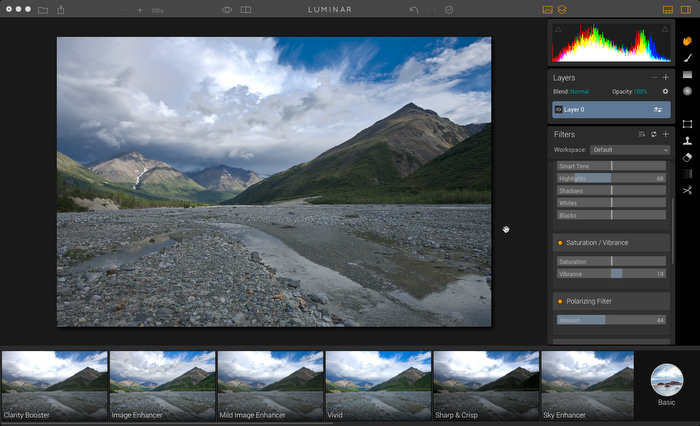 You can also customize your workspace and have multiple saved workspaces for editing different types of photos. There are a few default workspaces (Landscape, Portrait, BW and Street), and you can create you own by selecting which tool panels you want included in each space.
It's so easy to navigate the interface, no matter if you're making adjustments, zooming to 100%, selecting panels to show in your workspace, or saving/sharing/exporting photos. Luminar has an export button that lets you save your files or instantly share to a number of social media outlets.
The reason Luminar is so efficient and user friendly is because the designers built it to take full advantage of the Macs graphics and OS capabilities.
Professional and Friendly
Luminar offers professional performance, including full RAW support for just about every camera on the market today, including the FUJIFILM X-T2 and X-Pro2. It actually does a good job with the Fuji X-Trans RAW files. Pretty cool, considering this program is brand new, right out of the box!
Seriously, Luminar does everything that most people will need a photo editing program to do, and it does it all very well. I'm impressed with how full-featured it is and yet, how usable and friendly it is. Imagine Photoshop power with the simplicity of the regular Mac Photos app. Luminar is so un-intimdating and non-threatening, it's everything that a photo editing app should be in this day and age.
After all, it's just a tool, and tools are the thing that stand between your vision and the final product. Your tools should offer you the most capabilities with the least amount of resistance. If they're too complicated, you wont want to use them.
If your tools are too simple, though, you won't get the results you want. Luminar offers a visually appealing experience with enough power and creative control to get the job done.
It doesn't do everything that Photoshop does, for example, it doesn't have a text panel or a Magic Wand tool, but it's got most things you'll need, and it does let you attach a watermark image to your photos. That's a total must-have, right?
That said, this is the first generation and the designers have said that they'll be releasing regular updates to Luminar. For a rollout version, it's already amazing, (that can't be said for all apps) and it will only get better. My guess is they'll closely monitor user feedback to help improve the product.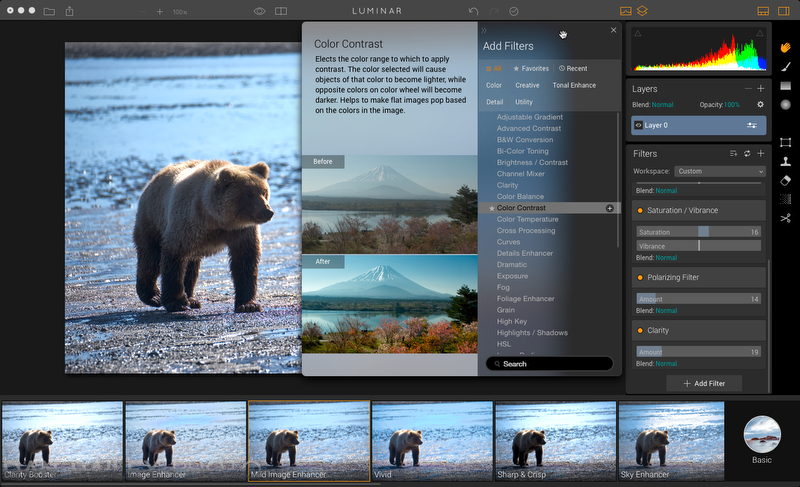 Do We Really Need Another Photo Editing Program?
I'm always on the lookout for alternatives to Lightroom and Photoshop, and Lunimar seems to have hit a real sweet spot in this realm. It lets you extend your photographic creativity into the digital darkroom without the steep learning curve that many photo editing programs have.
As my own workflow continues to evolve, I'm attracted to simple solutions. I like that Lunimar fits this criteria. Its straightforward, yet powerful interface lets me quickly edit and tweak photos with ease and produce great looking finished image files. That's what you want, right?
I've only been using it for a short time, but so far, it's proven its worth. Especially for how inexpensive the program is- Lunimar only costs $59. That's a one time fee. No subscriptions. No endless payments to the big giant company forever.
I'm pretty hesitant about recommending software, I don't use any of the popular plugins or HDR, resize, BW and FX software that's out there, again, I like to keep things simple, but I really like Luminar. The company who makes it, Macphun has a great track record- their apps have won "Best of the Year" for 4 straight years, and they're the only photography developer to have achieved this kind of recognition from Apple.
If you're looking to streamline your workflow with an easy-to-use photo editing program that's lots of fun, and that doesn't cost very much, I highly recommend taking a look at Luminar. You can download the free trial here.
Here's an example of how Luminar looks in action.
[iframe]<iframe src="https://player.vimeo.com/video/188972113″ width="640″ height="360″ frameborder="0″ webkitallowfullscreen mozallowfullscreen allowfullscreen></iframe>
<p><a href="https://vimeo.com/188972113″>Luminar for Mac: 3 examples</a> from <a href="https://vimeo.com/macphunfamily">Macphun Software</a> on <a href="https://vimeo.com">Vimeo</a>.</p>[/iframe]