Don't Forget To Carry Extra Camera Batteries!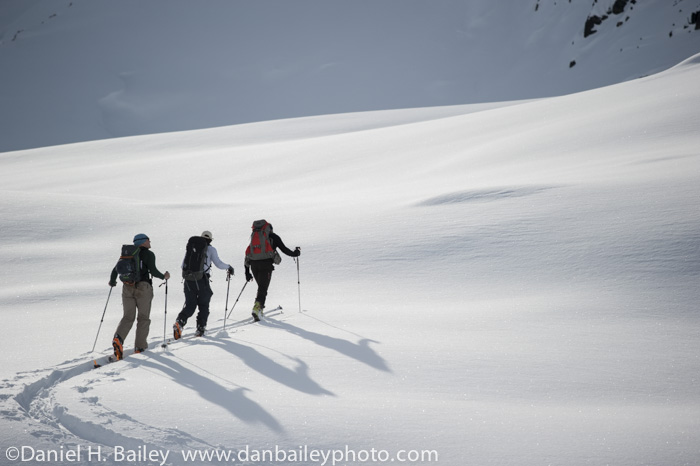 I shot this photo about a year ago while skiing at Hatcher Pass here in Alaska. It was made with my Nikon D700 and my favorite lightweight "adventure zoom lens," the Nikon 70-200 f/4G ED VR. I love this lens for backcountry adventures because it weighs about half as much as my 70-200mm f/2.8 and it's super sharp. This means I can keep up with my super fit ski friends who aren't carrying any heavy camera gear and still get pro quality images. Oh, and did I mention? It's also half the price.
Know what else I love? Extra camera batteries. Ok, so I don't really have a thing for batteries, but here's the deal: If you're shooting in the outdoors, you'd better have a least one extra battery for every camera that you own. Especially if you do any cold weather photography.
I kind of miss the days when cameras took AA batteries. I'd pop a set Energizer AA lithium cells into my SLR and forget about it. They'd last a really long time and worked great in the cold. And even if I didn't have an extra set of lithiums, you could get AA batteries ANYWHERE, like the gas station. You could even cannibalize them from your Walkman.
Now, every camera has a proprietary battery that needs its own charger. I guess in the end it's better to recharge than to throw away, but this means that you'd better have at least one extra, because if your a prolific shooter, or if you often shoot in winter, you'll be SOL if you don't one. Every watch that little battery icon turn red and realize that you DON'T  have an spare? Yea, that's not very much fun.
Here are the batteries you'll need for most Nikon and Canon DSLRs, as well as the batteries for the Fuji X cameras. If you've got another brand or type of camera, look here.
DSLR Batteries
Nikon
DSLR batteries generally last a long time, and they tend to work pretty well in the cold, but I always carry at least one extra with me at all times. More if I'm traveling or spending multiple days in the backcountry. The higher end Nikons, like the D800, D600 and D7100 use the EN-EL 15 battery. There's also a generic version available, which costs a little less. I've never used generic batteries in my Nikons, but chances are, some of them are probably the same OEM battery, just with a different label and packaging.
Most of the consumer end Nikon DSLRs, like the D5xxx and D3xxx series use the EN-EL14 battery. There's also a generic version here. These are smaller capacity batteries, so they won't last as long in the cold, so if you shoot a lot in winter with one of these Nikons, you might want more than one spare.
Canon
Many of the Canon DLSRs, like the EOS 60D, 70D, 5D II, 5D III, 6D and 7D, use the LP-E6 battery. There's also a generic version of the LP-E6, which costs a lot less.
Fuji X Camera Batteries
As cool as the X cameras are, their battery life is not what you'd find on a high end DSLR, so it's a really good idea to get some extras. The Fuji X-Pro1, X-E1, X-E2 and X-T1 all take the NP-W126 battery. I've got three of these and in fact, there have been many days when I've burned up all three during the course of a single day of shooting. Ideally, I'd like to have at least four. There's also a generic version of the NP-W126. I haven't tried it, but I've used generic batteries in my X20 with no problems.
The Fujifilm X100S is uses the NP-95 battery. I haven't used the X100, so I don't know how well it performs with regards to battery life. According to the manual, it's about the same as the other X cameras – around 330 frames. Get yourself in front of a great subject and you can burn that up pretty quickly. There are also a couple of generic versions of the NP-95.
The Fuji X20 takes the NP-50 battery, which is pretty economical. I have five or six of these of these.
Universal Battery Charger
What if you're on a road trip and don't have any way to charge your batteries? The Digipower TC-3000 Universal Battery Charger will let you charge any lithium ion, NiMh or Ni-Cd camera battery, and it also comes with a 12v adaptor that lets you charge right from your car.
Most batteries have 4 contacts, but the outer two are the active ones. You simply slide the tabs on the charger to the appropriate width and then place your battery in the charger.
Having something like this also means that you don't have to carry multiple chargers if you're traveling light and carrying more than one camera, say a DSLR and a point and shoot. You can also use it with one of the new solar charging kits by companies like Goal Zero. It will take awhile to charge a camera battery from a portable solar panel, but it's better than nothing.
Eneloop Rechargeable AA Batteries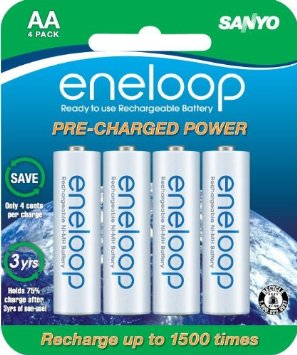 If you're using speedlights or other devices that take AA batteries, (maybe an old SLR film camera) The Sanyo Eneloops are the best AA rechargeable batteries around. I've lost count of how many Eneloops I've got kicking around in my battery drawer. I use them for camera flashes, computer mice, bike lights… anything that takes AA cells.
On average, the Eneloop batteries will hold 90% of their charge for up to one year and they can be recharged up to 1500 times with no significant memory loss that is usually experienced with other AA NiMH batteries.
Follow @Danbaileyphoto