Travel photographers, remember the old days, back when we used film? We shot roll after roll and dropped each canister into ziploc bag when it was full. Then we stuffed the bag of shot film into our backpack or duffle bag and waited until we got all the way home before we could even see the photos that we took.
No more. Now with digital cameras, we can obviously review our shot images within seconds of pressing the shutter. Photography has changed. It's instant gratification at it's finest. And with flash memory cards holding hundreds, or even thousands of images, the encumbrance factor of the travel photographer has been streamlined.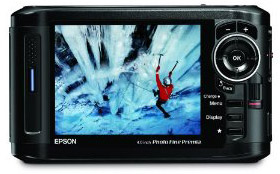 However, there still remains a dilemma. Suppose you're taking an extended trip and don't want to take a laptop with you. What's the best way to store and backup your images? Multiple memory cards? Yes, you should always carry more than you think you'll need. If you're like me and you shoot RAW, this means carrying quite a few of them. Thankfully, they've gotten much cheaper over the years. (My first 4BG card costs nearly $200. Now you can buy a two pack at Costco for $29.) However, what if you fill up your cards halfway through the trip?
These days, an increasing number of travel photographers use portable photo and media storage drives. In fact, they've become a standard piece of gear in many camera bags. Essentially hard drives with LCD screens, they're small lightweight, take up much less room than a laptop, hold thousands of images, which frees up your card space, and best of all, they allow you to view all the images that you've loaded onto them.
The Epson P-Series portable drives and multimedia photo viewers are the most popular models, they have the highest number consumer and industry reviews, and Epson has a great track record of digital imaging with their printers and scanners. They're rugged, lightweight, (1 lb.) storage devices. They have 4″ wide, great looking 640×480 LCD screens with high pixel densities that feature 16.7 million colors. They can store both RAW and JPEG files, feature both Compact Flash and SD card slots for quick image loading, allow USB transfer of files to another device, and let you view your images with great accuracy in the Adobe RGB color space. You can even print your images directly from the device.
They're quite user friendly, and have simple controls that include a jog wheel that lets you quickly scroll through your images. They come with rechargeable lithium-ion batteries that are said to last three to five hours of viewing time, (you can also buy spares) and car charger adaptors. The line features three models, the Epson P-7000 160GB, the Epson P-6000 80GB drive and the P-3000 40GB drive.
The potential downsides to a device like this is that if you reformat your memory cards after loading, this drive becomes your only backup. If you damage or lose the device, say goodbye to your images. Epson's web site says that there is no way to recover lost images from a damaged or defective drive. Maybe there is a way with other recovery software. If anyone has experience with this, or any other issue with these drives, post a comment below.
The Epson drives are proven devices that have found their way into many travel photographer's camera bags. If you're looking for a portable photo backup solution, they're definitely worth considering.