When it comes to adventure photography, Alexandre Buisse is the read deal. He gets himself into some of the most extreme and majestic places in the world and brings back truly stunning imagery.
His brand new eBook, Extreme Perspectives: An Introduction to Mountain Photography is the latest release from Craft and Vision, who we all know has set the bar for the rest of us visual content publishers to follow, and it's not only a beautiful collection of breathtaking mountain sports imagery, it's a concise and well written manual on adventure photography.
A condensed version of his latest book, Remote Exposure: A Guide to Hiking and Climbing Photography, Extreme Perspectives explains the equipment, the technical and creative considerations and the vision that he employs when he's shooting in these awe-inspiring locations. He not only takes you there, he walks you through the methods that he uses to create his imagery.
However, Buisse clearly understands that not everyone is going to find themselves on some remote alpine ledge in the middle of a thousand-foot wall of ice and snow. What makes him such an effective teacher is that he presents his material with the mindset that great outdoor imagery is something that everyone is capable of doing, whether you're an extreme athlete or not. It's all about finding your own creative vision and applying what skills you do have to your own photography in the world that surrounds you. Hmmm, sounds like someone I know… 😉 Maybe that's why I like this book so much!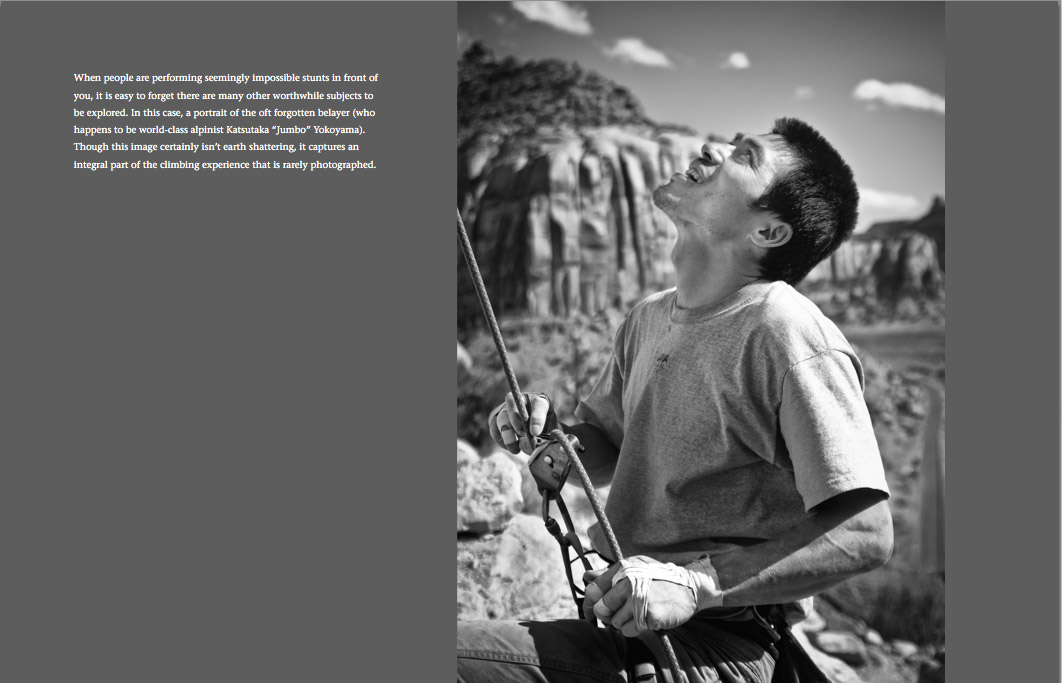 Extreme Perspectives is broken up into three sections, I – Gear and Technique, II – The Vision and III – Image Studies, where he shows a number of images and explores the specific elements that make a each shot work, or even better, why they DON'T work. You only get so far by only studying the good shots. I find this to be a very effective teaching tool. This section takes up the majority of the book and it's filled with both visually stunning photographs and clearly explained visual, aesthetic and technical concepts.
Reading this eBook, I'm intrigued to check out his more indepth book, Remote Exposure, but for only $5 Extreme Perspectives: An Introduction to Mountain Photography is definitely an worthwhile and inspiring 33-page title that is sure to awaken the adventure photographer in you, whether you like to shoot extreme mountain sports or hiking on the trails in your neighborhood park.