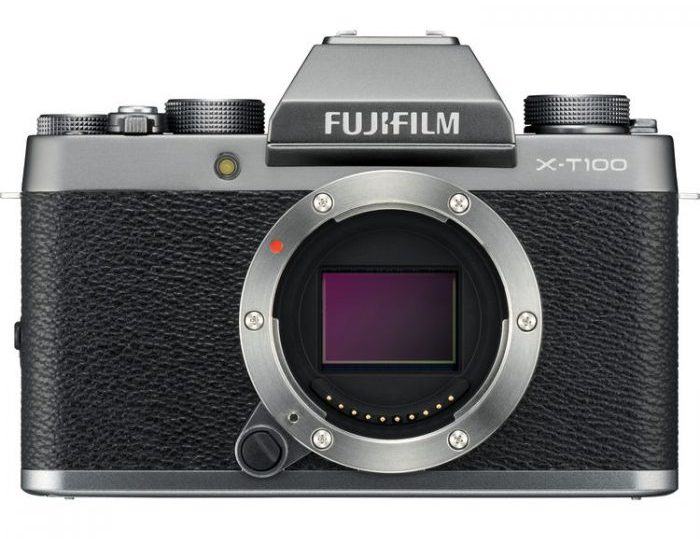 Although Fujifilm has an awesome selection of mid-range and high-end cameras, in my opinion, the "budget end" of the X Series has been somewhat lacking.
They had the X-M1 and the X-A series, which is now up to the X-A5, but none of these models seem to have the same X Series mojo as the X-T2, X-Pro2, X-T20 and X-E3. I've always felt they need a budget version of something like the X-T20 to attract more new photographers.
Problem solved. Yesterday, Fujifilm announced the new X-T100, an entry level interchangeable lens camera that offers a very similar look and feel to the X-T20, but with higher performance and more features than the X-A5. Whereas the X-A5 is kind of an abbreviated X Series, the new X-T00 is X Series to the core.
Best of all, it has a consumer level price point- one that can match Nikon and Canon's budget models. Also, since Mirrorless camera actually offer some huge benefits over traditional DSLRs, in many ways, it's a more powerful camera than those entry level Rebels and D3400 models.
With a stylish, "retro" SLR style design, the X-T100 has a nice compact body with milled metal dials, a 24.2 megapixel sensor, a 3-way tilt LCD screen wth touch capability and Bluetooth connectivity, and EVF (Electronic Viewfinder), which the X-A5 does not have.
Inside, the X-100T you'll find many of the standard X Series Features:
11 Film Simulations, including Velvia, ASTIA and Monochrome
All those fun Adv. Filter Modes, like Toy Camera, Miniature, Dynamic Tone & Partial Color
ISO up to 12800, extendable up to 51,200
6 fps shooting
Fn Buttons & Q Menu
Video recording
91-point Phase Detect autofocus
Decent battery life (Over 400 shots per charge)
Built-in flash
14-bit RAW shooting
What's Missing?
In order to bring the X-T100 in at only $599, they has to make some compromises. The main differences between this model and the higher end X Series cameras is that it has a regular CMOS sensor instead of Fuji's X-Trans sensor, and it doesn't have the super fast X Processor Pro chip.
In short, it won't have the same AF speed and performance as the other models, it doesn't have the ACROS film sim and it doesn't have as large a buffer for shooting a lot of continuous frames. Also, it's not weather sealed, but then again, neither are the X-T20 and X-E3.
And although it does shoot in a variety of video formats, even High Speed HD, it can only capture 4K at 15 fps.
​​​​​​​However, that doesn't mean that the X-T100 isn't a great little camera, because it is. You still get excellent image quality with those wonderful Fuji colors and nearly all of the creative capabilities that you'll find on the other X Series cameras. In fact, many of the settings I cover in X SERIES UNLIMITED are totally relevant to the X-T100, as well.
Also, not everyone is totally in love with the X-Trans sensor.
Some software (cough… Lightroom) hasn't always done an excellent job demosaicing the X-Trans RAW files, and although most programs have gotten remarkably better, some shooters would rather have a standard CMOS type sensor.
So, there you go.
Who is the X-T100 For?
In my mind, it's pretty straightforward. The X-T100 is the ideal camera for someone who wants a Fuji, but doesn't want to spend $900.
Starting at only $599 for the body, or $699 with a lens, the X-T100 is a very attractive choice for someone who might otherwise turn to a beginner DSLR, simply because they're less expensive. This gets them in the door shooting mirrorless and opens even more people up to the true mojo of the X Series system.
It's also an excellent backup camera if you're already shooting one of the higher end models. It's quite small, so it's a great travel camera.
And, of course, it's compatible with ANY and ALL of the X Series lenses, so it could function nicely as a second camera, or as your main Fuji, if you'd rather spend your money on glass than a more expensive body.
In the end, the X-T100 is just an awesome, inexpensive, yet powerful, classic little camera for general photography, especially if you're not a heavy action shooter or someone who abuses your cameras.
Oh, and it comes in 3 colors: Black, dark silver and champagne gold. Just like an iPhone, only it's way cooler and much more fun.
You can read about the X-T100 at the Fujifilm website, and you can preorder it here. It's slated to hit stores on June 18.
[iframe]<iframe width="468″ scrolling="no" height="60″ frameborder="0″ style="border:none;" border="0″ src="https://mer54715.datafeedfile.com/widget/aff_widget_prdt_generate-2.0.php?aff_num=6746&aff_net=1&widget_num=8085&sid=" marginheight="0″ marginwidth="0″></iframe>[/iframe]