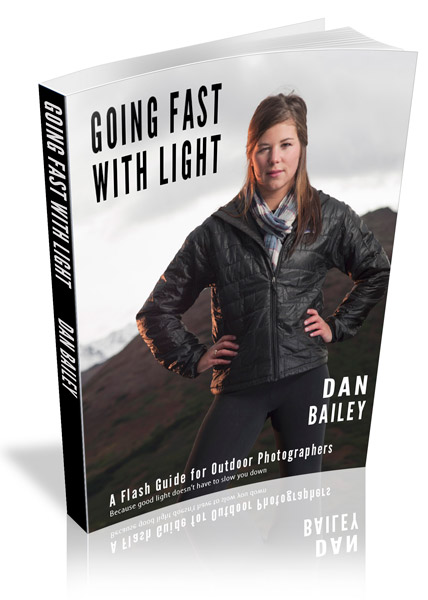 One year ago I released my eBook, Going Fast With Light. At the time, I had no idea how well it would sell, because as you've probably seen, there are a number of really great lighting resources and books out there.
However, my ebook seemed to have struck a chord with a huge number of photographers. These are people who want to experiment with strobes and off camera flashes, but don't want to carry heavy gear around or spend time dealing with the technical stuff when they'd rather be concentrating on things like light, expression and moment.
I've found that there are many photographers out there who recognize that using supplemental lighting can make a huge difference in their outdoor images, but they're either intimidated by the gear or the technical aspects of using flash. They either don't have or don't want to lug studio gear into the outdoors. Can't say that I blame them! In short, my eBook shows you how to get great light without sacrificing mobility
I wrote Going Fast With Light to reflect my own style of moving and shooting quickly in the outdoors, which is something that I figured would relate to other photographers as well. Since I often find myself out in the world without assistants, whether hiking, biking, skiing, or just traveling with with a backpack in the mountains, I pretty much have to carry all of my gear. Also, I often don't have the luxury to plan out entire shoots and work all day to make them happen. More often than not, I see dynamic scenes begin to unfold outside, and I work to capture them quickly. That's called going fast with light.
As a working pro, I need to create images that stand up to professional standards, which often means bringing some kind of light with me. Over the years, I came up a system of carrying, supporting, using, modifying and triggering off camera flashes in ways that fit with my fast moving, dynamic style. I became a better photographer just writing the book, and from all the response I've received, I can pretty much guarantee that you'll get better by reading it. If you buy the book and don't get anything out of it, I'll give you your money back.
In Going Fast With Light, I show you effective lighting schemes that allow you to get great light with just one or two flashes. I also show different methods for triggering remote flashes, and I present an entire array of tips, techniques, equipment and light modifying tools that you can adapt for use in your own style. These are lighting rigs that are all highly portable, that let you achieve professional results without compromising your own fast moving style.
In addition, I run through an entire flash workflow that clearly explains all the steps needed to effectively use flashes. I break flash down into an easy-to-understand series of simple decisions that help you determine how your picture will look. I even show you how to make flash not look like flash, which is crucial for many types of outdoor work.
If you've ever had a hard time fully understanding how to use flash, or if you want to learn how to get dramatic, creative and professional imagery without making things too complicated for yourself, check out Going Fast With Light. With 83 pages, almost 100 images, and over 20,000 words of text, this eBook contains a tremendous amount of practical information and enough ideas to inspire your own creativity and advance your confidence with using off camera flash. As I said when I first released it, this book will change your photography. One year later, I still believe that.
Why? Because in the end, good light doesn't have to slow you down.
Going Fast With Light has become my bestselling eBook. If you're one of the people who's read GFWL during the past year, then I'd like to give you my deepest thanks for supporting my teaching efforts and letting me help you become a better photographer. If not, then accept my guarantee and give it a try!
Regular Price: $19.95
Get it now for only $14.95 before the price goes up!
Join my Affiliate Program! Spread the word and earn referral income by promoting my eBooks.
Testimonials:
Here's what others have to say about Going Fast With Light:
"A great resource for exploring the strobist life. I can see it being a great help to those who are new to using off-camera flash. Wish I had [a book] like this when I was just starting out!" -Tim Snow, Professional Montreal Photographer
"Going Fast with Light," has a great straight forward and simple approach. The traveling light part without a ton of gear, helps reduce the intimidation factor of using flash. It's full of great techniques, example photos, and proven methods used in the field regularly." – Chance Woodridge, IL
"Going Fast With Light covers the full gamut of what you'll need to know in order to get really beautiful off-camera lighting in outdoor photography situations." – Janine Fugere, Boulder, CO