Little Switzerland, Alaska 2007 Trip Report
On July 22, Eric Parsons and I flew into the area known as Little Switzerland, which is located on the Pika Glacier in the Alaska Range, about 35 miles southwest of Denali. First discovered and named by legendary bush pilot, Don Sheldon, Little Switzerland features many high quality moderate rock climbing objectives on granite towers in an incredible environment. Unfortnately, days of heavy fog over the Pika caused us to wait at the airstrip in Talkeetna and watch our number of possible climbing days diminish. Eventually, though, a clear window presented itself and we were able to fly in and land under blue skies, although we did constant battle with rain and fog over our entire week in the Pika.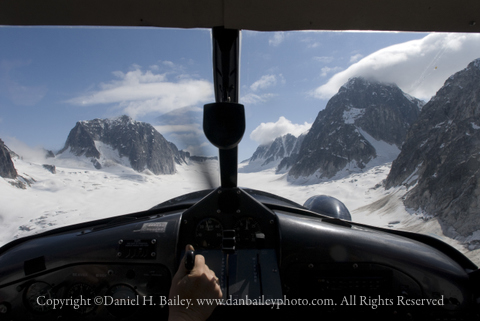 (Flying into the Pika Glacier)
Wasting no time with the weather window, Eric and I dragged our gear across the glacier, set up a quick basecamp, donned our harnesses and immediately began skiing towards the formation known as The Trolls, which are three very prominent towers located on the eastern side of the upper Pika Glacier, with our sights on the Middle Troll, the tallest peak in the group. (1,300 feet III, 5.8) The weather held and after some very enjoyable crack climbing, we summitted at 1:00AM, under the midnight sun in 24-hour Alaska daylight, which at times can be a bit strange. Experience being "darked on" a few times in my climbing career has taught me that when you see the sun heading towards the horizon, you don't keep going up, you start going down. Of all the ojbective hazards and obstacles in the Alaska range, darkness is simply not one of them and you can literally climb at all hours of the day or night.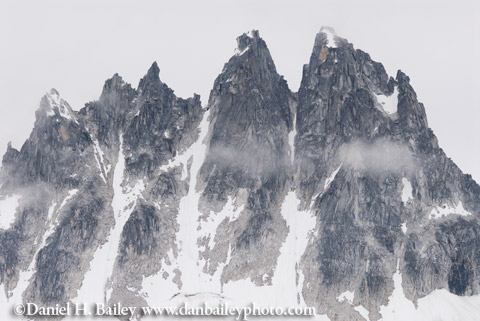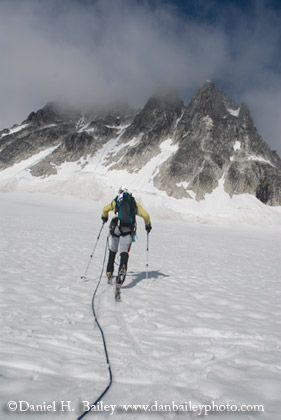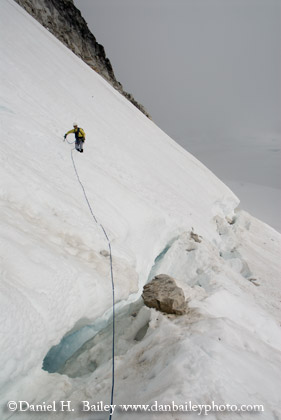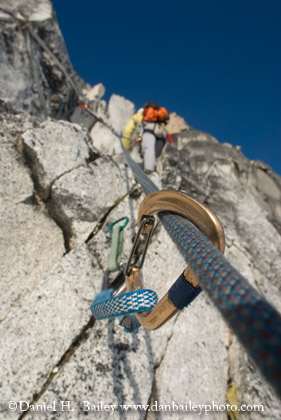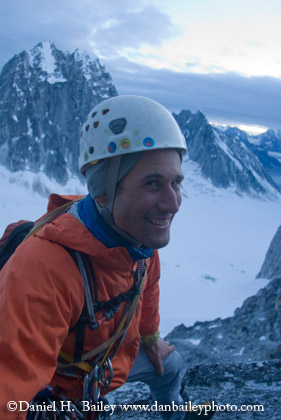 Our second objective was "The Lost Marsupial" route, which is the prominent rounded ridge on the south face of The Throne. (III, 5.8) Unfortunately, we were rained off on our first attempt, but went back the next day to finish the route and reach the summit. The knife edge summit ridge on The Throne offers some very interesting climbing over steep snow and wet rock, which made for an exciting descent as well.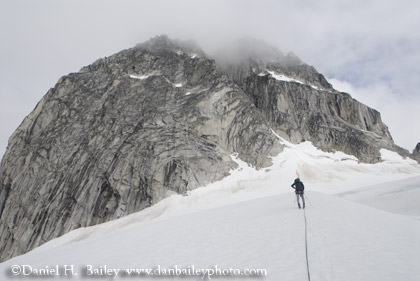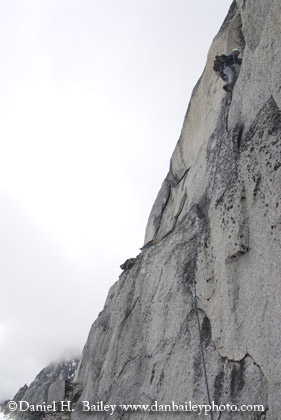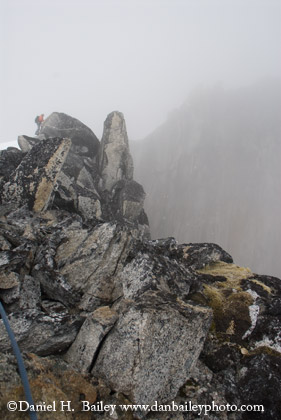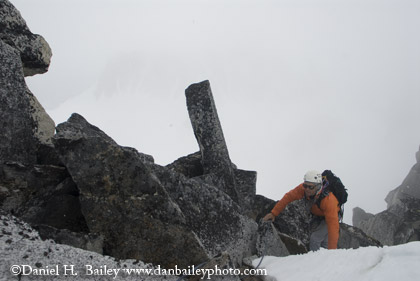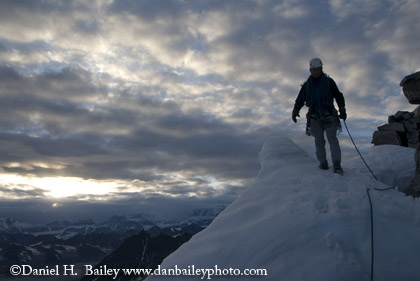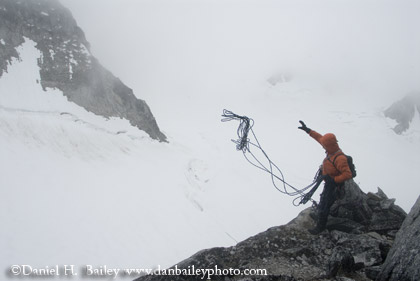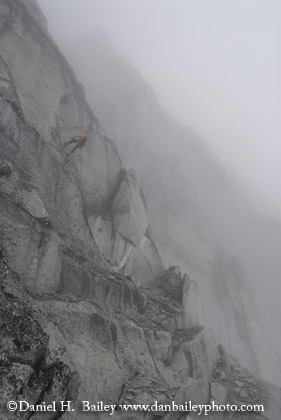 My photo gear weathered the rain with no problems, and I kept a cotton bandana in my pocket at all times to wipe water off of the lenses. I climbed with my Nikon D200 camera and two lenses (17mm and 85mm) every day, usually keeping the gear in my pack for the vertical climbing sections and using my chest pouch or around my neck while skiing around the glacier and walking on summit ridges. While on the Pika, I experimented with some time lapse interval photography, a feature that's built into the D200. I plan to combine the images into a short time lapse video and post here at a later date.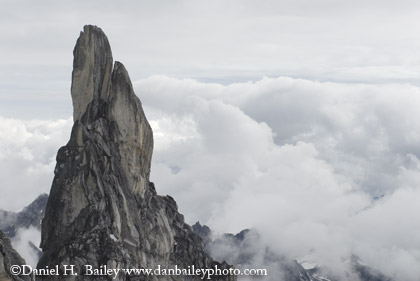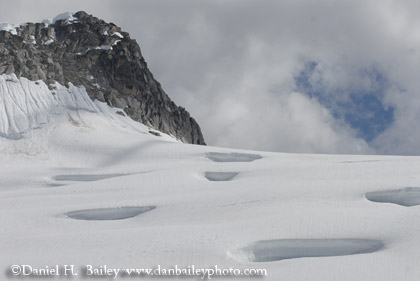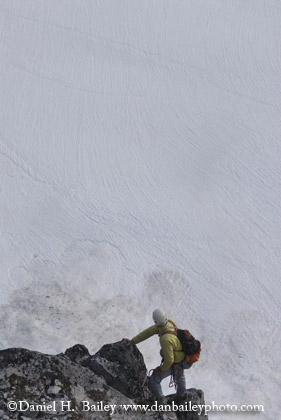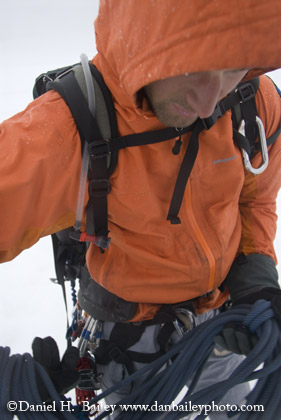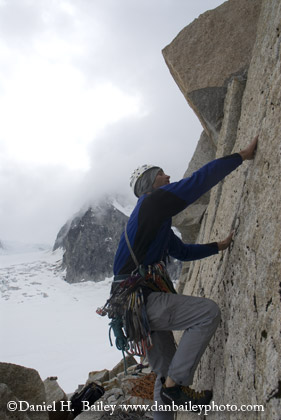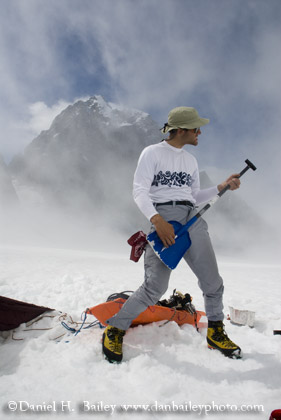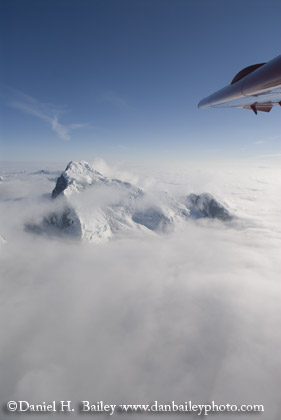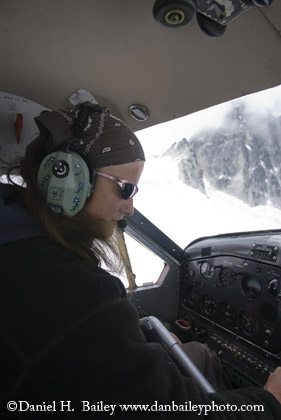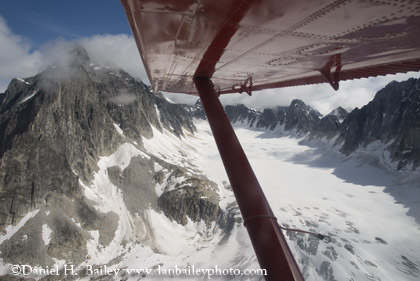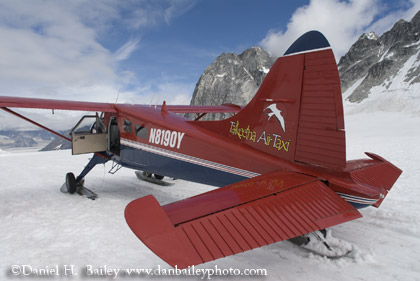 Although the weather prevented us from climbing anything else during this trip, our week in Little Switzerland has definitely inspired us to go back. There is certainly enough rock there to satisfy many trips into this incredible area.
Here are a few more images from my 2007 Pika Glacier trip. Also, check out the REAL Story of our Little Switzerland alpine climbing trip! Finally, here is a video that Eric shot of our exploits on (and off) the Pika Glacier.
Special thanks to all the pilots and crew at Talkeetna Air Taxi for the incredible flights and for putting up with our shenanigans during our three days of waiting out the weather.
And finally, if you're planning a trip to this region and you don't already have Joe Puryear's Alaska Climbing guide book, you'll want to pick up a copy. It's got topos and route maps for all the classic climbs in the area.
Follow @Danbaileyphoto