Mastering Canon EOS Flash Photography, by NK Guy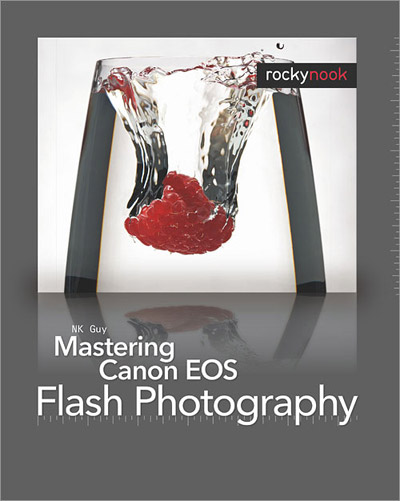 When it comes to resources for learning off-camera flash, we Nikon guys have The Hot Shoe Diaries by Joe McNally. Aren't we lucky. After all, Joe is The Man. We like to gush all over him.
Worry not, Canon people, you have another option for learning your own systems: Mastering Canon EOS Flash Photography by NK Guy. 432 Pages and 15 chapters of Non-Nikon flash instruction, written just for you.
This authoritative guide was written to teach you how to navigate your way through Canon's own Speedlite system, (of which I know nothing about!) and according to reviews, it does that exceptionally well. It's been called this the "Missing Manual to Canon Flash."
Starting with the fundamentals, Mastering Canon EOS Flash Photography covers the basics of Canon flash before delving into key lighting concepts like flash exposure compensation, bounce flash, daylight fill flash and how add a second flash.
Part B is all about technology and Canon's specific settings. Automatic flash metering, using external Speedlites, ambient vs. flash light metering, A-TTL, E-TTL, High-speed sync, Slow shutter sync, metering patterns- it's all covered, and then some.
Part C deals with equipment. This section details the entire line of Canon Speedlites, both new and old, as well as a huge range of compatible third-party units. It also covers flash accessories and light shaping tools. Stands, clamps, softboxes, diffusers, reflectors, studio flash, wireless flash control and radio triggers. There are over 150 pages of useful items listed in this chapter alone. It even tells you how to make a Nikon SB-800 play nice with your Canon toys. Imagine that.
Part D covers technique. This is where you learn more about concepts such as light direction, color, intensity and quality. This is where you learn how to build images using your Canon flash. Hard light. Soft light. Ambient light. Wide light. Narrow light. Enough detailed info and examples to really expand your creativity and technical capabilities.
In addition, there are appendices, FAQs, tables, list, flow charts and, of course, tons of great photo illustrations. There's even a forward by none other than Mr. Strobist himself, David Hobby. And he's a Nikon user!
Mastering Canon EOS Flash Photography is a well written, comprehensive manual that will show you how to understand and get the most out of your Canon flash system. If you're a Canon user, I'd highly recommend this book as a very worthy investment and reference manual to your craft. Even if you're a novice flash user, it's something you can grow into as you progress with your gear and skills.
As much as I like to rave about the McNally book, this one actually has way more detailed info about gear, recommended kits for specific types of photography and "How do I…?" type sections.
So go ahead you Canon people, get this book and gush.
Follow @Danbaileyphoto