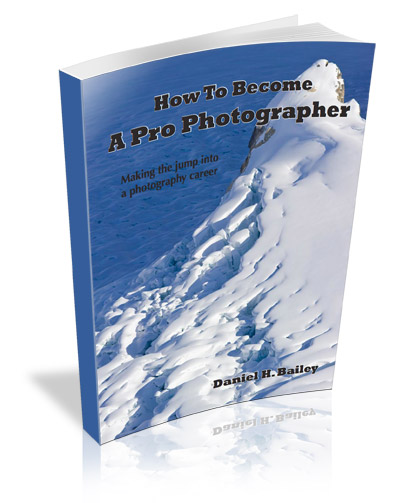 When I released How to Become a Pro Photographer eBook, last fall, I couldn't believe the response. Traffic spiked on my blog and the material presented within was incredibly well received by those who bought the book, as well as those who reviewed it.
Longtime pro shooter and photo industry social media guru Jack Hollingsworth, aka @Photojack, hailed it as a "A 27 page treasure of pertinent information for the aspiring and emerging photographer." I was honored by that review, because when Jack tweets about the photo business, lots of people pay attention.
Even Fast Track Photographer author Dane Sanders, who has coached thousands of photographers to professional success, linked to the material on his Facebook Page.
Although it's been out for a few months now, I'd like to reintroduce this great resource to my newest readers and to those people who have been here awhile but haven't had a chance to check it out.
If you're considering a career in photography, then this book is for you. Even if you've already been working part time as a photographer, this intensive guidebook will tell you the nuts and bolts of what you need to know in order to make a living with your camera. In it, I cover how to get started, equipment and technology, business and marketing, social media and how to put it all together and find success.
Essentially, it's like sitting down over lunch with someone (me) who has been shooting full time for fifteen years and picking my brain, but on your own time. The reality is that I used to do these kinds of personal consultations for about $50, (one of my former students Keith Ladzinski, has gone on to national fame as an award winning professional shooter.
Unfortunately, as much as I like to help the newer photographers and those who are just starting out, I just don't have the time for 'one-on-ones' anymore. So, instead, I put all that time tested knowledge, info and experience into a single reference manual that costs less than lunch. Less than two pints of Guinness and a tip.
The 27 page PDF download that you can read on your computer, or take with you to refer to on your iPad or other mobile device. There's even a Kindle Version.
Want to make money with photography? The do what Jack said in his review. "Get busy. Start reading."
Buy the book or read more about it here.
$8.95