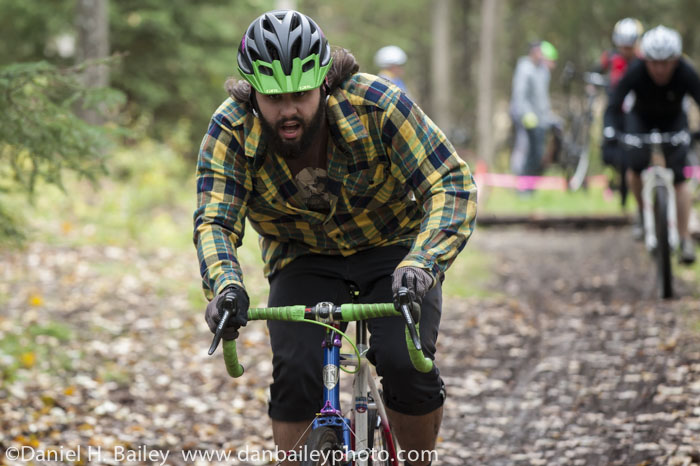 The 2013 cyclocross season continues here in Anchorage, Alaska, and just as I always do, last Saturday, I shot one heat and raced the other. It's become one of my favorite fall activities; I love the excitement of dirty, obstacle-filled bike racing, which includes hopping off and on to grunt it out through hills, gravel and mud in between straightaways and hairpin sprints.
Photographing such an intense, fast moving circuit race like cyclocross is an excellent way to bust your camera chops. You can set up and shoot multiple riders in the same location and practice different techniques and experiment with various gear combinations.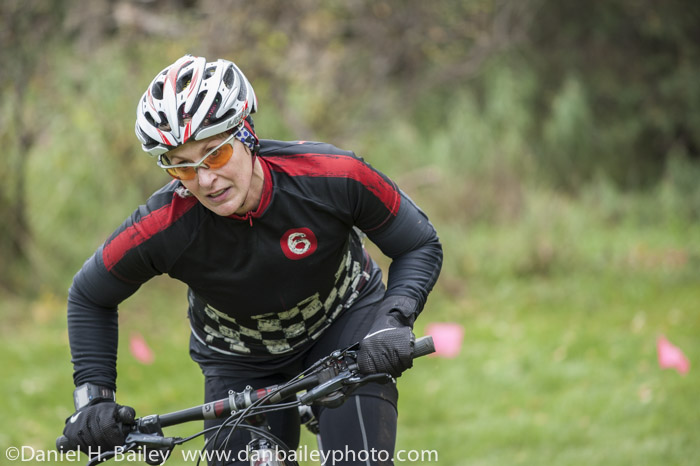 I like to mix it up each time, and so for this week's race, I used my Nikon D700, with a 24mm f/2.8D lens and AF-S 70-200mm f/4G ED VR Telephoto Zoom, and my Fujifilm X20. For Nikon off camera flash options, I used the SB-800 Speedlight wit the Nikon, triggering it with the on-board pop-up flash. I went simple andjust set the flash on the ground about 8 feet away from me and shot with the wide angle lens.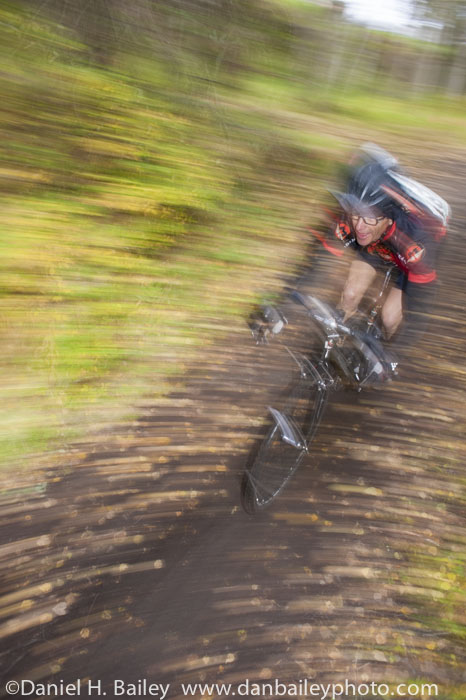 Wit the X20, I used the tiny little Fuji EF-20 flash, which I connect with a Pixel King FC-311 sync cord. Canon sync cords are compatible with the Fuji X cameras, and the Pixel King is just a cheaper alternative than the much more expensive Canon branded cords. I haven't had the chance to use the little Fuji EF-20 much since I picked it up earlier this year, so I was excited to throw it into the mix during some hardcore sports photography.
It seemed up to the task, and even withstood being knocked around when I took a digger while running through the forest and tripping over a big root. (It's ok… I'm only a danger to myself!) In fact, I had both cameras around my neck and the Fuji flash in hand when I wiped out. Everything survived.
This was also the first time I've shot cyclocross with the AF-S 70-200mm f/4G ED VR.  As with every subject that I've shot with this lens, it performed with flying colors. Sure, it loses one stop of light, which can be tough in a dark forest, but the clarity, sharpness and modern VR system that this lens offers makes me feel right at home with it.
The X20 also rocked it, since it has very fast phase-detect autofocus and a up to 12 fps frame rate. However, with the smaller sensor, it does show its limitations when trying to capture sharp detail in lower light settings. Still, when you're close and you nail it, things look pretty good. The flash helped to give it that extra pop.
So, here are a few select shots from Saturday's race. See if you can tell which camera and lens setup I used for each shot. My goal is to make it transparent and as close to impossible to tell upon first, and even second and third glance. Go ahead. Give me your best guess.
Check out this post for last week's cyclocross photos, and click here to see all the other cyclocross-related posts that I've written on my blog. They're definitely worth killing a few extra minutes. Also, here are a few shots by my friend Jody Overstreet, one of which has me holding off another guy on the singletrack.