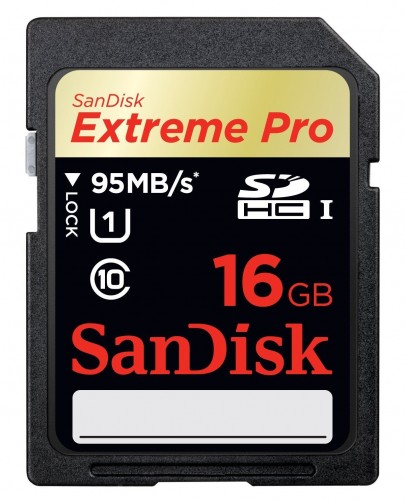 Cameras keep getting better every year, which is awesome. Higher capacity buffers allow you to capture huge bursts of RAW files without having the camera lock up.
This is crucial when shooting sports and action, even when photographing people and lifestyle. Expressions and body positions can change in the blink of an eye and so I often keep my camera on continuous high when doing this kind of work.
In order to take full advantage of your bad ass cameras, though, you've got to have a memory card that can keep up. Most newer cameras produce large RAW files, and that's a lot of data to move to the memory card. If your card can't keep up, the entire system will freeze up until it's done writing and you'll miss shots.
Sandisk's latest 280MB/S Extreme Pro UHS-II SD cards are the fastest cards to date, and they're ideal if you shoot tons of action or if you shoot 4K video. This is by far the best performing card for the Fuji X-T1 and any camera that has a large buffer. If you shoot video, you probably want the 32GB version.
However, my favorite card is the Sandisk 95MB/S SD Extreme Pro card. It costs less than half as much as the 280MB/S card, but it's not half as slow. In fact, it keeps up surprisingly well. In tests, it's only about 25% slower when writing a 10 second burst of RAW files on the X-T1, and it's WAY faster than my slower 30 and 40MB/S cards. Those are fine for landscapes and travel, but kick the camera into continuous mode and they hold me back.
If you have a newer DSLR or mirrorless camera and you shoot a mix of subject matter, this is the card I recommend. it's reasonably priced and performs exceptionally well.
[iframe]<iframe width="120″ scrolling="no" height="240″ frameborder="0″ border="0″ src="http://mer54715.datafeedfile.com/widget/aff_widget_prdt_generate-2.0.php?aff_num=6746&aff_net=1&widget_num=5858&sid=" marginheight="0″ marginwidth="0″></iframe><iframe style="width:120px;height:240px;" marginwidth="0″ marginheight="0″ scrolling="no" frameborder="0″ src="//ws-na.amazon-adsystem.com/widgets/q?ServiceVersion=20070822&OneJS=1&Operation=GetAdHtml&MarketPlace=US&source=ss&ref=ss_til&ad_type=product_link&tracking_id=danhbaisadvph-20&marketplace=amazon&region=US&placement=B00ITCHW4S&asins=B00ITCHW4S&linkId=ACWYWTZAWU6TFAPK&show_border=true&link_opens_in_new_window=true">
</iframe><iframe width="120″ scrolling="no" height="240″ frameborder="0″ border="0″ src="http://mer54715.datafeedfile.com/widget/aff_widget_prdt_generate-2.0.php?aff_num=6746&aff_net=1&widget_num=5859&sid=" marginheight="0″ marginwidth="0″></iframe><iframe style="width:120px;height:240px;" marginwidth="0″ marginheight="0″ scrolling="no" frameborder="0″ src="//ws-na.amazon-adsystem.com/widgets/q?ServiceVersion=20070822&OneJS=1&Operation=GetAdHtml&MarketPlace=US&source=ss&ref=ss_til&ad_type=product_link&tracking_id=danhbaisadvph-20&marketplace=amazon&region=US&placement=B007NDL56A&asins=B007NDL56A&linkId=V6TTTX3CLT5WX6IJ&show_border=true&link_opens_in_new_window=true">
</iframe>[/iframe]