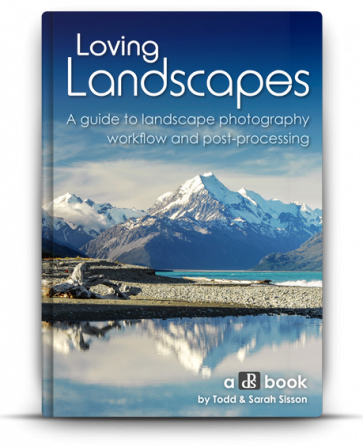 A while back, Digital Photography School released their excellent eBook, Living Landscapes- A Guide to Stunning Landscape Photography, which was written by Todd Sisson. (I follow Todd's work online and he shoots beautiful imagery!)
This month, dPS just released  companion volume to this book: Loving Landscapes – A guide to Landscape Photography Workflow and Post-Processing, which was written by Todd and his wife Sarah.
With over 200 pages, this book is filled with information on how to transform your RAW files into stunning, finished images.
Inside, you'll learn how to master Adobe Lightroom and how to use it to the fullest in your landscape post-processing, how to bring Photoshop into the mix, how to set up your computer for maximum performance, how to expose, blend, control noise, apply lens correction, sharpening, filters, layer masks and a host of other techniques. You'll even get 10 free Lightroom presets.
Overall, this book gives you the tools and methods to get your workflow under control so that you can get the most of your software and your on-location creativity. In a world where shooting the photos is sometimes only half the battle, you need to have good computer skills in order to bring those captures to their full potential. Todd and Sarah do a really great job in helping you understand not only the basic concepts, but they also teach you some advanced skills that will make your photos really shine.
I've always liked the Digital Photography School eBooks, I think that Darren Rowse has put together a good team of writers and designers, and each one is packed with clear information richly illustrated pages. These books are especially good for beginning to novice landscape photographers, and you're sure to learn a number of useful techniques and tips for how to create more stunning work.
He also backs up every single book with a 100% money back guarantee. If after 60 days, you didn't think the book was very helpful, or it didn't meet your expectations, he'll refund your money.
Below are screen samples from the two books, the first one is from Loving Landscapes and it shows you the types of post processing he covers. The page grabs below that are from Living Landscapes. As you can see, both ones present a wide variety of info and subject matter.
Anyway, check them out. With summer approaching, landscape photography season is just getting underway. Wouldn't it be nice to go into it armed with some new techniques and creative methods to try out? You can read both of these books on any computer or mobile device, including iPads and other tablets.