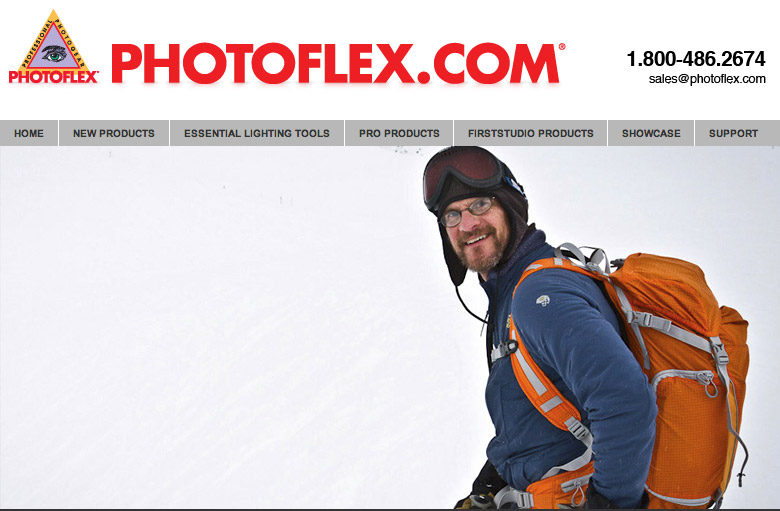 I'm proud to announce that I'm now officially featured as a Photoflex Pro Showcase Photographer. As someone who's been using Photoflex gear for over 20 years, (I still have the 12″ LiteDisk that I bought in 1991 and my Photoflex Galen Rowell Chest Pouch), I'm excited and extremely honored to be included among a group of very talented and accomplished shooters, who Photoflex feels are "masters of shaping light and capturing the perfect image."
In my Going Fast With Light style of adventure and action strobist photography, I need gear that's lightweight, durable, quick to set up, and that performs in all conditions outside. Let's face it, I'm highly energetic, and frankly, kind of a spaz at times. I've been known to drop things, bang into stuff, and on occasion, even fall down with my gear in hand. I need tools that get the job done and that won't break, or at least that I can bend and cajole back into shape with a set of Leatherman pliers and some duct tape.
Photoflex gear fits that very strict set of criteria for me. Lately, I've been posting some of the photos that I've been able to create with my favorite Photoflex tools, such as the Octodome NXT and the WhiteDome softboxes and the TritonFlash battery powered strobe. Very simply, I'm excited about the gear and I'm excited about the imagery that it helps me make.
Check out my profile page on the Photoflex Showcase site and look for the first of my Photoflex LightingSchool Tutorials later this month.
My sincere thanks to the great folks at Photoflex for making kick ass gear, for recognizing me and my photography and for including me in their lineup of professional image makers.