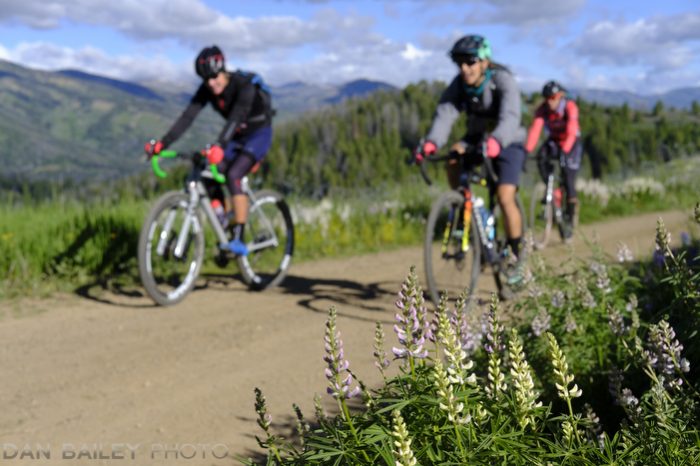 Last summer I had the unique opportunity to photograph Rebecca Rusch's inaugural run of her new RUSCH ACADEMY Gravel Less Traveled Cycling Camp.
As an avid cyclist, backcountry riding and bikepacking enthusiast, this was pretty much a dream assignment for me, and it's an experience that I'd strongly recommend for any biker who's interested in learning more about gravel riding, long distance self-supported backcountry cycling, increasing their performance on the bike or just having an amazing adventure.
In addition to sharing my photography experiences and image from this trip, I wanted to give my own review of Rebecca's #GravelLessTraveled camp and let you know what it's all about.
Based out of Ketchum/Sun Valley Idaho, this is a four-day backcountry riding camp that's designed to increase your confidence and gravel riding skills while learning valuable performance, nutrition, recovery and training tips from a world class cyclist.
Led by the immensely talented and accomplished Rebecca Rusch, who is a seven time world champion athlete, and her small team of coaching assistants, this camp offers an amazing four days of riding, physical challenge, instruction, camaraderie with fellow bikers, incredible scenery, pro tips, awesome food, lots of free gear, 3 nights at a remote Idaho mountain lodge, and incredible, first-class support.
In many ways, it offers the same thing as a great photo workshop, only instead of playing with cameras all day long, you're playing with gravel bikes on backcountry roads and trails in the mountains of Idaho.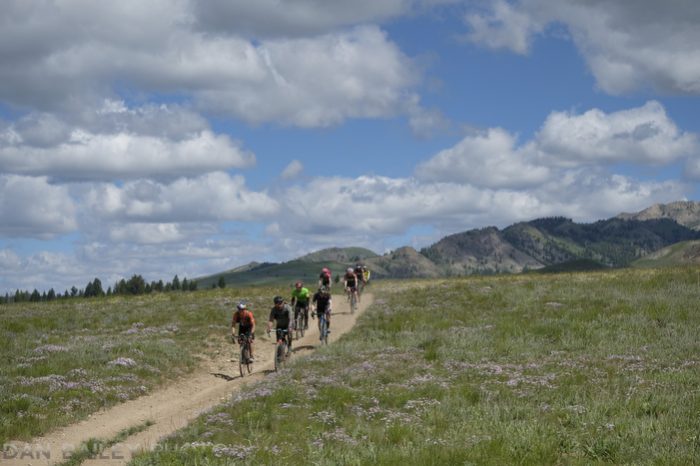 From a photographic standpoint, this was exactly the kind of assignment/project I like to shoot and I felt it was perfectly suited to my skillset with the camera. Essentially, I was a full-fledged participant in the camp, and I rode and hung with the group every single day for the duration.
Riding with my camera pack each day, I documented all aspects of the camp, doing my best to capture the excitement, challenge, environment, moments and the personalities that made this experience so awesome.
I even gave a clinic on bikepacking during the camp. I was also there as a Revelate Designs ambassador, and I shared my insight about how to carry your gear during self-supported backcountry bike touring. Although Rebecca's camp is totally supported, one of the goals is to get people thinking about the possibilities for longer self-supported overnight and even multi-day rides.
With increased confidence and the right gear, you can go anywhere on your bike, whether it's weekend round trip to the next town and staying in a hotel or AirB&B, where you're carrying only your clothes, a toothbrush and credit card, a three or four day circle or an extended tour. Every experience you have builds on itself and gives you the confidence to think a little bigger next time.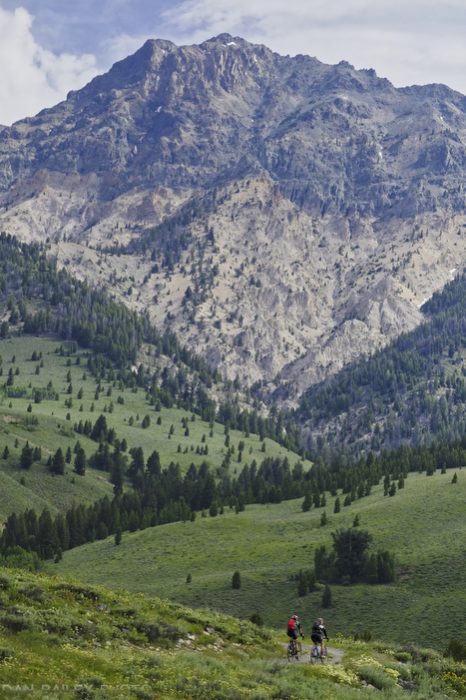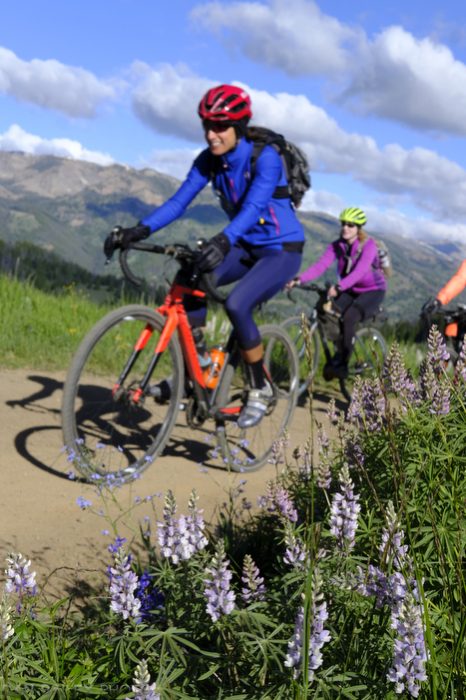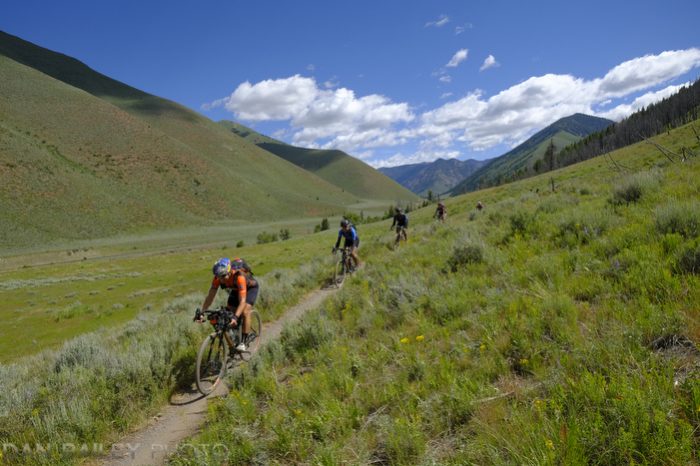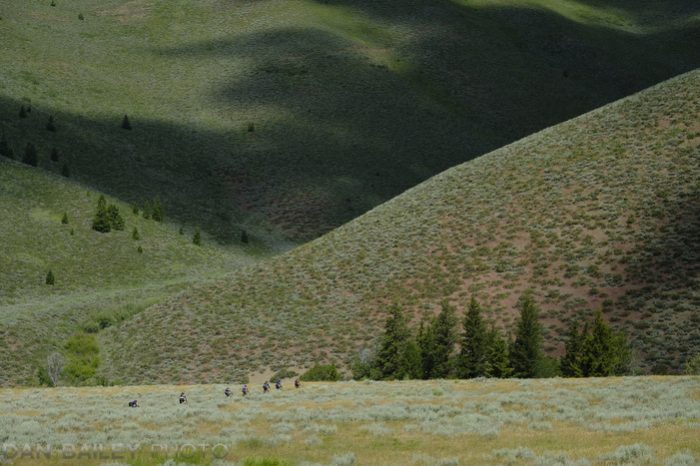 With years of experience honing my adventure/biking/photography skills, and my small Fujifilm camera kit, I was able to travel light, keep up with the group and grab a wide array of imagery every day. Often times, I was shooting one-handed right from the bike, even on long, gravel descents. (Those were some of the most exciting moments of the week, both for me and for the other riders!)
Other times, I was able to sneak ahead during quick breaks and shoot from a variety of vantage points. This kind of photography is challenging, because it involves constantly moving, seeing, lining up subjects and backgrounds, but that's what I live for. That's me in my element. That's Dan being Dan.
This kind of quick thinking, quick acting photography requires you to recognize potential scenes on the fly and visualize convergences between subject, light and background. All the while, you're paying attention to what the sun is doing, the quality of light it's casting and how to use to to your advantage.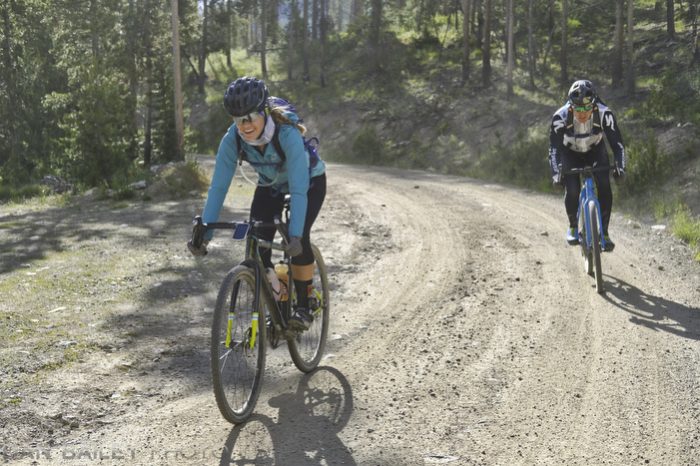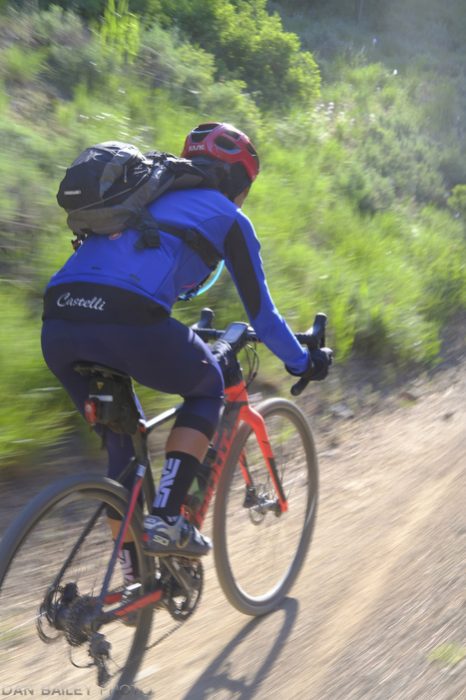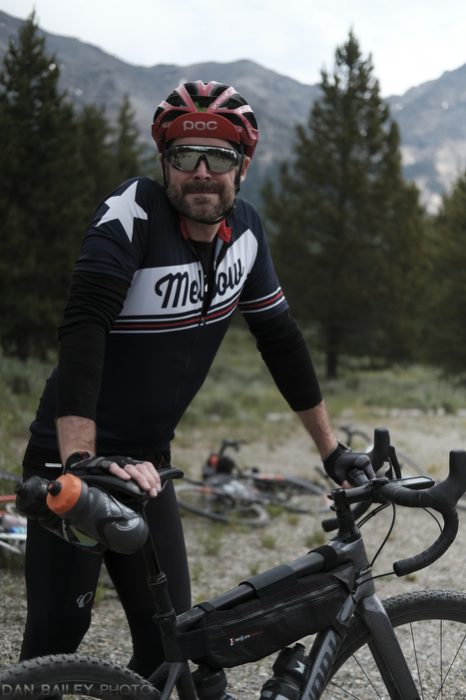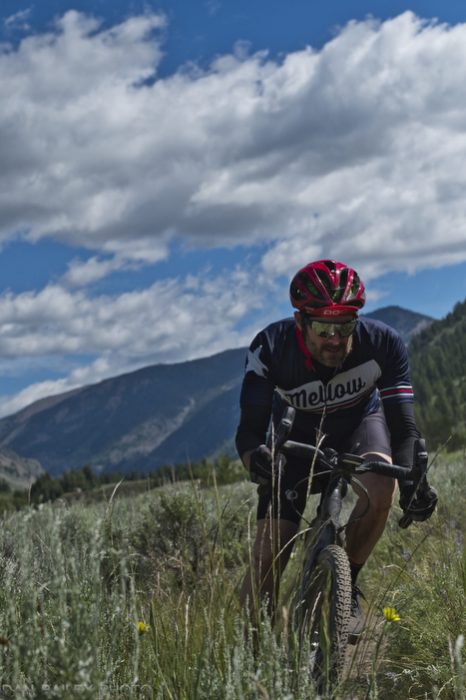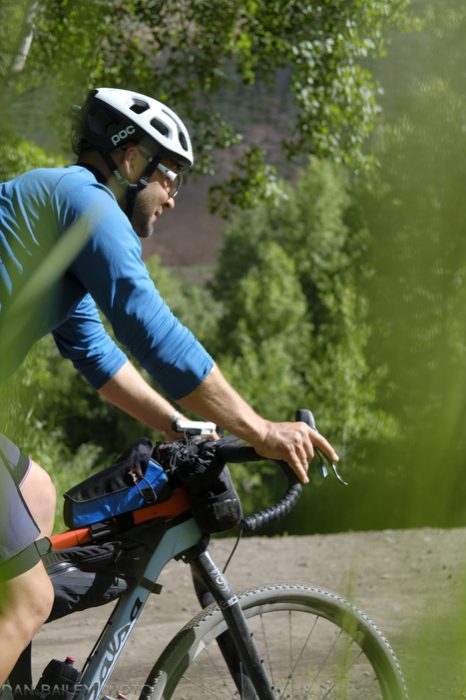 My camera gear consisted of my Fuji X-T2, (this was before the X-T3 was announced) and my standard kit of compact primes: The XF14mm f/2.8, XF35mm f2 and XF50mm f/2. I also too my XF50-140mm f/2.8 telephoto zoom, but I didn't ride with it very often. I mostly sent it with the support team, and used it when we were at camp.
As with much of my other photography, I mostly shot in JPEG mode, varying my looks with the different film simulations, often shooting bursts in Continuous High and quickly adjusting exposure via the EV+/- dial. In situations with tricky light, I usually shot in RAW+JPEG and used Luminar to process images that needed additional help.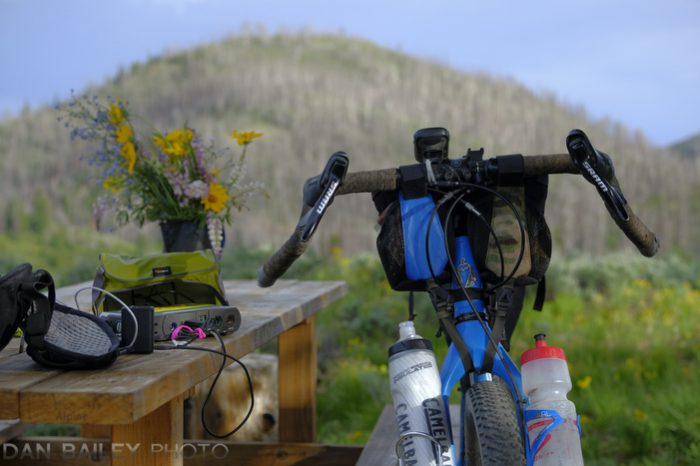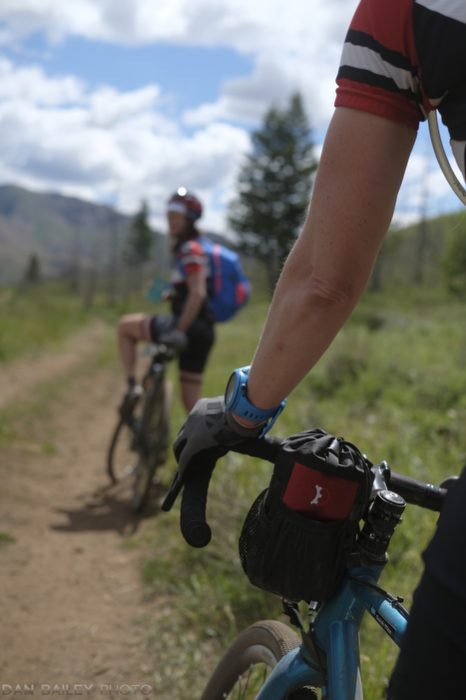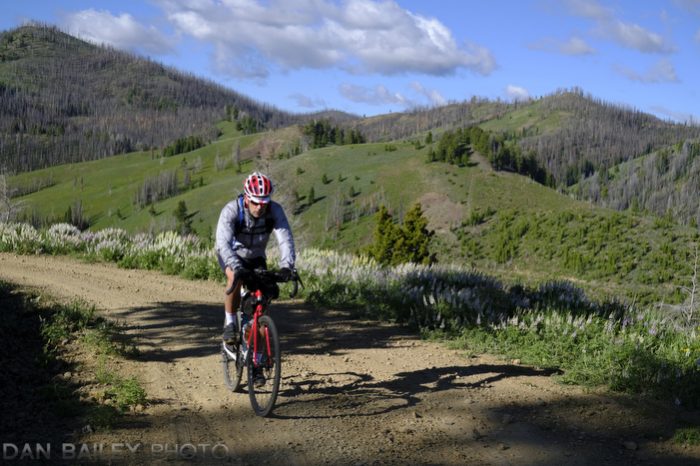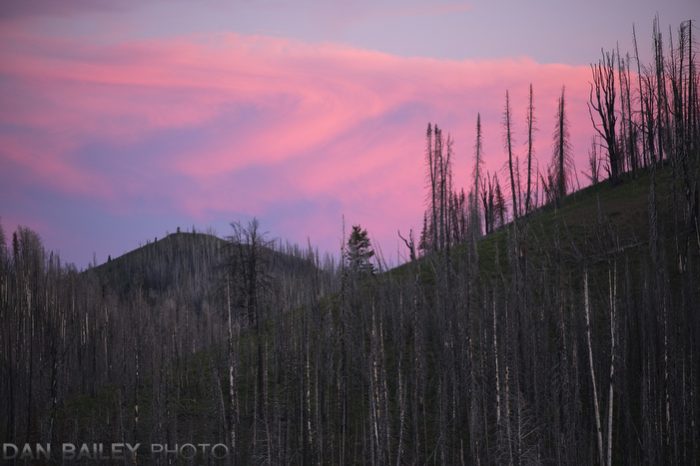 The camaraderie aspect of the camp was incredible. Riding, relaxing and sharing stories with my fellow gravel participants, I made some wonderful friendships during those few days. Next to adventure and photographing on the move, this is one of the things I value most in my own life.
I got to see most of my new friends again when I went down to ride Rebecca's Private Idaho event at the end of the summer, and after my recent Great Smokies Workshop in Tennessee, I even rode for a day with another friend from the camp who happens to live in the next town over.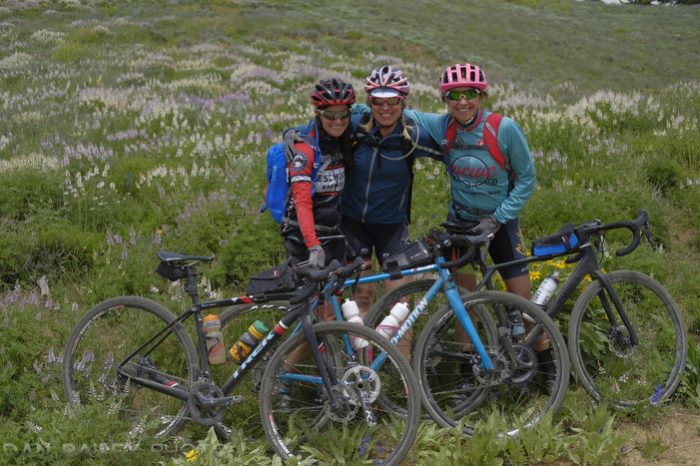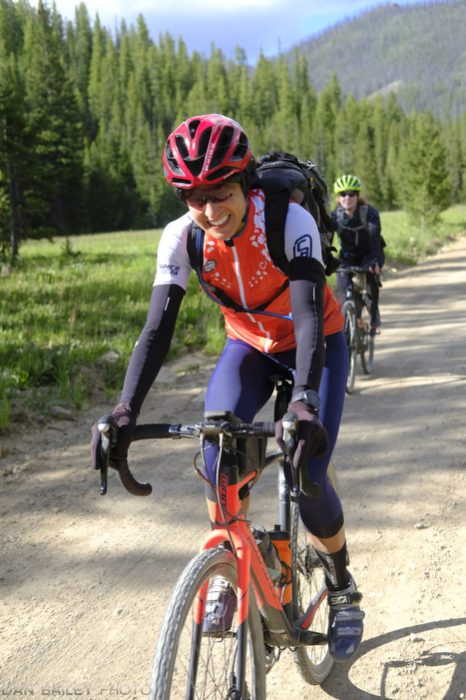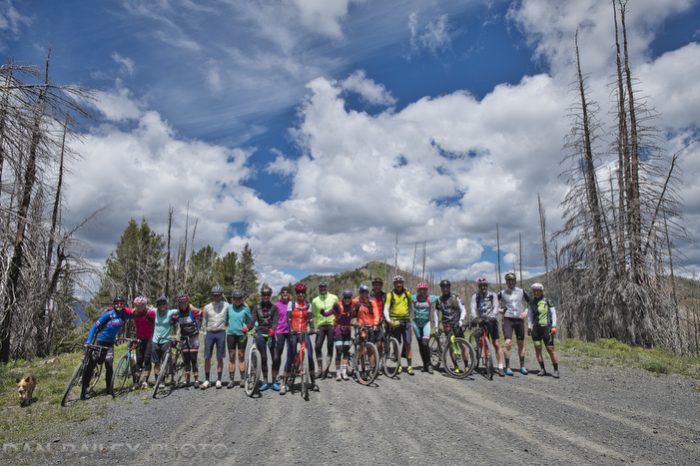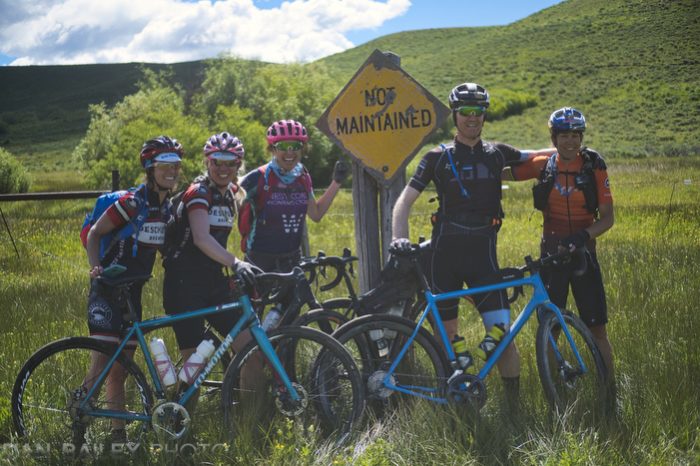 Another huge thing that made this gravel workshop so awesome, was getting ride and hang out with The Queen of Pain herself. Rebecca is a super positive, high energy person who always seeks challenge, and she's extremely open about sharing her knowledge and experience.
She's all about inspiring other people to push themselves and reach their potential, and at the same time, encouraging and fostering the mentality to do and be good. In fact, her own personal monicker is "Be Good;" words that her late father signed on every letter he sent home while serving in Vietnam.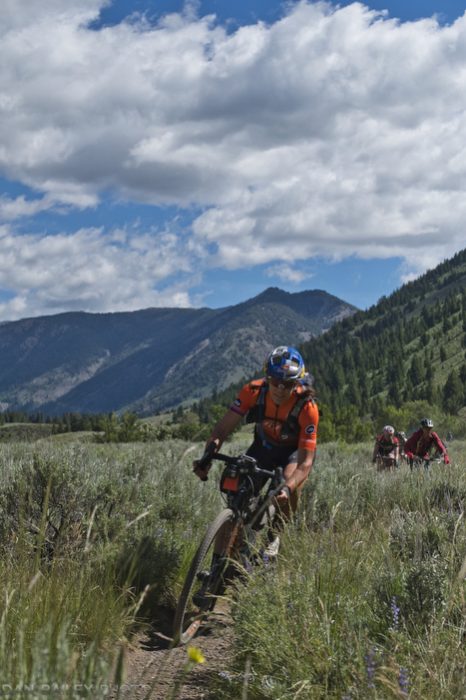 Rebeca's goal in life these days is to try and inspire others to harness and use our unique talents for the greater good. Her view is that when more people get outside and ride bikes, the world will be a better place.
I couldn't agree more, and in fact, this basic idea underlies my own approach to teaching photography. I feel that when more people get outside and be creative, we're making the world a better place as well.
Hanging out with Rebecca, I came to realize that we're both a couple of 50-year old spazzes who love bike riding and outdoor adventure, who share similar ideas about life and who are putting out the same fundamental message, we're just using different vehicles to do it.
As a guide, coach and event planner, I will say that everything Rebecca does is first rate and professional in every way. The logistics of her Gravel Academy were top notch with the perfect mix of dirt-filled adventure and high class food and energy/recovery nutrition, lodging, support and instruction.
When I look back at 2018, I feel so fortunate that my own life circle collided with Rebecca Rusch's world last year. She's one of those people who makes a huge impact on your life, and I know that my own world has been brightened because of this single opportunity that came about through my own passion for photography and biking.
Rebecca's 2019 #GravelLessTraveled Academy schedule is set and registration is now open for the June camp.
Again, if you're interested in increasing your confidence, fitness and skills for gravel riding and learning from a true world class athlete, and having an awesome adventure, even if you consider yourself a recreational cyclist and not a racer, then I would highly recommend doing this amazing camp.
For more information, visit the Rusch Academy page on her website.