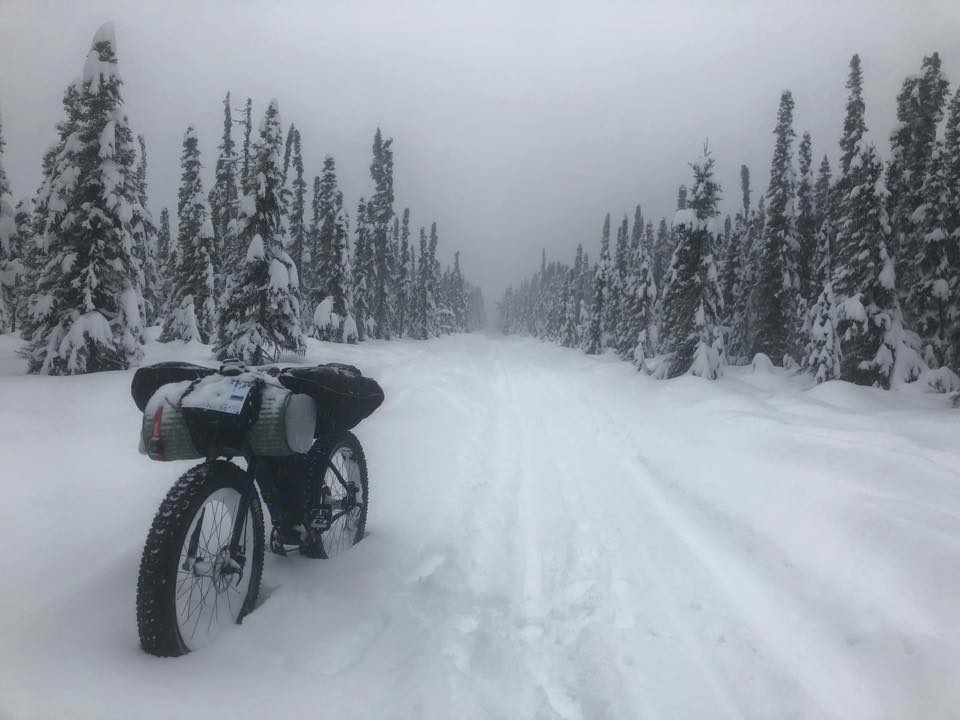 This past weekend was my 51st birthday, and I figured, what better way to celebrate than by doing a 100 mile fat bike winter endurance race here in Alaska and spending all day outside in the snow and cold?
Being my fourth Susitna 100, I trained hard, riding over 700 miles in December and January, and went in with a lighter bike, (Fatback Carbon Corvus,) stronger legs and much more experience. I was hoping for my fastest SU time ever, but as it often happens with winter adventures, all that went out the window and it ended up being by biggest, baddest and slowest SU100 ever.
For the most part, my race strategy for an anticipated 12-14 hour finish held through the entire first third of the race. I rode hard with a consistent pace for the first 40 miles, and blasted in and out of the 22 and 34 mile checkpoints with minimal time lost.
The stretch across notoriously awful Dismal Swamp went relatively well, despite completely flat light, which made it nearly impossible to see the track.
Things started to fall part around mile 40, when we dropped onto the Susitna River. Conditions on the well-tracked rivers can be hit or miss. Today it was miss, and soft, unconsolidated snow that was littered with the footprints of the 40 riders ahead of me made for horrendous conditions. That's where the pushing started.
Fortunately, the river section only lasted two miles, but then we hit Big Swamp. Countless short stretches of windblown snow, and a mix of tire ruts and footprints made for challenging riding conditions, causing lots of "on-and-off" the bike.
The trail improved dramatically after rate 49 mile checkpoint, which I hit right before sunset. However, by then, I was getting pretty tired. I had been riding for 9 hours by then, and my pace begun to drop as I made frequent short stops to drink water and shake out my arms.
I hit the 63 mile checkpoint at Eagle Quest Lodge around 10:00pm and spent an hour inside the lodge eating some hot food and drying out my clothing. At one point, there were three of us dudes eating dinner together at the same table, and it happened to be all of our birthdays, even though we didn't know it at the time.
Eagle Quest is an easy place to get sucked in, and it's a convenient place to stop for hours. Many racers call it quits there, since it's right on the road and they have free heated sleeping cabins for the racers. After a dry night inside, a ride home is only a phone call away to a friend or family member who will come get you.
We saw a lot of bikes parked there and with the steady falling snow, we figured that most of them would end up staying parked for the whole night. However, I was determined not to fall prey to temptations and I stayed just long enough to get a decent rest.
Leaving Eagle Quest just after 11:00pm with renewed energy, I rode with Ryan, who was one of the three birthday guys. We kept a pretty good pace for a few miles until we hit a big stretch of churned-up snow and had to start pushing.
We were on and off the bikes for the next couple miles, but ended up pushing the all of the last 5 or so miles though soft snow to Cow Lake, the 80-mile checkpoint. That 17 mile stretch took us about 6.5 hrs.
Ryan called it quits there, but since nothing hurt, and I has a good 2 MPH pushing pace, I had no thoughts of quitting. There was still plenty of time for me to finish, even if I had to push the entire rest of the way. Plus, I live with someone who has run and skied the SU, with multiple 30+ hour finishes.
After an hour and a half bleary-eyed rest inside the nice warm tent, I decided to head out. Leaving Cow Lake in the dark at 6:51am, I pushed the entire 12 miles to the Hunter checkpoint under continuously falling snow.
About a mile before I got there, I heard a voice behind me, Looking back, I saw Rylee, who had arrived at Cow Lake in the middle of the night. After sleeping for 5 hours, she woke up, followed my track, and caught up with me about a mile before the tent.
We got a brief rest at the last checkpoint, left together and pushed the last 10 miles to the finish. We arrived at race headquarters to the cheers of family, friends and race volunteers very tired, but in very good spirits.
Total time for my race: 35 hrs, 19 min, pushing for about 27 straight miles on Sunday. Add in the whole 2 mile river section and all of the other churned-up snow sections in Big Swamp, I probably pushed for a total of 30 miles. When I was done, I was tired and my feet hurt from being on them for so long.
I have heard plenty of stories of people pushing their bikes for miles during these Alaska winter races. It seemed rather daunting, but now I'm one of them. It's amazing what you can do when you put your mind to it, or at least resign yourself to the notion of "this is what I'm doing now, and it's going to last for a very long time."