Shooting at ISO 3200 with the Nikon D700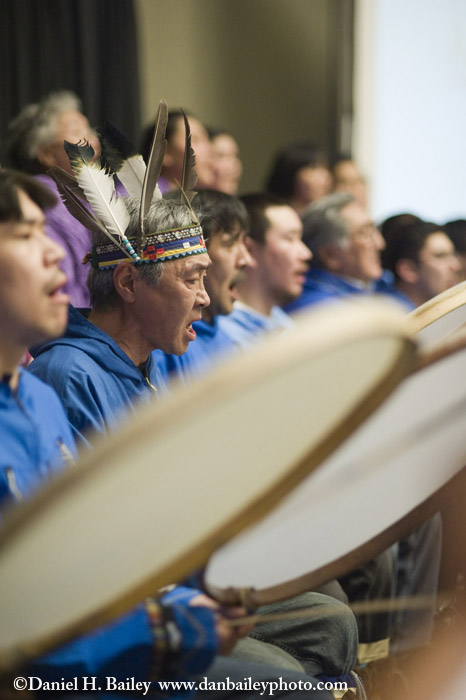 Yesterday I photographed the Nagsragmiut Dancers of Anaktuvuk Pass, Alaska at a Native Community Foundation event here in Anchorage.
It was the perfect opportunity to test out the high ISO capabilities of my new Nikon D700. I'd done some test shots with the D700 at home at ISO 2000, and had been very impressed by the camera's ability to produce a sharp image with very little noise, so I was excited to see how it performed in a fast breaking, low light situation like this one.
Using fast fixed lenses, I set the camera to "Auto ISO" mode, which causes the camera to automatically select an ISO rating based on the minimum shutter speed that you select in the camera's menu. The light was pretty dim inside the convention hall ballroom, so even with wide apertures, I ended up shooting everything at speeds of 3200 and higher.
Those speeds were definitely out-of-bounds territory for any of my previous digital bodies, as well as any color reversal film I have ever used in the past. Shooting at 3200 with slide film or even with my D300 would produce tremendously unacceptable amounts of grain and noise, rendering the images shot under such low light conditions all but useless. Not so with the D700's amazing CMOS sensor and EXPEED image processing. Under close inspection, the camera produced images that had less grain and more sharpness than most 200 speed color films, not to mention the extremely wide latitude of color information that's captured in full size 14-bit RAW files.
This example was shot at IS0 3200 with a Nikkor 85mm f1.8 lens, at 1/100, f.2.  The only adjustments I made were simple recovery of the highlights and blacks in Adobe Camera RAW. Below is the same image at 100% full resolution, cropped so that you can see the details on the drummer's face. (Click on the image to see the full size version.)
Although I wireless flashes on occasion, most of my work is done under natural and existing light. This is partly the case because I'm a very active photographer. I'm always moving around looking for new vantage points, and trying to deal with fixed lighting sources is just not practical. Even handholding a softbox flash off the the side presents limitations in many of the situations where I find myself shooting.
With this kind of resolving power, the D700 opens up a whole new world of shooting possibilities that would have previously been impossible. Where before I tended to shy away from shooting inside, I can now photograph with full confidence in indoor locations. I might even have to change my tag line to "Indoor and Outdoor Adventure Photography."
I just wish I'd had the D700 on my last canyon trip!
Download My Free Photography eBook
Expand Your Skills. Be More Creative
Let me show you some techniques that will help make you a better, more proficient and more creative photographer!
Follow @Danbaileyphoto