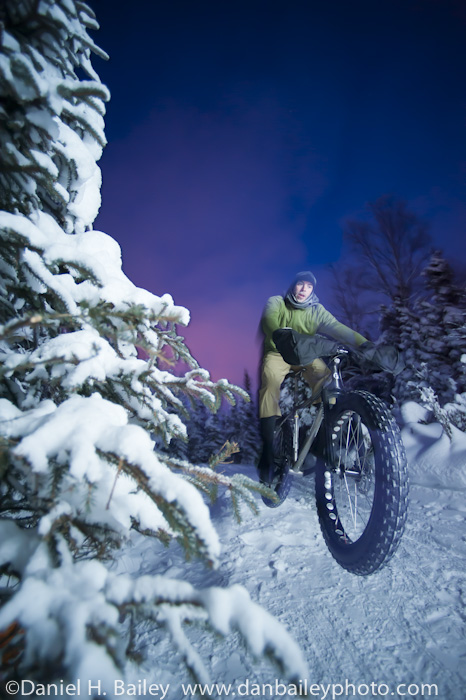 The other night, I trudged into the cold and dark with with my friend Tim to do some snow biking action photography. My idea was to try and get a deep blue background of cold, dimming Alaska winter sky and then light Tim up with the Photoflex TritonFlash.
I'd just gotten my WhiteDome softbox the day before, which throws out a big blast of omnidirectional light. I wanted to light the biker as well as the snow covered trees around him and figured that the WhiteDome would be perfect for that. And as with other recent shoots, using the TritonFlash would allow me to keep firing with fast recycle times in the zero degree temperatures.
The sun was already down when we reached our location, so we quickly got down to business; Tim built the jump and I set up the light. In just a few minutes, I found a vantage point, did some test shots for exposure and then gave him the go.
Here's the setup showing the WhiteDome in action and light placement in relation to the subject. Also, the shot below shows just how portable the WhiteDome is. For being a 24″ x 32″ box, it rolls up surprisingly small an stuffs into a skinny stuff sac that I can strap the side of my photo pack. Another very useful tool to help me go fast with light.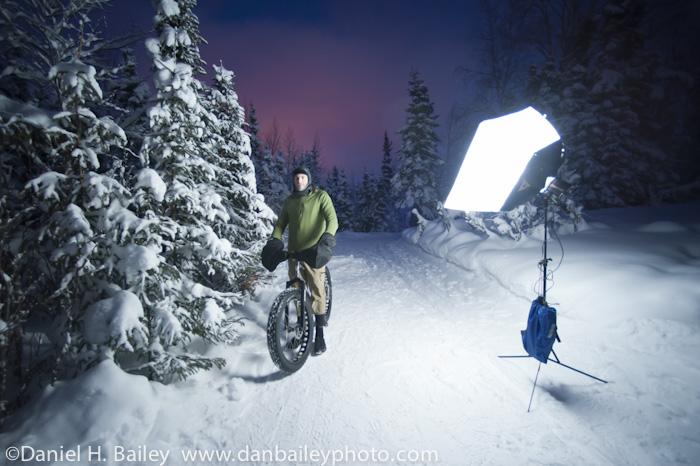 Exposure was 1/10 sec at f/2.8 ISO 2000, which let me hold onto as much ambient as possible. Lens choice was my Nikon 14mm f/2.8, which allowed me to get in close and still show environment. I got so close on a few occasions that Tim and I actually made contact as he flew past me. I swear, that had nothing to do with the times he ended up crashing into the trees!
Below are three more shots from the series. I like them all, especially the "big air" photo. It has a more dynamic jump, but it doesn't have any trees in close. The last one was shot much later, well after the all light was gone from the sky. It's cool, but it lacks the vivid contrast of the green and purple (complimentary colors) that the other shots have.
What do you think?