This time last year, I wrote about my Top 10 Photography Highlights of 2011, where I listed some of my notable accomplishments of the preceding year. This time, rather than look back at what I did, I want to focus on a few things that helped me learn, motivated me in some way, or that allowed me to push my creativity and advance my skills in new directions. I present them as examples of the kinds of things that might help motivate you as well.
1. Writing eBooks
In August, I released my eBook, Creative Photography Techniques: 20 Tips for Stronger Images. I also wrote another yet untitled eBook that will be on the way soon. In order to compile all of the tips and ideas for these books, I went back through all of my notes and blog posts about creativity and photographic technique and composition. Combined with the act of looking at past imagery, this process made me think and rethink about all the techniques that I often employ in my photography and the methods that seem to define my style. It also shows me the areas that I want to work on, which helps just a much down the road.
Want to improve your photography, check out my eBooks, or those by anyone that inspires you. Better yet, write one of your own. Even if you don't think you have enough material for an entire book, try writing about photography and see where it takes you. You'll learn a lot, and it might even open some new doors for you. Trust me.
2. Bigger Softboxes and Strobes
I've been dragging bigger softboxes and traditional studio lighting gear outside into the outdoors for awhile now, but last winter I did a few shoots with the Photoflex TritonFlash battery powered strobe and a 24″ Chinese lantern-style softbox called the WhiteDome. One of those sessions ended up with me getting this shot of the jumping snow biker, which is definitely one of my favorites of the year.
You can use most larger softboxes with regular camera flashes, and for less than two hundred bucks, they're an economical way to really expand the scope of your photography. And while I don't have experience with every softbox manufacturer out there, believe me, the Photoflex stuff will take a beating. Look for more lighting lessons from me this year on the Photoflex Lighting School website.
3. The Fujifilm X10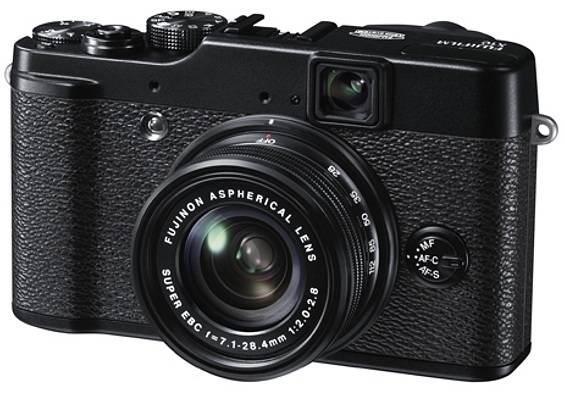 This time last year I bought the Fujifilm X10. It was my first little camera, and it quickly became one of my favorite things of the entire year. I put this stylishly classic, rangefinder looking camera through the rigors and shot in all kinds of environments and situations with it.
Although it took some time to get the hang of using a compact camera in places where I'd normally use a DSLR, but for those times when I wanted to go even lighter, it really proved itself as a valuable and viable tool. Not only did I get some great photos with it, some of which have been used by pro clients, including Fujifilm, I've had loads of fun with this little guy during the past twelve months. Being so small, it opened up some fantastic new opportunities and allowed me to explore my photographic creativity in some exciting and liberating new ways.
4. New Camera Bags
When it comes to camera bags, for me, it's all about accessibility. No matter if I'm skiing in the backcountry, hiking long alpine ridges, biking singletrack or just hanging around the trails, I want need to be able to grab my camera and get it into my hands within seconds. This past year, I got my hands on the new Lowepro Flipside Sport AW adventure camera pack. With its flip & zip back panel design, this cool bag lets you get in and out in no time flat. Plus, its secure design allows you to run your gear, even with a big lens like an 80-200mm f/2.8.
I've long been a fan of my old Photoflex Galen Rowel Chest Pouch, and while it works really well for things like hiking and skiing, it doesn't work as well for me when I run and bike. The Flipside Sport AW gave me new carrying flexibility for mountain biking and fast mountain hiking during 2012, which definitely paid off in imagery.
5. All Night Bike Ride Through Denali National Park
In June of last year, we did an all night bike tour during summer solstice weekend through Denali National Park, Alaska. Under 24-hour daylight, we rode from 6PM to 6AM and had an amazing midnight sunset all to ourselves. Nothing will make you a better photographer than getting out of your office/home/school and heading out into the world. Trips like this one always make me a better photographer, because they allow me to take all the stuff I learn and write about and put them into practice for real. In a rut? Take a trip.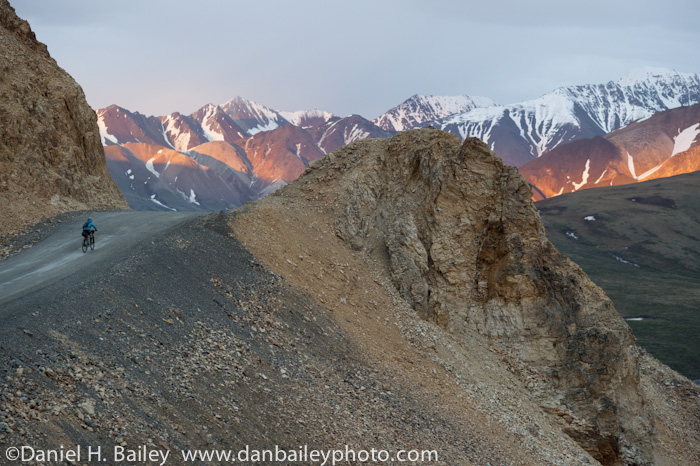 6. Photo Assignments
Nothing will put you on your toes and force you to get it done like being on assignment. Whether you're shooting for a national magazine or doing a portrait, being 'on the job,' will test your skills and teach you to bring out your creativity, even when things aren't going perfectly.
This past year, I shot a variety of assignments for magazines and corporate clients, all of which tested me in different ways, allowed me to build on my experience, and in the end, made me a better photographer. Not a pro? Don't get assignments yet? No worries, make up your own. Come up with an idea and go make it happen. Treat it like the real thing and you'll learn just the same.
7. Shooting An Entire Season of Cyclcross
I'm not an event photographer, but in the spirit of number 5 above, I gave myself the assignment of shooting an entire season of cyclocross here in Anchorage, Alaska. It wasn't so much of an assignment as a personal project, which are necessary endeavors for any photographer to undertake on a regular basis.
I shot for six weeks straight and went into each week with a slightly different approach. For example, a couple of weeks I focused on using flash and strobes, while other weeks I experimented with different lenses and techniques. I even rented a tilt shift lens for the last race, which was the coolest since it was snowing during the entire day. Let's just say that my action photography chops were tested to the max.
As I said, personal projects are vitally important. Not only do they provide you with great opportunities for stretching your creativity, they often end up being the most fulfilling and rewarding projects that you do. These kinds of projects make you better, because with the motivation of being personally connected to your subject matter, you'll often create your best work. You'll also find that the imagery from a strong personal project is what's likely to get you noticed, especially as an emerging photographer. In fact, it's how most of us pros got our start.
Shoot what you love and it will pay off in some way. I guarantee it. Tell me, what are some of the things that made you a better photographer in 2012?