Snowy Singletrack: Fat Tire Biking Photography, Alaska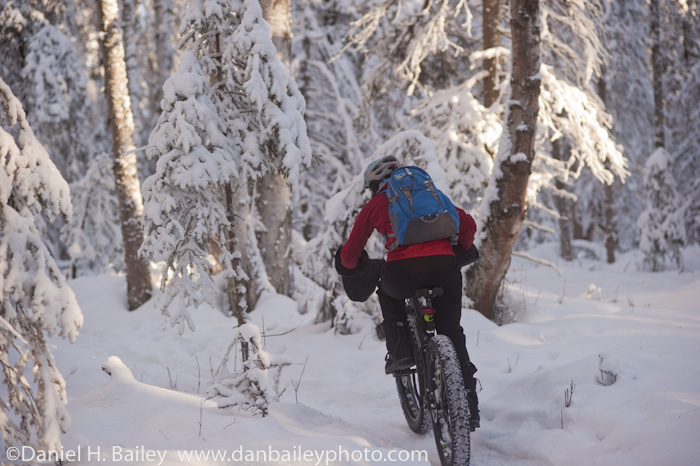 We spent all of last Sunday riding awesome winter singletrack trails and photographing on the Fatback snow bikes. For most of the riding, I had my Nikon D700 slung around my neck and shoulder, often shooting with one hand while I rode, with either a wide angle lens or the Nikon 85mm f1.8D short telephoto lens.
The 85mm is a real favorite; it's compact, fast and really sharp, and it's great for isolating a small part of the scene. If I'm going light and fast, I ALWAYS take the 85mm with me.
I also took along my Nikon SB-900 Speedlight, in case I had the hankering to do any flash photography. I only used it once, but it seemed to do the trick in that particular situation. It was so dark in the forest, but there were definitely patches of low sun streaming in through breaks in the trees, so I think the flash effect works here.
In order to achieve the directional lighting effect that I wanted, I clamped the Speedlight to the bike with the Manfrotto Super Clamp, and then just stuck the bike in the deep snow a few feet off the trail. Then I fired from my selected vantage point and triggered the flash with the on camera flash on the D700.
For most of the day, though, it was all about constantly looking ahead, anticipating potential compositions as we rode, and then dealing with the very contrasting light in and out of the forest. Shooting in full 14-bit RAW on the D700 really helps in situations like this.
Follow @Danbaileyphoto