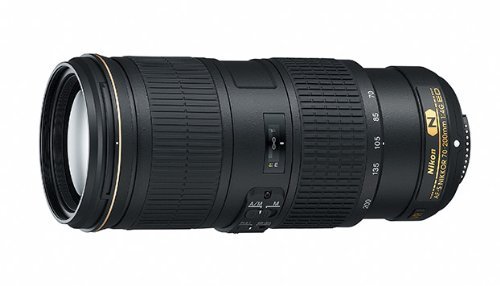 If there's one piece of gear that I'm really excited about this season, it's the new  new Nikon AF-S 70-200mm f/4G ED VR Telephoto Zoom Lens. Nikon unveiled this brand new lens a couple of months ago, and now it's finally on shelves and available for purchase.
I got to try out this lens firsthand at this year's PhotoPlus trade show and I was very impressed. Not only is it considerably lighter and smaller than the Nikon 70-200 f/2.8G VRII, it features Nikon's 3rd Generation VR, which promises five stops of vibration reduction under optimum shooting conditions. The AF-S focusing is awesome on this lens, it locks on and tracks subjects with speed and precision. It's easy to hold and very well balanced on the camera, even on lighter weight DSLR bodies.
At a price point of $1,399, it's also quite a bit less expensive than its bigger brother. All of these factors are worthy trade offs for the single stop loss in speed. Between the extremely capable VR and the fact that we're not shooting ISO 25 and 50 speed slide film anymore, I don't think that f/4 will make much difference under most conditions, especially outside during the daytime.
I will definitely be getting the new AF-S 70-200mm f/4G ED VR lens, and would highly recommend it to any outdoor, adventure, travel or people photographer who wants to save dollars and weight and still have a full on pro quality telephoto zoom. It's got Nikon's Nano Crystal Coat, ED glass and it works on both FX and DX cameras.
Look for a full field review of this lens from me soon. Whatever you do, though, don't tell my 80-200mm f/2.8. It's about to see a whole lot less use.
Both Amazon and B&H Photo are offering free overnight shipping on this lens right now.
[iframe]<iframe width="120″ scrolling="no" height="240″ frameborder="0″ style="border:none;" border="0″ src="http://mer54715.datafeedfile.com/widget/aff_widget_prdt_generate-2.0.php?aff_num=6746&aff_net=1&widget_num=1884″ marginheight="0″ marginwidth="0″></iframe><iframe src="http:///e/cm?lt1=_blank&bc1=000000&IS2=1&bg1=FFFFFF&fc1=000000&lc1=0000FF&t=danhbaisadvph-20&o=1&p=8&l=as4&m=amazon&f=ifr&ref=ss_til&asins=B009VZOK0Q" style="width:120px;height:240px;" scrolling="no" marginwidth="0″ marginheight="0″ frameborder="0″></iframe>[/iframe]