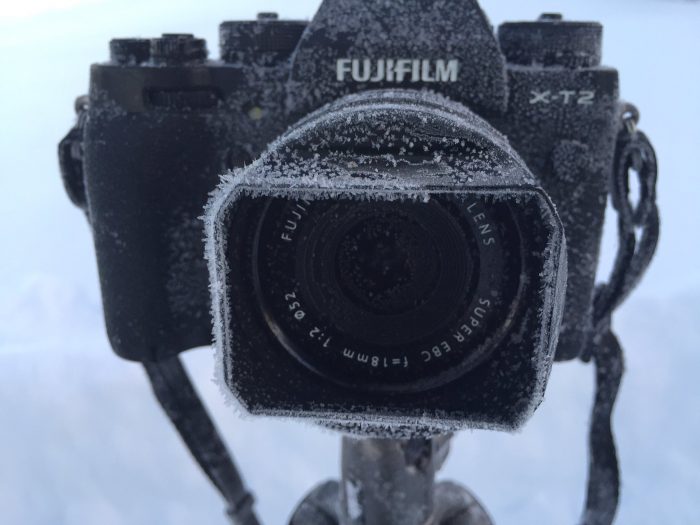 In case you were wondering, the Fujifilm X-T2 works just fine in the cold. Even below Zero. Even when you leave it outside all night long.
I've been using the X-T2 quite extensively here in Alaska this winter with no problems. I've shot a few thousand frames with the X-T2 in sub-freezing temperatures, and so far, I haven't had a single issue.
During the past few weeks, I've taken it along on some winter overnight fat bike trips. While I'm riding, I just keep the camera slung over my shoulder all day long, and then at night, I just leave it on the tripod outside the tent.
The first night, I didn't cover the camera, so it kind of frosted up, as you can see in these two photos. However, the next morning, when I came out and turned the camera on, it fired right up. The battery only lasted a few minutes before I got the red "battery dead" icon, so I swapped out with a fresh one and kept shooting.
The next night, I used a much more elaborate form of protection- I draped a glove over the top of the camera to minimize frost buildup. Seemed to work just fine. The next morning there was significantly less frost on the controls. A jacket or vest would work even better.
Bringing it inside the tent could cause condensation, which would ice up, and that would be bad. That's the first rule of cold weather photography. Better to keep the camera cold and store your batteries inside your warm pockets.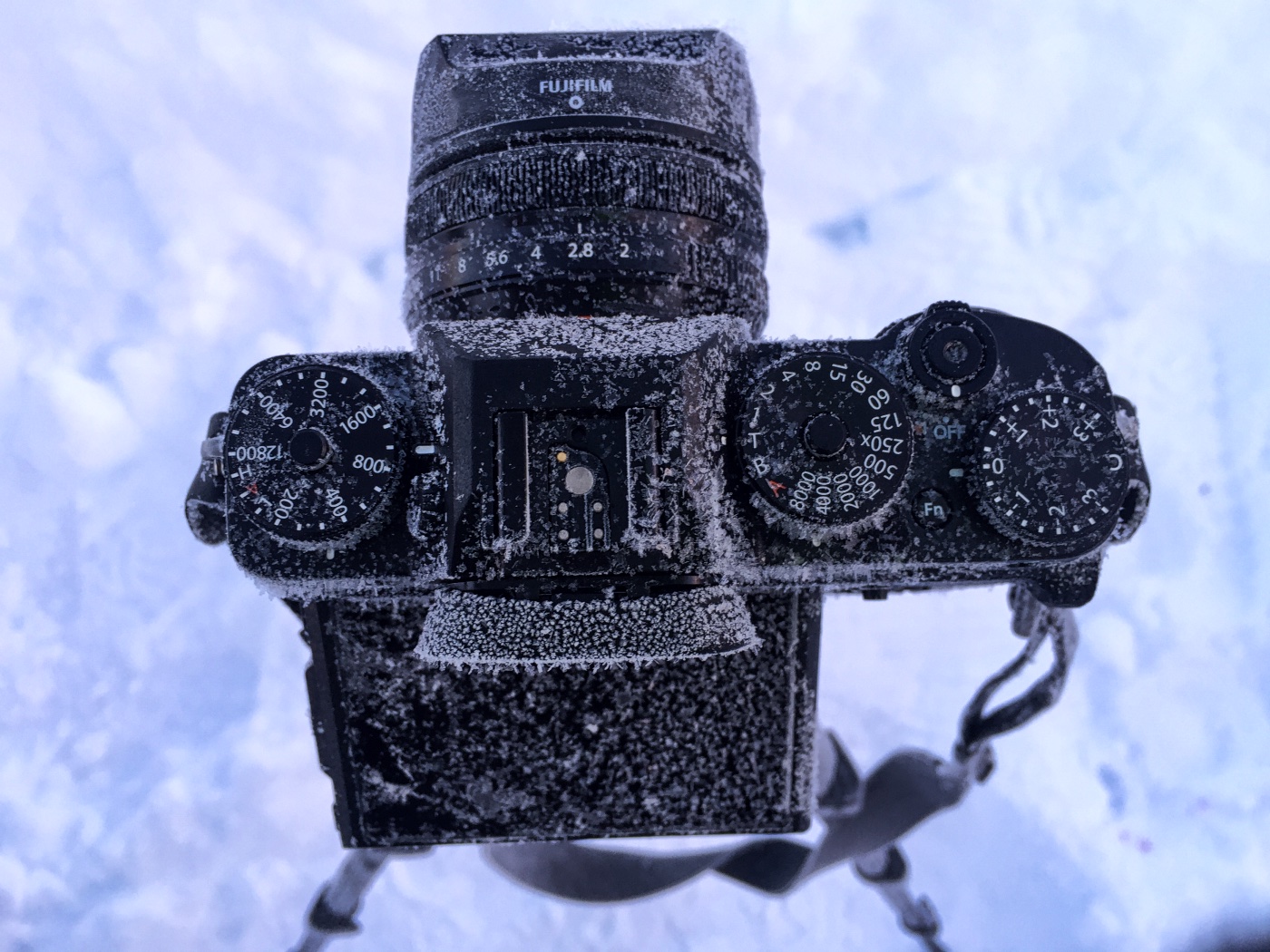 At worst, it occasionally creaks and groans when I first turn it on at 20 below zero, but I think that was just the AF motor of the XF18mm f/2 lens complaining at me.
Being one of the original X Series lenses, the 18 f/2 has the older, slower AF motor design, and the super cold weather slows it down a little bit. It still shoots fine, though, and works at these temps with every other lens I've tried.
I did get the "Turn off the camera and turn it back on again" message one time, but other than that, my X-T2 has kept up with me, no matter what the temperature. Fuji lists the operating temperature limit of the X-T2 at -10C, which is 14 degrees F, but I've pretty much blown the doors off on that spec. It's clearly capable of being pushed well below that number.
Maybe there are certain functions that won't operate at 100% below those temps, but I haven't found any other limitations as of yet. For general outdoor shooting, the X-T2 is a totally capable camera in cold and extreme weather. Just make sure you bring extra batteries.
It's the same with the X-T1. I've put that camera through similar tests in cold Alaska winter conditions and it never let me down.
So, I realize that it's almost springtime in other parts of the world, but we're still waking up to below zero temps this week, so as far as Alaska is concerned, it's still winter. If you've still got winter where you are, or, if it's about to descend upon you soon, then check out my post 4 Tips for Photographing in Flat Winter Light.