3 Durable Solar USB Chargers for The iPad
The other day I wrote a post called Photography solutions for going on the road with your iPad. I covered some adaptors and hard drive options that can turn you iPad into a viable alternative for travel and location photographers who want to go light and leave the laptop at home.
But what if you're going on an extended trip and plan to live out of a tent or your car for a few days or weeks? Sure, you can always charge your camera batteries when you stop at restaurants and rest stops, but realistically, how many outlets can you take up between all of your photography and mobile devices? Also, it takes a lot longer to charge an iPad than a camera battery.
The easiest solution for vehicle travel is a car charger with a 30-pin iPad/iPhone connector. The other option, especially if you'll be on an extended backpacking, climbing or bike trip is getting a solar charger that will power your iPhone, iPad, GPS, and other battery powered or USB devices. Based on durability, reliability, size and compact design, here are the best 3 solar USB charging systems that you might find useful on your next outdoor photography road trip.
1. Joos Orange Personal Solar Charger
The Joos Orange is rated as the most powerful and durable solar charger on the market. It will charge smartphones, iPads, Kindles, some digital cameras and just about any other USB device. It can even power the Sanyo Eneloop AA travel USB battery charger. Think speedlight batteries.
It's also waterproof and durable enough to be left in the sand and dirt, left outside to keep charging in light rain, and stuffed into your pack. At 8.5″ x 5.7″, it's a pretty compact unit.
Seems like if you're looking for a well made outdoor proof charging system, the Joos Orange Personal Solar Charger looks like the best option. Nonetheless, if you're not ready to be done reading, here are two more possibilities.
2. Goal Zero Guide 10 Adventure Kit
The Goal Zero Guide 10 Adventure Kit is a an ultra-lightweight pocket sized complete USB solar charging system. It includes a solar panel, a 12v USB port, 4 rechargeable AA batteries, battery charger pack with LED light and a 12v car charging adaptor.
The batter kit is nice, because you can use them to power your camera flashes. And, if four is not enough, you can buy add on kits of extra batteries.
The Goal Zero Guide 10 Adventure Kit is lighter, smaller and more powerful than the Brunton solar charger, which has been the standard option for a charger of this type. The whole kit folds up into a small flat bundle that you can easily throw into a pack, glovebox or even your camera bag and it seems like a great mobile charging option for outdoor and adventure photographers, and it's a little more affordable than the Joos Orange.
2. Soladec Hybrd Solar Charger and Battery Pack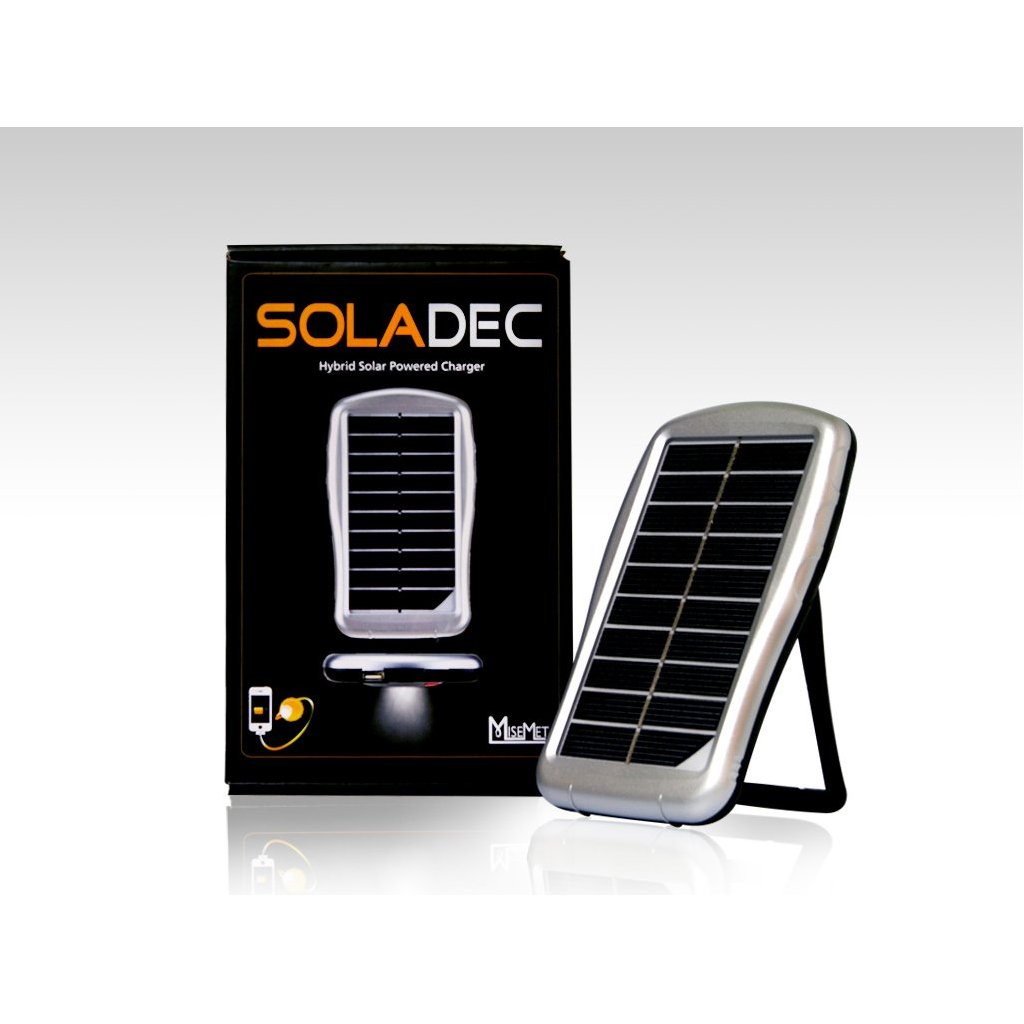 The Soladec Hybrid All-in-one Solar Charger and Battery Pack will charger just about any mobile and USB device. The lithium ion battery will hold a charge up to 2 years and it can be charged via sunlight, AC outlet or USB port.
The Soladec also features a LED lamp that is way brighter than most other devices of this type. It's highly rated as a reliable, compact and durable unit for backpacking and backcountry travel charger that will withstand the rigors the outdoors.
Support this site: As always, buying gear through these links is like giving me a USB powered thumbs up for writing these tips and gear reviews. Thanks! -Dan