The Adobe Photoshop Lightroom 4 Book by Scott Kelby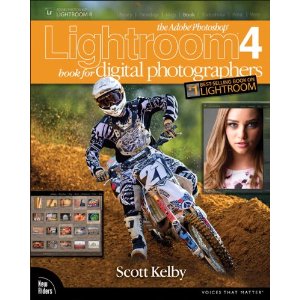 This week, Peachpit Press released The Adobe Photoshop Lightroom 4 Book for Digital Photographers by Scott Kelby.
If you're a veteran Kelby reader and Lightroom user, then you're well aware of his teaching style: quick, efficient and to the point. His books are designed as a guide book that walk you through an entire digital workflow, all the way from import, to editing to output.
Kelby doesn't explain every single aspect of the program, and that's not necessarily a bad thing. If you're busy, you need to know how to get your photos in and out of the program quickly and how to make them look great. Period. You simply may not have time to explore every single facet of Lighroom, but you do need to know how to navigate the new features that have been included in version 4, such as the new processing engine and Development Module controls, which have been changed since v.3, the Blurb photo book menu, video editing, the new email export option and the updated Soft Proofing window.
At 504 pages, Kelby's Adobe Photoshop Lightroom 4 Book is laid out as a real world reference manual that goes step-by-step through pro tested studio and location techniques. As the world's foremost Photoshop and Lightroom instructor, he offers expert advice, killer tips and shows you the exact methods that will get your own workflow up and running.
I'm a big fan of Kelby's books and made extensive use of his previous version when I finally made the jump to Lightroom a couple of years ago. His manuals are highly regarded and are often rated as the best books for learning the ins and outs of Lightroom. Whether you're coming from an older version or are brand new to the program, I can't stress how helpful it is to have a good book to help guide you through the new features and get you up to speed. If you want to dive right in and move quickly, then I'd highly recommend the Kelby Adobe Photoshop Lightroom 4 Book.
If, however, you do have the time and desire to study and learn every single thing about Lightroom, then you might want to consider the The Adobe Photoshop Lightroom 4 Book, The Complete Guide for Photographers, by Martin Evening. Read my review of this book here.
At any rate, if you haven't made the jump to Lightroom 4, you should definitely do so. It's better, stronger, faster and half the price of Lightroom 3.
Follow @Danbaileyphoto