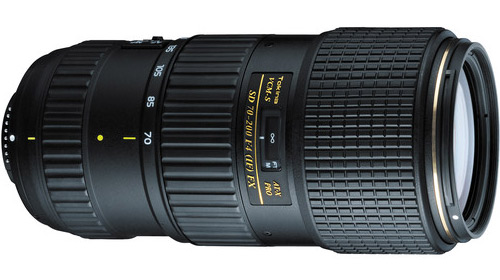 A fast telephoto zoom is an essential piece of gear in any serious photographer's camera bag. A lens like this opens up your shooting possibilities in a big way, especially when it comes to capturing fast moving subjects or photograing in low light conditions.
If you like to shoot action, adventure, wildlife, nature, outdoor portraits, or if you just love the creative compression a longer lens give you in your compositions, then a fast telephoto zoom is highly useful, and in my book, it's well worth the investment.
Problem is, they're not cheap, and they're not very light. Especially the f/2.8 versions. That's where the f/4 versions come in- they offer great performance and reduced weight at a great price, and with the VR image stabilization, that extra stop hardly makes a difference.
Enter the Tokina AT-X 70-200mm f/4 PRO FX lens for Nikon. It's a very high quality telephoto zoom lens that offers great optics, excellent stabilization and a much easier price tag then its Nikon equivalent. 
Don't get me wrong, I think the Nikon 70-200mm f/4 ED VR is an excellent lens- it's the last Nikon lens I bought before I went mirrorless, and I got a lot of use out of it. I often referred to is "The Adventure Photographer's Dream Lens. (You can read my full review here.)
However, the Nikon version costs $1399, where the Tokina AT-X 70-200mm f/4 PRO only costs $899. (With the current $100 mail in rebate, it's down to the $799 mark.)
Extremely Powerful Focal Length
This lens will work with any Nikon body. With a full frame camera, you've got the standard 70-200mm viewpoint. Use it on a Nikon DX body and you've got the equivalent of a 105-300mm f/4 lens.
Either way, with this lens, you'll get a wonderful level of bokeh and compression that will make your subjects stand out from the background and give them a high level of prominence in the frame.
At the short end of the zoom range, you've got a highly capable portrait-style focal length that works great for shooting people outside and capturing details in nature, or whatever type of scene you're working.
At the long end, you're able to zoom in and bring those distant subjects up close and isolate them against a nice, blurry background. This kind of technique is highly effective for creating simple, powerful imagery that tells at story without cluttering the frame.
Lens Construction and Quality
I've used Tokina lenses in the past and I've always found them to be great glass. I had an old 17mm AT-X back in the 90s and early 2000s, and it saw an awful lot of abuse over the years. It was one of my most-used lenses and I shot many of my favorite (and most published images) with it.
I even had a photo used by Nikon one time that was shot with my old Tokina 17mm. (Shhhhhh… that was back in the era of slide film before the days of EXIF info and metadata.) I never told them.
The Tokina AT-X 70-200mm f/4 PRO is built with 19 elements in 14 groups, and it features three Super-Low dispersion elements, which minimize chromatic aberration and improve clarity and contrast throughout the entire focal length.
The VCM (Vibration Correction Module) allows up to three stops of image stabilization and helps negate any limitations you might find from losing that one stop of light in the aperture.
The autofocus is driven by an ultrasonic motor that operates an internal focusing mechanism, so the lens doesn't change size as you change your point of focus or zoom to a different focal length.
Overall
For price, quality and weight, the Tokina AT-X 70-200mm f/4 PRO is an excellent lens that gets high marks from other people who've used it. If you don't want to shell out over $2,000 for a f/2.8 Nikon telephoto zoom, and even $1399 is a little too far out of your budget, then I'd highly recommend checking out this option.
Overall, it will perform better and greatly expand the kinds of subject matter you can capture than most kit lenses and it will save you save you $500 over the Nikon version. ($600 savings right now with the current rebate.)
The only downside I see is that it doesn't come with a tripod collar. It's extra, but with the stabilization, it's quite easy to hand hold this lens. (I rarely use the tripod collar on my Fuji 50-140 2.8 zoom lens, in fact most of the time, the collar just sits in the drawer.) So, I don't see this as any kind of deal breaker, unless you plan to use it on the tripod a lot.
Here's a list of some other very good lenses from Tokina. If you're in the market for new glass, this might be a good post to check out.
[iframe]<iframe width="120″ scrolling="no" height="240″ frameborder="0″ style="border:none;" border="0″ src="https://mer54715.datafeedfile.com/widget/aff_widget_prdt_generate-2.0.php?aff_num=6746&aff_net=1&widget_num=7711&sid=" marginheight="0″ marginwidth="0″></iframe>[/iframe]
Support this site. If you're in the market for new gear, consider purchasing through these links. It doesn't cost you anything extra, and it's an easy way for you to show your support for the time I take writing these articles and reviews. Thanks ! 🙂 -Dan