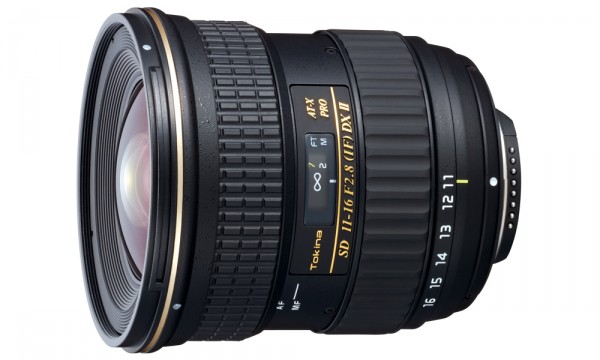 I realize that not everyone has the budget for a full arsenal of dedicated Nikon and Canon lenses. I was there once. That's why there's a big market for third party lenses. There's nothing wrong with using a third party lens on your DSLR, but as with anything, you get what you pay for. Not every lens or lens brand is equal.
I really like Tokina lenses. Always have. I bought a Tokina AT-X 17mm f/3.5 back in the late 90s and proceeded to beat the heck out of it for the next decade or so. I loved my Tokina 17mm, it was built like a tank, it could withstand tons of abuse, and it made great looking images. In fact, many of my favorite adventure photography were made with that lens.
Tokina has a great lineup of lenses for Nikon, Canon, Sony, Micro Four Thirds. They also have a line of lenses designed with PL mounts for Epic Red and Arri motion picture cameras, and they have a selection of Cinema lenses as well. They're all built in Japan and use SD Super-low Dispersion glass, for maximum optical quality and minimized chromatic aberration.
Currently, they have four series of glass for still/video photography:
While there are two many to list in this post, here are a few models I would highly recommend to budget minded photographers. If you're looking for high quality, professional-grade, yet affordable glass, you should give this line of lenses a serious look. With every model, you're getting a comparable lens to the same brand name equivalent, but for a fraction of the price.
If you read the reviews, you'll see that Tokina lenses consistently get high marks for build quality, distortion control and their ability to produce high quality, sharp images with good contrast and reduced chromatic aberration.
Also, many of the Tokina lenses have rebates right now. Check out the current savings.
Tokina Full Frame Lenses
The Tokina 17-35 f/4 is a compact wide angle zoom designed for full frame cameras. With Super-Low Dispersion glass and one aspheric element, this is a an excellent and versatile lens for a wide range of styles and shooting situations. It's ideal for travel, shooting wide expanse landscapes and working in tight spaces.
Rated to be as sharp as Nikon's 17-35 f/2.8, at a fraction of the price, the Tokina 17-35 has very little distortion compared to other ultra wide zooms in all price categories. It's also weather resistant, which contribute to it's versatility and build quality.
For many photographers, the 24-70 f/2.8 is a workhorse universal zoom lens for shooting a wide variety of subject matter. While the Tokina 24-70mm f/2.8 is not an inexpensive or small lens, it still costs about $700 less than the comparable Nikon and Canon models, making it a very affordable alternative for shooters on a budget who don't want to sacrifice quality.
With a fast, fixed f/2.8 aperture, fast Silent Drive-Module autofocus, SD glass three aspherical elements, and high quality construction, this lens has excellent optics that will hold up with even the highest megapixel DSLRs, including the Nikon D810 and Canon's 50MP 5DSR.
Another workhorse zoom lens, the Tokina 70-200mm f/4 is comparable to Nikon's excellent 70-200 f/4 VR lens, although the Tokina version costs about $400 lens.
Designed with solid build quality, 3 stops of VR, a fast ultrasonic AF motor and SD glass elements, this lens produces very sharp, crips images that will hold up on any of Nikon's DSLR bodies. One reviewer said it produced some of the best bokeh he's seen from a zoom lens of this style. Pairing this with the Tokina 24-70mm lens above would give you a workhorse professional quality two-lens kit that would get you through just about any photo shoot.
AT-X M100 AF PRO D – For Nikon and Canon Full Frame and APS-C

The Tokina AT-X M100 is a thing of beauty. Not only is it a macro lens that's capable of shooting 1:1 closeups, it also makes for a incredible short telephoto for shooting portraits and mid-distance subject matter. And, it's less than half the price of the Nikon 105mm macro lens.
DxOMark tested this on the Nikon D800 and called it a "Solid Performer." It has good sharpness throughout the range, minimal vignetting and great distortion control. Also, being a true macro, it's capable of shooting with full 1x "life size" magnification, and it makes a wonderful portrait lens. This is one of the real standouts in the Tokina line and I'd highly recommend it to any photographer.
Tokina APS-C Lenses
With an all new internal silent focusing motor, and updated optics, the Tokina 11-16mm f/2.8 is an award winning and very popular ultra wide angle compact zoom lens for crop sensor cameras.
Featuring a fixed f/2.8 aperture and SD glass, this lens yields excellent contrast and sharpness at a price that's friendly to budget minded photographers.
Less than half the price as Nikon's 12-24 lens, the Tokina 12-28mm f/4 is one of the most popular and highly rated lenses in their line. For good reason. It's very sharp, it does a great job controlling distortion and it has very close focus, which means you can shoot dramatic close ups with lots of background detail.
With a very solid build, internal zoom elements and a fast silent autofocus motor, and their standard focus clutch, which allows for easy manual focus control (this feature is incorporated on many of their lenses), this is a fantastic wide angle zoom for DX and crop sensor cameras.
This is Tokina's fastest lens. With a very fast maximum aperture and the optical performance of a fixed lens, the 14-20mm f/2 is an ultra fast, wide angle zoom that's great for shooting in low light. It's almost like having a trio of high performance fast primes (equivalent views of 21mm, 24mm and 28mm) at your disposal in a single lens.
An awesome landscape and travel lens, it achieves excellent image quality, contrast and distortion control. With four SD elements, great built quality and a relatively compact design, the Tokina 14-20 f/2 is an outstanding lens that costs about half the price of the Nikon 14-24 f/2.8, and it's a stop faster.