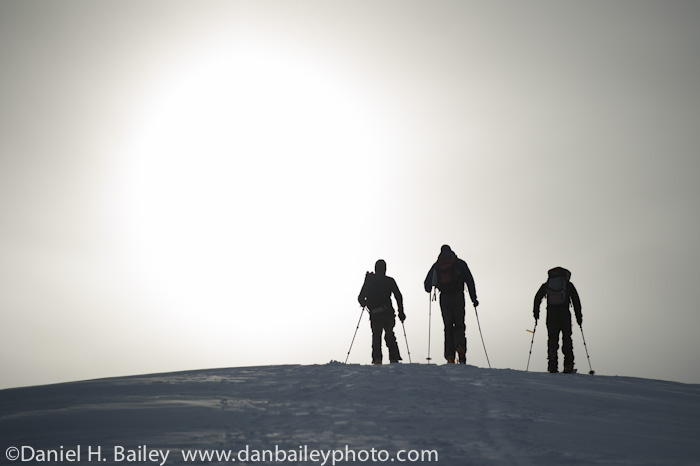 As a pro outdoor and adventure photographer, three things matter most to me when it comes to lenses: Size, speed and quality. After all, I'm usually carrying these things out into the backcountry, so I prefer to stick with fast, compact primes, like my  24mm f/2.8, and my 85mm f/1.8, and of course, the trusty 50mm f/1.8.
Of course, the same can't be said about my telephoto zoom. While I won't sacrifice quality and speed for weight, when it comes to my 80-200mm f/2.8, I have always chosen to sacrifice weight for quality. For years, I've carried that thing on my back for thousands of miles while skiing, hiking and biking. I even rode with it over Himalayan passes during my bike tour in Ladakh, India back in 2001.
The speed and edge to edge sharpness of a pro grade zoom lens is unmatched, but I won't tell a lie and pretend that it hasn't slowed me down during all those trips and adventures.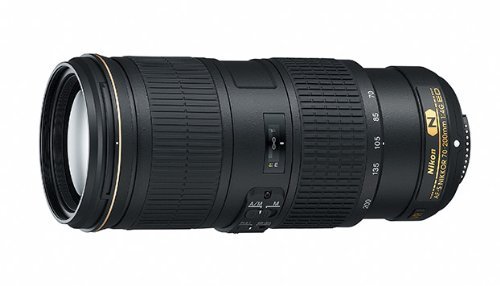 Enter the brand new Nikon AF-S 70-200mm f/4G ED VR Telephoto Zoom Lens. When Nikon first announced this lens a few months ago, it was love at first read. A fixed aperture zoom Internal Focus IF telephoto zoom lens with Extra-low Dispersion ED glass, Anti-reflective Nano Crystal Coat, a Silent Wave autofocus motor and a brand new Vibration Reduction system, all in a package that weighs an entire pound less than  my regular zoom?
I was sold. Oh yea, and did I mention that it retails for ONE THOUSAND dollars less than the current Nikon 70-200mm f/2.8G ED VRII lens? And it's both FX and DX compatible. (Effectively a 105-300mm f/4 on a DX body.)
A month later, I got to actually hold one and try it out while at the PDN PhotoPlus Expo. It was everything I'd hoped for. After lugging around my heavy zoom for so many years, I couldn't believe just how light it was. And with an AF-S motor and the brand new 5th generation VR system, which is reported to give you up to 5 stops of image stabilization, it focused and shot amazingly well.
Of course, taking pictures of the Nikon reps inside a white walled conference room is hardly like shooting real adventure sports on location. I couldn't wait to get my hands on one for real. When it was finally released, I plunked down my credit card and had one shipped out.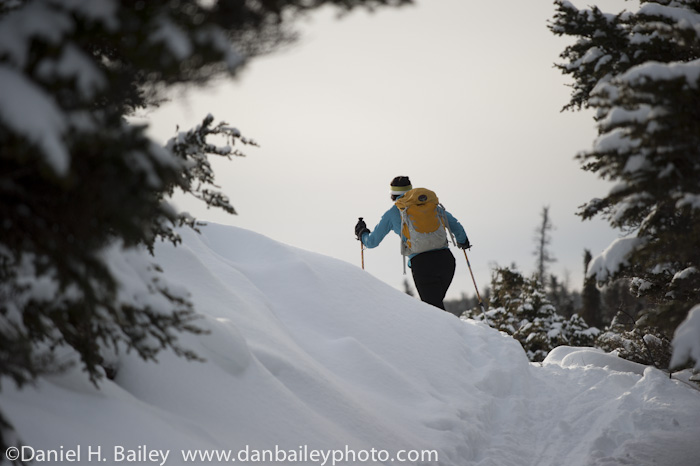 Size and Weight
First thing I did was take it skiing. Not big powder, metal edge, fat-board backcountry skiing, we're taking skinny ski nordic touring, where having a 3 pound lens on your back would totally throw you off balance. And you know what? It felt great. Sure, I was still carrying my D700, but the huge weight difference between the old and the new lenses was indeed quite noticeable.
Next I took it big mountain powder skiing, where having a 3 pound lens on your back would make you fall behind your really strong ski buddies, who skin uphill faster than you anyway. It was almost like my pack was filled with helium. Ok, maybe not. I still wasn't able to keep up, but having an empty pack wouldn't change that either. That said, I could notice the weight reduction. Over the course of a long day, it definitely made a difference.
With the lens hood, it's about the same length as the heavier f/2.8 version, but the barrel is a little bit more narrow, so when it's on the camera, it still a pretty big lens. Overall, even though it's lighter, it feels like a substantial piece of glass in your hands.
Weight: 1.87 lb (0.85 kg) Dimensions: 3.1″ x 7.0″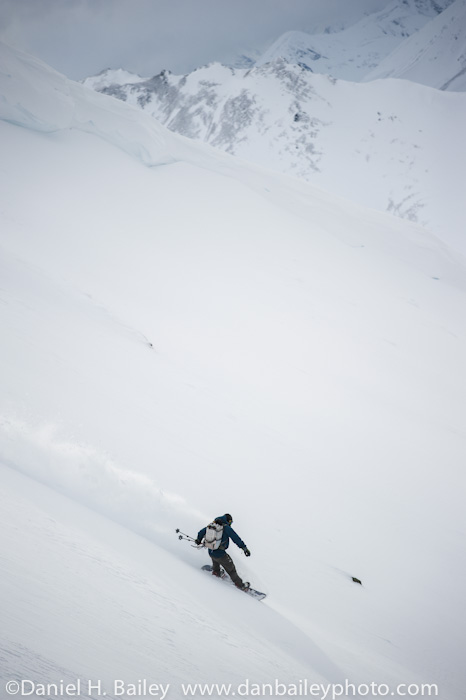 Focusing
This is the first AF-S lens that I've ever owned. I know, where have I been? (I tend to buy and keep lenses for a long time. Two of my favorite lenses are still in service after sixteen years. Some I've had for even longer.) Compared to my 80-200 f/2.8D, the new AF-S 70-200mm f/4G is crazy fast and ultra quiet when it comes to acquiring and tracking subjects.
Once it locks on, it stays locked, or is able to quickly find another subject when chaos ensues and the initial subject disappears from the frame. And with the M/A override, even if the lens does lose your subject, say in a field of white snow or sky, you can quickly grab the focusing ring, rotate it back where it needs to be and grab your subject again, or fine tune your focus. I had to do this a few times the other day, and it worked without a hitch. Can't do that on my non AF-S lenses.
After photographing both skiing and dog sled racing, which can be extremely challenging to shoot up close, I can attest that the Nikon AF-S 70-200mm f/4G ED VR can handle just about any sports and action.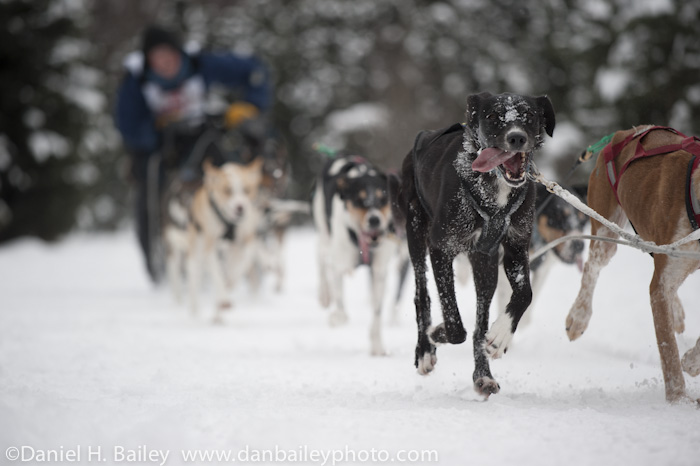 Quality
As a pro shooter, it doesn't matter how light the lens is, the real question is, CAN IT DELIVER? The answer is yes.
So far, I've shot in bright sun, shade, overcast, against the sun and inside, and from what I've seen, the optics on this lens are extremely good. Make no mistake, even though it's lighter and less expensive, this is full-on pro quality glass. In fact, DxO Labs has rated this lens as a top choice, according to overall performance for a telephoto zoom on the demanding Nikon D800.
With 20 elements in 14 groups, three of which are ED elements, along with anti-reflective and multi-layer Super Integrated coatings, the Nikon AF-S 70-200mm f/4G ED VR gives excellent results. Images are sharp, crystal clear, high contrast and full of color, without any noticeable fringing or chromatic aberration at the edges.
Focusing is tack sharp and the accompanying bokeh, or the soft focus background look is outstanding. The 9-bladed aperture gives incredibly pleasing results, which should also make this a great lens for shooting people.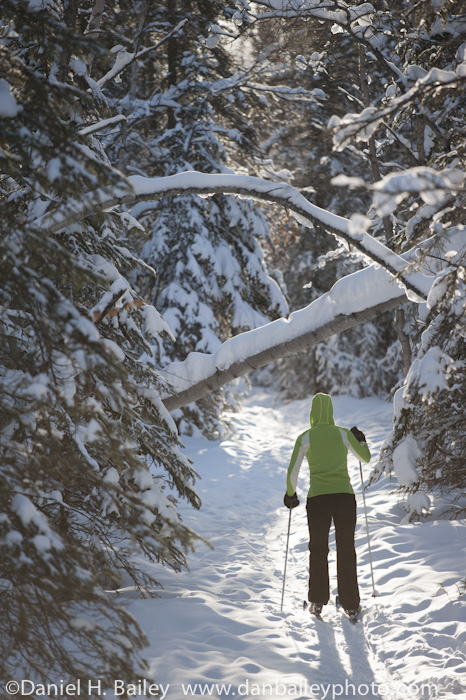 Yesterday, I even shot out of the plane with it, flying by the subject at 80 miles per hour, from about 500 feet away, and subjects were still tack sharp. That's where the new VR system comes into play. It's designed to let you hand hold subjects and shoot up to five stops slower on your shutter speed, say low light landscapes, or when photographing inside. I shot photos of my cat indoors, and they're totally sharp.
Flip the VR switch to "Active" and you have increased stabilization when you're shooting from a moving vantage point, say from a plane or car, or when shooting motion video. Below is the original snow biker photo shot from the air, and then the cropped version to illustrate just how sharp it is, even with that kind of distance and motion as factors. I can pick out the Revelate Designs logo on his handlebar bag, and the Granite Gear logo on his red fork mount water bottle carrier. Plus, no fringing whatsoever.
Overall Analysis
I LOVE this lens. I'll say it again. I love what this lens offers me in terms of quality, size and weight. Compared to the heavier f/2.8 telephoto zooms, this new Nikon AF-S 70-200mm f/4G ED VR is lighter, less expensive and more compact, and yet it tracks well, gives tack sharp photographs and offers impressive VR.
However, there is a tradeoff. There's always a tradeoff. With this lens, you lose one full stop of aperture. In some shooting conditions, this could be a factor, such as shooting low light action indoors at low ISO settings. That said, for just about everything else, I just don't see this as a problem.
For years, I shot Fuji Velvia slide film with my 80-200 f/2.8 lens. Action, nature, people, inside, outside, you name it. I shot everything with that lens, and that all at ISO speeds of 50 and 100. Most modern digital cameras today default to ISO 200, so you're already gaining at least on full stop, maybe even two.
For what I shoot, especially outside, that one stop is not going to be a factor. I shot skiing under dim overcast light the other day, and I was still shooting at 1/2000 sec. shutter speeds. So, for me, going from f/2.8 to f/4 is not going to make or break anything. Well, maybe when it's super dark, but I'm not dealing with moving subjects, that's where the VR helps.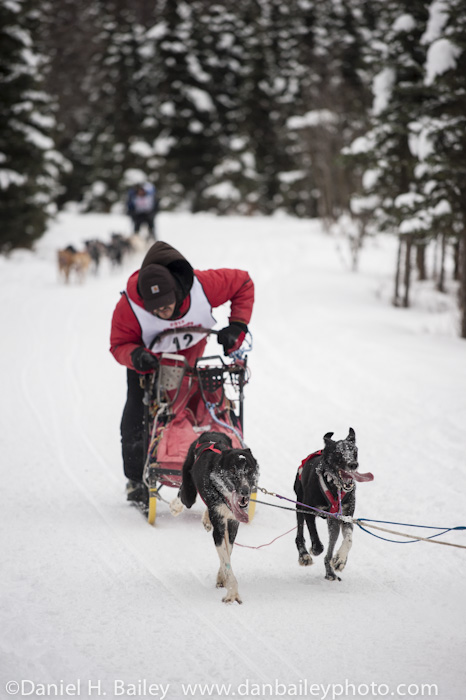 Since I've had this new Nikon AF-S 70-200mm f/4G ED VR, I have not touched my old faithful f/2.8 lens. I almost feel bad about that, but this new lens does the job, so why bother with the extra weight. I know that I'll continue to use the heavier lens for times when weight is not an issue, because it's still great glass.
However, for sports, action, landscapes, portraits, travel and especially backcountry use while hiking biking or skiing, this lens is going to be my first choice glass from now on. Unless I'm going extra light and fast, or unless I NEED that one extra stop, I can see this thing lens going just about everywhere with me. Here are some backcountry Alaska ski photos that were shot with this lens.
I know that you Canon people have had a lens like this for a few years now, but for us Nikon people, the new AF-S 70-200mm f/4G ED VR is just what we outdoor, adventure and travel photographers have been needing. For me, I forsee a long love affair with this new lens, and if you're an outdoor shooter, then I'd highly recommend taking a look at this one as well. I don't think that you'll be disappointed, especially considering the price. This could prove to be about the best overall lens for an outdoor or travel photographer.
The only downside I can come up with is that the tripod collar is extra. $169 extra, to be exact. A little steep indeed, but if you're not shooting landscapes all the time, maybe you don't need it. Remember, you now have 5 stops of VR, and that's free.
Support this site: If you're in the market for new gear, please consider visiting and purchasing gear through these links. This help cover the costs, effort and time that it takes to run this site and produce these reviews and articles. As always, thanks for reading!
[iframe]<iframe width="120″ scrolling="no" height="240″ frameborder="0″ style="border:none;" border="0″ src="http://mer54715.datafeedfile.com/widget/aff_widget_prdt_generate-2.0.php?aff_num=6746&aff_net=1&widget_num=3354″ marginheight="0″ marginwidth="0″></iframe><iframe style="width:120px;height:240px;" marginwidth="0″ marginheight="0″ scrolling="no" frameborder="0″ src="http://ws-na.amazon-adsystem.com/widgets/q?ServiceVersion=20070822&Operation=GetAdHtml&ID=OneJS&OneJS=1&source=ss&ref=ss_til&ad_type=product_link&tracking_id=danhbaisadvph-20&marketplace=amazon&region=US&placement=B009VZOK0Q&asins=B009VZOK0Q&show_border=true&link_opens_in_new_window=true&MarketPlace=US"></iframe>[/iframe]