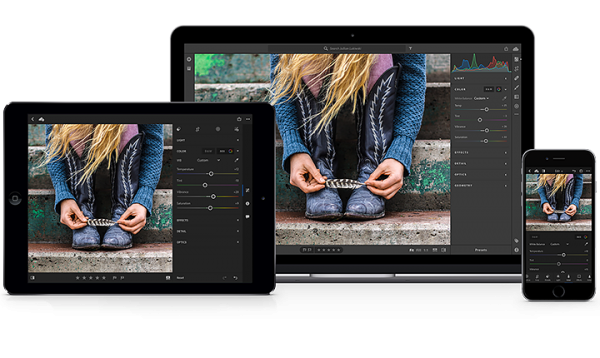 Today, Adobe released a major Lightroom Update and effectively split the program into two completely different versions: Desktop and Cloud.
Lightroom Classic CC
The regular version, which we've all been using as part of the Adobe Creative Cloud Photography Plan has been "rebranded" as Lightroom Classic CC. It's the desktop-based version you're used to, and include all the features you've been using up until now.
Adobe has given Lightroom Classic CC a number of performance improvements, so the program is said to run even faster than before, which should be good news to those uses who complain about Lightroom's "clunkiness" as their catalogs get bigger. They've also added a few new features, like Boundary Warp and HDR Merge.
With Lightroom Classic CC, you can still use Lightroom Mobile and sync your edits between your mobile device and your home computer. You just can't use the new Lightroom CC Mobile features, which include now include keywording.
Lightroom CC
However, the newest update to Lightroom is the brand new version, which is called… wait for it… the "all new Lightroom CC."
This is the new cloud-based version of Lightroom, and it's designed to let you create, edit, develop and manage your photos anywhere, on your computer, mobile devices and the web.
Instead of storing your photos on your home computer and physical hard drives, with the new Lightroom CC, all of your original photos and edits are backed up in the cloud. Organization, search, editing and sharing are now easier than ever before, which should appeal to photographers who spend a lot of time traveling.
That said, there is a checkbox option in the preferences where you can "Store a copy of ALL photos locally."
Branding issues aside, here's where it gets complicated. Not surprisingly, Adobe has also added a price increase. The all-new Creative Cloud Photography Plan costs $19.99/mo and it comes with 1TB of cloud storage.
Existing members who are on the regular $9.99/mo Photography Plan now have the all-new Lightroom CC added to their plan, in addition to the desktop-only version of Lightroom Classic CC (and Photoshop CC), and 20GB of cloud storage.
However, exiting Photography Plan members can upgrade to the all-new plan and get the 1TB of storage for only $14.99. Of course, that's first year only. After that, it goes up to $19.99/mo.
Another huge issue is the amount of cloud storage. The $9.99 plan gives you 20GB of storage. That's not a lot of room. Most people are running around with 32BG and 64BG memory cards these days. Sometimes a pari of them. 20GB might not even get you a single card's worth of storage. You'll need to upgrade to the $14.99 plan.
And what if you need more than 1TB? I don't know about you, but I have WAY more than 1TB worth of photos in my Lightroom library. Right now, my master catalog is about 4TB. The Adobe website says "Additional storage is available for purchase," but it doesn't say up front how much that will cost.
Also, what if you have limited bandwidth? Uploading 1TB worth of images can end up being pretty costly, not to mention the days it can take to upload your entire master catalog to the cloud.
Also, the new Lightroom CC Cloud version is missing quite a few features that are found on the regular desktop version, like Color Labels, Edit Capture Time, Face Recognition, Survey and Compare Views, Rename During Import, Smart Collections, Secondary Screen, Editing History, Soft Proofing, Send to External Editor, Third Party Plugins, Export as New File Name, Export with Watermark, Publish Services and many more.
It's also missing the four Output Modules, Book, Slideshow, Print and Web, and it doesn't let you split original files across multiple different hard drives. Or do tethered shooting. Or organize using folders. You can't even rename your photos.
However, given that this version is brand new, I mean "all-new," it's likely that many of these will be added to the new CC version in future updates. Still, it's a reason you might not want to upgrade immediately.
So, Which Version Is Right For You?
This is a tricky question, and fortunately, Victoria Bampton the Lightroom Queen has created a handy flowchart to help answer this for you. Actually, she's got a lot of great information on her site about the new upgrades.
It kind of boils down to this: If you're happy with Lightroom, then you'll probably want to keep your regular plan and use the all-new Lightroom CC Classic. You'll get some upgraded features and performance upgrades and you'll still be able to use it with Lightroom Mobile as you have been.
Word to the wise, though: You may want to hold off from downloading and migrating your regular Lightroom catalog to the new Classic CC version until some of the bugs are worked out. Once you upgrade your catalog, you can't go back. However, you can download and install the new version alongside your existing version of Lightroom so you can test it out.
If you're excited about storing everything in the cloud and if you want to have your entire workflow accessible on any device, no matter where you are, then the new Lightroom CC might just the solution for you. After all, $14.99 isn't that much money, and you'll have a lot of flexibility. As I said, it could be great if you travel a lot. Or if you shoot primarily with your phone.
No More Perpetual Licenses
Oh yea… and by the way Adobe also announced that from this point forward all version of Lightroom will be subscription only. No more perpetual license. You can still use your Lightroom Version 6, but you won't get any new features anymore. Sorry, but you can't say you didn't see this coming.
What if you're not excited by all of this?
Don't worry. Lightroom isn't the only game in town anymore. There are a number of really good options that can easily take the place of Lightroom, especially if you don't need all the in-depth features that the program offers. If you just want a simple workflow to import, process and keep track of your images, with no subscription, you're have choices. And you're not alone.
Stay tuned: I'll be posting a list of viable alternative to Lightroom later this week.
Visit the Adobe site to see more information about the new Lightroom CC.