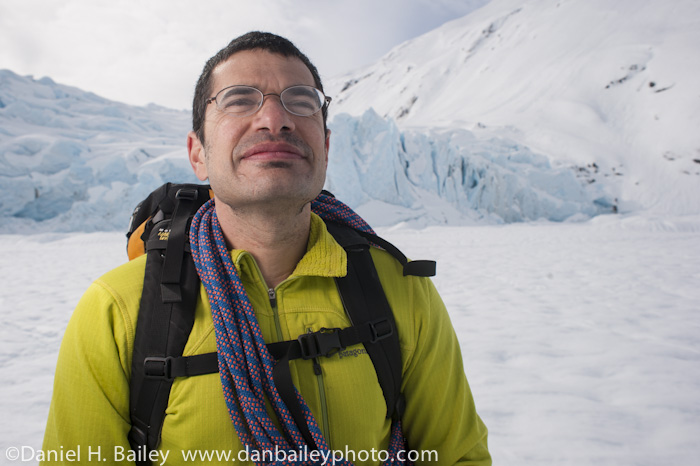 This past weekend, I shot an assignment on a frozen lake in front of a glacier. The client wanted the shots to look "uniquely Alaskan," so I chose a location that no one would mistake for someplace else like New Hampshire or Colorado.
With a mix of blue and slightly overcast skies, and the world's biggest reflector at our feet, the light was actually quite good for most of the action shots. However, for the portraits, I wanted a little more zing in the shots, so I broke out the speedlights.
Since I was going fast with light in my traditional Dan Bailey style, I only had a couple of small light modifiers with me. This image above was shot with single flash on a sync cord and a Lumiquest Softbox III, which is an awesome, ultra lightweight, foldable diffuser. When packed up, it takes up less room than a FedEx envelope.
The SB III does a great job killing harshness and adding a bit more drama to your photographs. Slightly underexposing the background by -1/3 stop to a full stop under can also enhance the look of your shots even more. Experiment. Play. Be creative.
For this shot above, I used a Nikon SB-800 TTL mode with straight Aperture priority exposure. Watch this video below to see the Softbox III in use, and a comparison of no flash, straight flash and diffused flash.
Right now, you can save $15 on Lumiquest gear (orders over $50) by visiting the Lumiquest Store and using discount code SOCIAL MEDIA in your shopping cart.
You can also enter to win a Lumiquest Softbox III by entering my Spring Photography Giveway. Click that big orange bar at the bottom of the page for details.