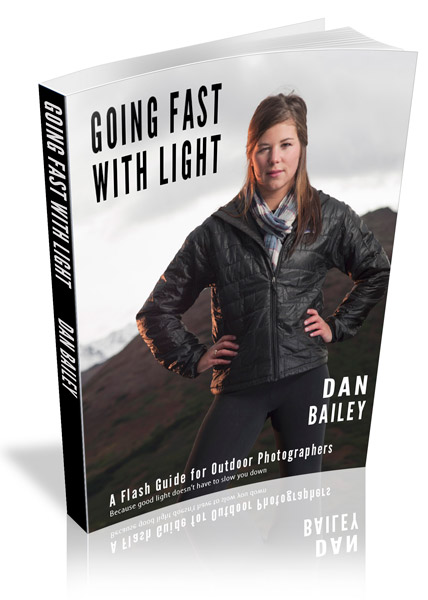 I'm releasing a brand new eBook today that will change your photography.
Going Fast With Light- A Flash Guide For Outdoor Photographers is an 83-page manual that will show you to use off-camera flash in the context of active outdoor photography.
In Going Fast With Light, I show you lighting techniques you can use to bring your imagery alive, and a selection of flash gear and light modifying tools that will still let you pack fast and light.
I break off-camera flash use down into a simple checklist and workflow that makes it easy to understand and apply to your own subjects. I show you how to make your photos really pop with the use of a single flash, as well as with multiple flashes.
Essentially, I've taken all the flash knowledge and strobist-style lighting techniques that I've learned over the years and boiled them down to a style that fits with my own active outdoor photography methods. I'm betting that many of them will apply to your style as well.
Whether you shoot action, sports, adventure, exotic locations, portraits or your kids playing in the park, your imagery can benefit from the occasional use of flash. Even just one well placed strobe can make a huge difference. However, the key to all this is learning how to build a diverse set of gear and skills so that you can shoot in bad light with speed and confidence.
The key is learning how to Go Fast With Light.
Download this book today, jump on a new creative path with your photography and see why good light doesn't have to slow you down.
[Lumiquest Promotion: The awesome folks at Lumiquest have kicked in a special offer to help with this launch. The first 50 people who purchase a copy of Going Fast With Light will receive a coupon code worth $5.00 off orders over $25.00. This offer is ON TOP of whatever other discounts they have on the site right now. (They're currently offering free shipping on orders over $35.00 and 20% off specialty items.)]
When you read the book, you'll see that I recommend a Lumiquest gear and use a number of their products in my off camera flash photography. It's especially made for going fast with light.
Going Fast With Light: 83 pages
$12.95 (Use discount code FAST20 to save 20% through Friday night.)