Breaking Down the Shot: Trail Running Self Portrait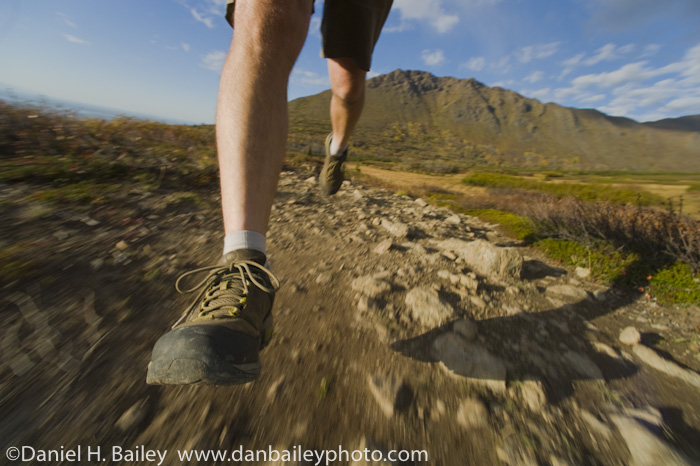 Yes, those are my feet.
I shot this image a year ago and recently posted it up on Google+. Got some great response over there, as well as a few calls from readers for details on the "How to." So here are the details about how I crafted this image.
I've actually shot a few variations of this image over the years, but this is one of my favorites. One that I shot over a decade ago has done really well as a stock image through one of my agencies; hopefully this one sells as well.
For this setup, I placed the Nikon D700 on the end of a small tripod (I use the Manfrotto 732CY Carbon Fiber) with a 14mm f/2.8 lens and scoped out a good spot on the trail during a late September afternoon in the foothills of the Chugach Mountains.
After doing some test shots to experiment with different shutter speeds and focus points, I preset the focus on the camera so that I'd get my front foot sharp. Final camera settings were 1/160 sec at F/11, which gave me enough depth of field on the super wide lens to fudge sharpness on my foot, and the right combination of subject sharpness and motion blur on the background.
To actually make the image, I timed how long it would take from my starting point to the ideal spot on the trail where my right foot would be after a designated number of steps. (I think it ended up being about 5 seconds.) Then, when everything was set, I hit the shutter, stuck the camera pole out in front of me and started walking really fast. (I'm sure that I looked pretty silly.) I actually used the pop-up flash on the D700 just to help freeze the sharpness of that front foot.
It took me awhile to get it timed perfectly. I shot over 150 frames in order to nail just the right framing, foot position and sharpness, and those passes when I goofed something up, accidentally kicked the camera or tripped on one of those rocks and nearly careened into the brush on the side of the trail.
Never said that adventure photography was safe. In fact, most of the time, I'm really only a danger to myself.
Be safe out there and have fun. And of course, stay tuned for tomorrow when I launch my brand new off-camera flash ebook, Going Fast With Light.
Follow @Danbaileyphoto