A couple weeks ago, I asked my subscribers to let me know what kinds of online photography courses they'd like to see me teach, and I got some incredible feedback! After reading hundreds of answers, I have some solid direction about how to proceed, and I'm looking to start filming some brand new courses in the next few weeks.
With that in mind, I'm excited to announce the launch of my brand new online school, which features a free course, called Creative Color Techniques for Photographers and brand new options for personalized individual coaching.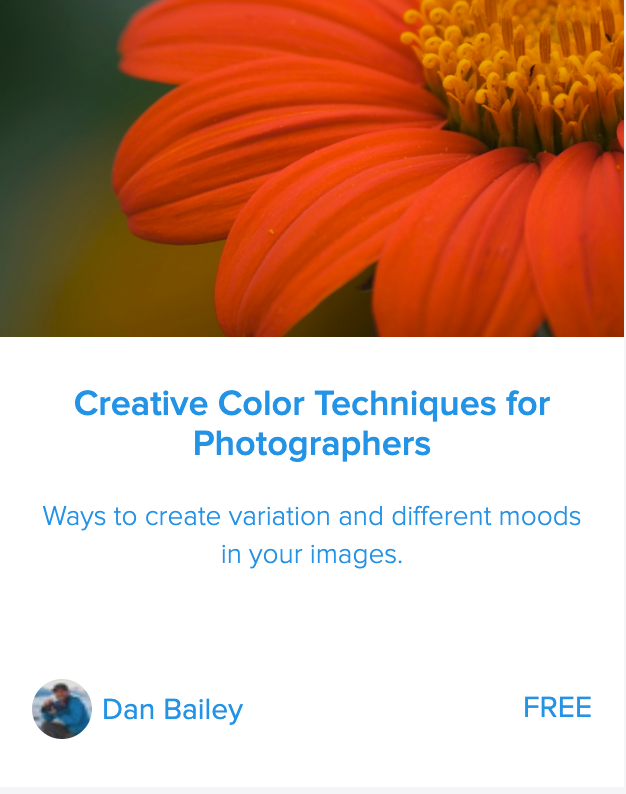 My Signature Course – Now in 3 Flavors!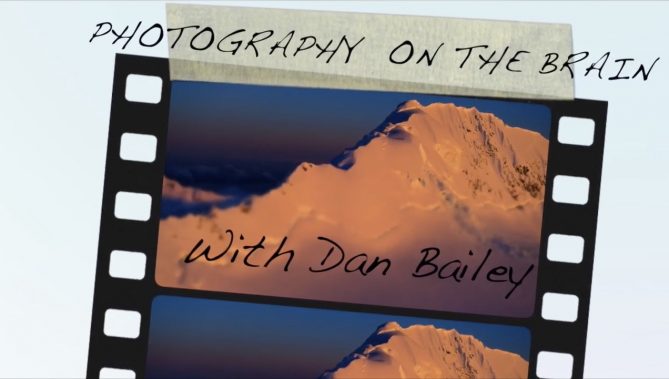 In addition, I'm now offering 3 different options for my signature 30-lesson course, Photography On The Brain, that are designed to better match a variety of budgets and commitment levels.
ESSENTIALS gets you unlimited access to all 30 lessons and downloadable PDF assignments, at the lowest price I've ever offered. (Even lower with the discount below!)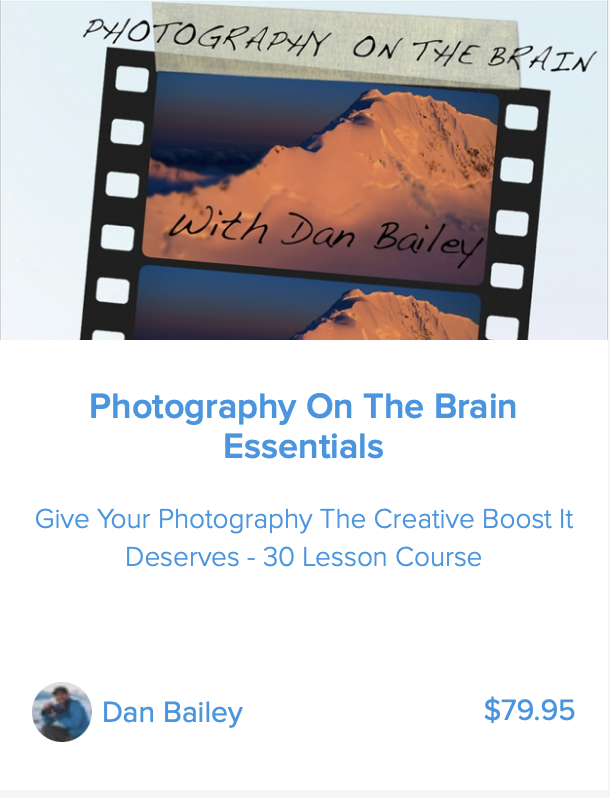 WORKSHOP adds full forum access where you can share you own insight, post your images for critique, and get input from me and other students.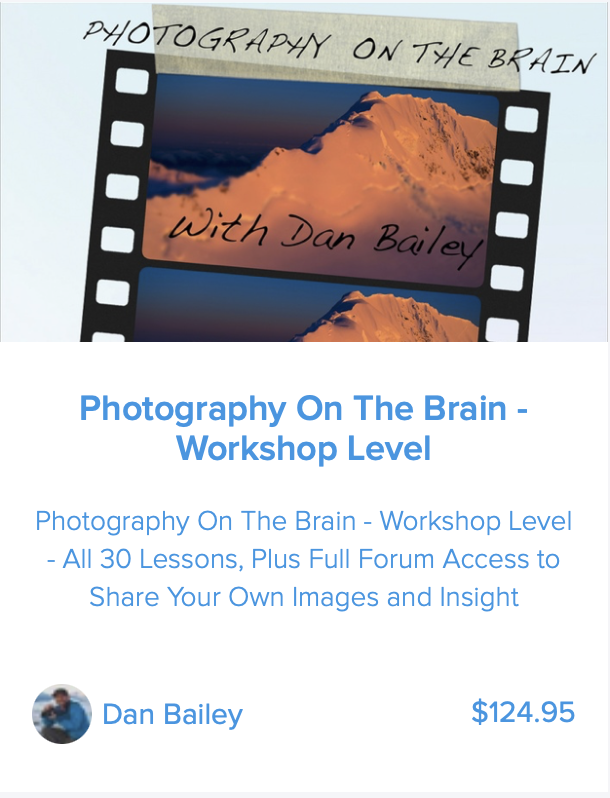 MENTORSHIP goes even deeper by adding personal coaching with a series of 4 one-hour video calls. This is the ultimate way to keep your motivation up and get targeted instruction and insight as you progress through the lessons.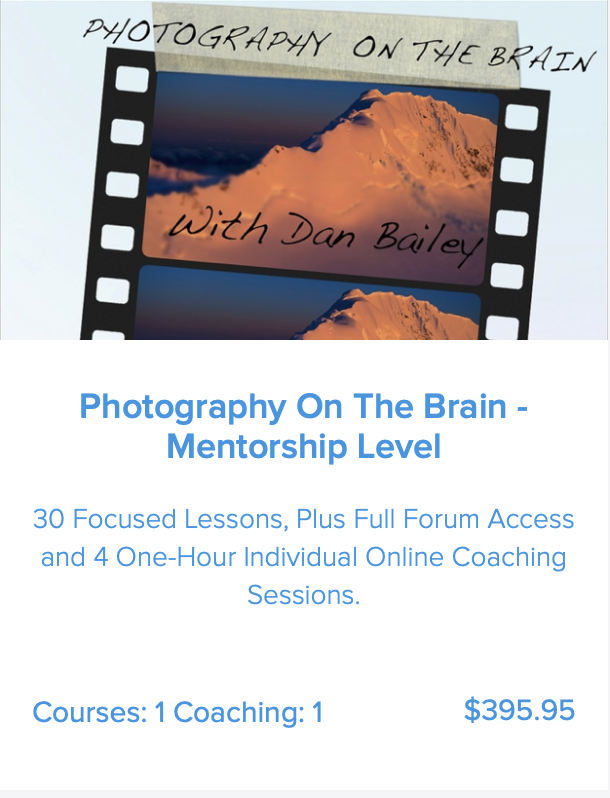 Photography On The Brain is still the most thought-provoking instruction on composition and creativity that I've ever offered.
I cover such a wide variety of topics that you are guaranteed to come away with a huge batch of new ideas, confidence and inspiration.
If you want to be better at composition gain more creative confidence, then I strongly urge you to check out this course, because I know it will help you expand your creative skills in a big way.
Go Deeper with Personal Coaching
I'm also unveiling my brand new PERSONAL PHOTOGRAPHY COACHING SESSIONS.
With three different video call options that range from 30-minute Quick Coaching sessions, 60 minute 1:1 sessions and an extended series of 4 one-hour monthly sessions, I can give you one-on-one advice, targeted instruction, and provide critiques, direct feedback and direction that will help you progress in your current photography life.
Whether you just need quick answers about a specific topic you're struggling with, insight about how to better apply a certain creative technique, or if you want more in-depth feedback and ongoing follow-up, this is an incredible option for learning.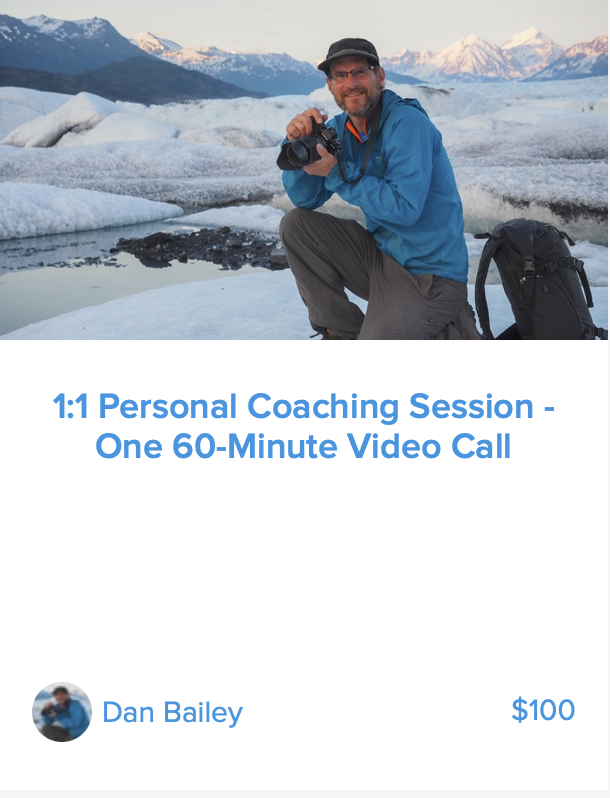 Awesome New Course Interface and iOS App
I'm so excited about my new course site, which is built with the Teachable interface. The user dashboard and lesson pages are so easy to navigate, and they look great! You can view the lesson videos and assignment briefs with unlimited access on any device, and there's even a free iOS app you can use for streamlined viewing of lesson material when you're offline.
I actually did a 12-week online singing/vocal course last winter that was built with the the same framework, and I was really impressed by the clean format and ease of access that Teachable offers. That's why I'm using it for my own courses, and I think you're really going to like how it looks and functions.
Limited Time Launch Discount!!!
Finally, to celebrate the launch of my new course site, I'm offering my readers a special limited time discount code for Photography On The Brain.
Use coupon code LAUNCH20 at checkout to save 20% on either theESSENTIALS or WORKSHOP tiers. (This code is only good for the next two weeks.)
My readers have been incredibly supportive over the years, and that's why I'm so excited about my new course site. I know that you guys like to learn from me, and you deserve the best possible user experience to access and absorb the information that I share.
I'm looking forward to building and uploading more courses in the coming weeks and months, but for now, I encourage you to check out the site, try out my free color course, and the share my courses with your other photographer friends.
Thanks so much for reading and take care.