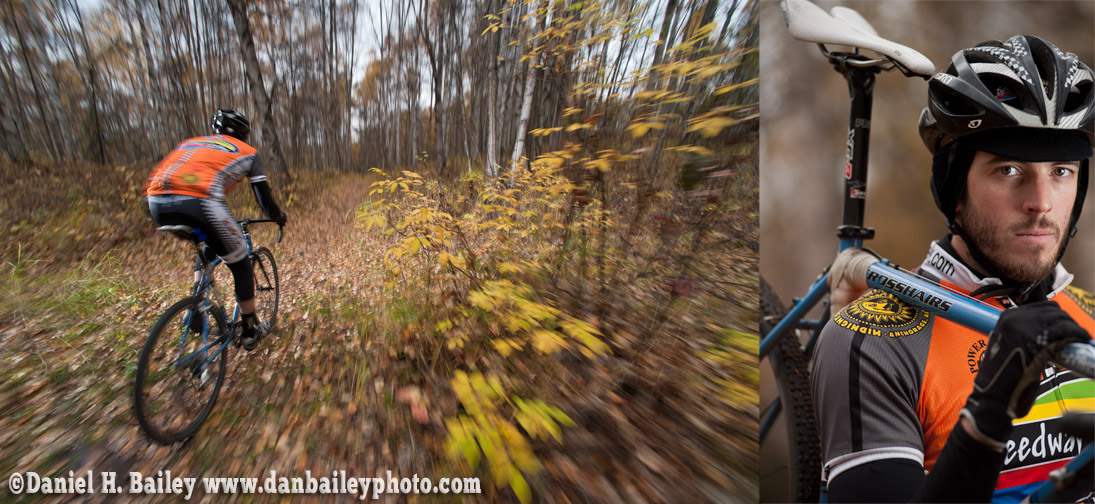 It's Cyclocross season, everyone, so let's get ready to ride!! Or photograph, if you prefer. Pick your poison. Biking hills and tight curves is way fun, but it's also a great sport to hit with the camera; lots of options for action, motion and experimenting with different techniques. Great opportunity to really input your own style into the work.
Here are a couple of shots from a series I did last weekend here in Anchorage, Alaska. (Click the image to see it bigger.) In some ways, they're in the same line as my Trail Runner Portrait from the other day; both shoots employ the subtle use of off-camera flash to boost the life and pop of the imagery. I've got bare bulb Nikon SB-800s throwing light at the wide angle shot on the left, and a single SB-800 inside a Photoflex Octodome NXT for the portrait on the right.
Like I said the other day, using light outside doesn't have to slow you down, not if you have the right gear and techniques at your disposal. Here's the same scene without flash. See the difference? Overcast. Dark forest. No 'pop.'
Learn more about using off-camera flash in the outdoors in my new 83-page eBook, Going Fast With Light and see how to get great light with gear that won't slow you down.