Essential Item – The Goal Zero Venture 30 Battery Pack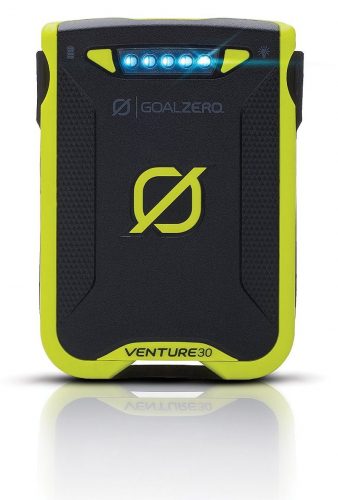 One of the most essential and useful "non-camera gear" related items in my outdoor photography kit it is my Goal Zero Venture 30 recharger.
If I'm going into the wilderness for any length of time, even for an overnight, or if I'm traveling, I always take it with me. In the past two years, my Venture 30 has accompanied me on all my hiking, camping and bikepacking trips, including Nome, Romania and most recently, Scotland.
The Venture 30 is rugged, waterproof 30W 7,800mAh battery pack with two high speed USB ports that's designed to keep your small devices running in the outdoors- phones, tablets, GoPro cameras, GPS, and any compact camera that can charge from its USB port.
It can even charge two devices as the same time, providing you have enough juice.
I use it to charge my iPhone (a fully charged Venture 30 will provide 2-3 phone charges) and occasionally my iPad, but I also use it to charge my camera batteries in the field using my tiny little OAproda NP-126 USB Rapid Charger that works with the Fuji NP-126 batteries.
OAproada makes chargers for other brands as well, check this post to see which USB charger will work with your camera.
With the Venture 30, I can get at least a couple of full charges for my Fuji batteries. This can really help if you're away from home, out in the wild or between hotels while traveling and you have no electrical outlets in sight. Knowing that you have this option can provide you with mental insurance and piece of mind when you see that battery indicator start falling towers the red.
Also, even if you're not using your phone very much, a chilly night can suck most of the battery power and leave it dead or nearly dead in the morning. A quick plug into the Venture 30 will bring it back to life.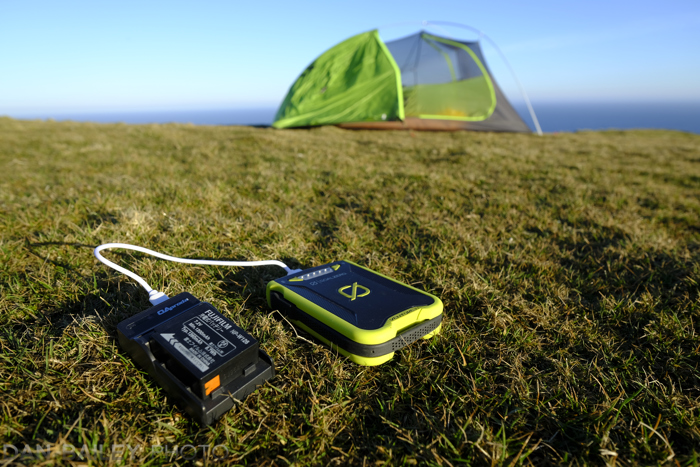 When I'm on the road and away from outlets, as soon as a camera battery goes down, I hook it up and start charging it as soon as possible. Empty batteries are worthless, so I like to start one charging as soon as it dies. Better to have them all at the ready, right?
In order to get the juice in, the Venture 30 works as a standalone USB charger and it will charge up in only 4 hours from from a computer or from any USB wall charger.
It's also designed to work with the Goal Zero Nomad Solar Panels, like the Nomad 7, which will power it up from empty to full in about 9 hours in full sun. (Goal Zero also sells the Venture 30 and the Nomad 7 as a kit.) Daisy chain a couple of Nomad 7 panels, or use the much more capable three panel Nomad 20, and you cut that time considerably.
Designed for adventure, the Venture 30 is definitely rugged. It has tough rubberized edges and it's totally weatherproof. It works fine in harsh environments, it will withstand being dropped or kicked, even on rocks, and it's totally waterproof. Whether you splash it or drop it in a creek, the Venture 30 will still work.
Another nice feature is the "Smart Charging" brain. Since different device manufacturers all use slimly different charging profiles, the Venture 30 was designed to learn and remember the optimum profile for any device you plug in to give you the fastest possible charging time.
Also, the five LED lights on the front can also be used as a light source. It ends up being a super bright light that will last a VERY long time.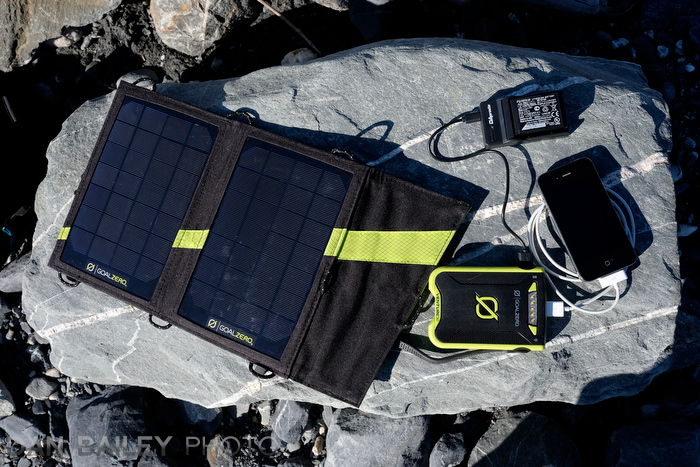 I cannot recommend the Venture 30 highly enough. I would label it as an essential item for any adventure and travel photographer, or any outdoor shooter who spends numerous nights outside and needs to keep stuff charged. How are you going to run Photographer's Ephemeris if your phone is dead?
It's an awesome little gadget, and when think about all the gear I own, my Venture 30 has been one of my most used devices during the past couple years. Since buying it, the Venture 30 has gone with me on every trip I've taken, and even when I'm home, it gets used quite often to charge the phone and iPod.
If 7,800mAh isn't quite enough for you, Goal Zero just came out with their new Venture 70, which offers whopping 17,700mAh of charging muscle. That will do 5-6 phones, 2 full tablets and numerous camera batteries. It's certainly bigger and twice the weight (16 oz vs. 8.8 oz), but if you need the extra juice at basecamp or if you're out for a longer period of time, the Venture 70 might be a good option.
Follow @Danbaileyphoto