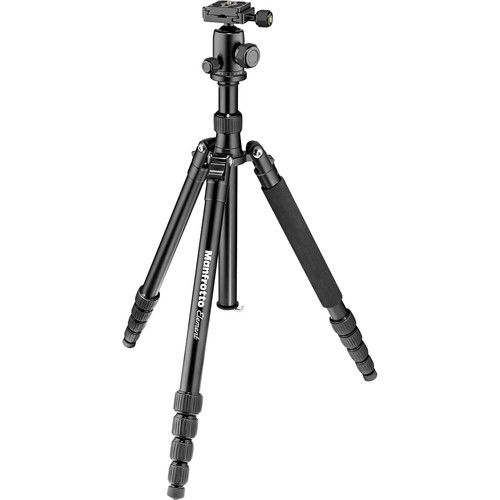 One of the most popular tripods around these days is the MeFoto Road Trip. In fact, I've seen more of these than anything else during my workshops and photo tours during the past couple of years.
It's no surprise. The parent company Benro created a real winner with their compact, affordable, great looking MeFoto line that all have fold-back leg design and sexy anodized aluminum trim. Other companies have surely taken notice, including Manfrotto, who just released their own Road Trip style tripod called the Element. 
The new Manfrotto Element is an awesome tripod and I'm glad to see them hit the market with an affordable, classic design such as this. I got to check it out in person over the weekend and I have to say, I'm pretty impressed. Nice job, Manfrotto! Sure, it's an obvious copy of the Road Trip, but hey, it's a great design, so there.
I've long been a fan of the Manfrotto line; I think they make great tripods that have usable features and excellent value. However, not everyone loves the "Flip Lock" leg design, which are found on their 190 series and the BeFree models. The Element uses the "Twist Lock" leg design, which gives the whole tripod a much cleaner look and and slimmer profile. (Most high end tripods brands like Gitzo use Twist Lock legs.)
Much like the MeForo Road Trip, (and the Gitzo Travlers), the 5 leg sections on the Manfrotto Element fold back on themselves over the head. This allows the tripod to collapse down to only 16.5″ when closed, which makes it small enough to fit in a suitcase or backpack.
With the legs and center column extended, the Element has a max height of 64.6″. With the legs folded out, it has a minimum height of only 16.1″ for low angle shooting. It's rated to support 17.6 lbs.
Weight with the included ball head is only 3.5 lbs. That's pretty darn light. In fact, it's really no heavier than a carbon fiber Gitzo that costs over four times as much. That's the best part about the Manfrotto Element, it only costs $149, which is $25 less than the Road Trip.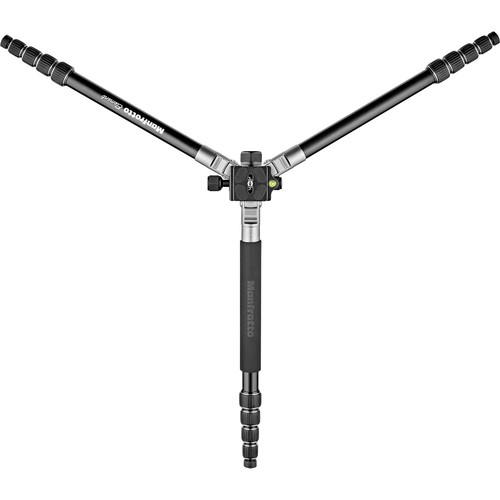 That's pretty impressive, given that the Element is so close in design to the Road Trip. Like the MeFoto, it has detachable leg which allows you to turn the tripod into a monopod, it has an Arca-type quick release ball head and 3 independent leg angles for shooting low to the ground or on uneven terrain.
And like the MeFotos, the Element comes in different colors- all black, or black with gray or red anodized trim, and it comes with a nylon carrying case. If you've ever seen a MeFoto Road trip, you'd probably chuckle at Manfrotto's obvious intention to capitalize on the extreme popularity of the Road Trip based on how similar they are.
I've owned a handful of Manfrotto tripods over the years and as I said above, I think they make great tripods for the money. They're a very reputable company. So is Benro; I've also handled enough MeFoto's recently to know that they're good too.
Honestly, there's not much difference between these two models, but given the fact that the Manfrotto Element costs a little bit less, why wouldn't you go with that one?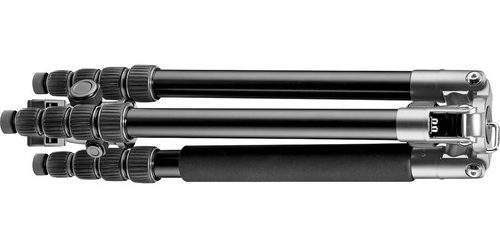 If you're looking for a decent lightweight tripod for use with a relatively lightweight DSLR or mirrorless camera, that packs small enough for travel and doesn't cost very much, you really can't go wrong with the new Manfrotto Element.
I can't fault them for pretty much copying the winning formula of the Road Trip. Manfrotto certainly has a long history of innovation, so in my mind, they've earned the right to do something like this, at least for now. Bottom line, it's a decent tripod for a great price. What's not to love?
Support this site. If you're in the market for new gear, consider purchasing through these links. It doesn't cost you anything extra, and it's an easy way for you to show your support for the time I take writing these articles and reviews. Thanks ! 🙂 -Dan
[iframe]<iframe width="120″ scrolling="no" height="240″ frameborder="0″ style="border:none;" border="0″ src="https://mer54715.datafeedfile.com/widget/aff_widget_prdt_generate-2.0.php?aff_num=6746&aff_net=1&widget_num=7799&sid=" marginheight="0″ marginwidth="0″></iframe>[/iframe]