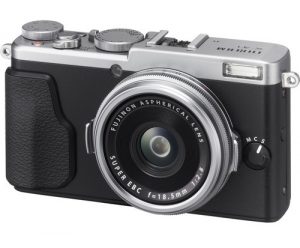 Fujifilm finally released a "little brother" version of the wildly popular and successful X100 camera. Keeping with Fuji's traditional styling, the new Fuji X70 is an affordable fixed lens compact rangefinder that features the same 16MP X-Trans sensor as the X100, and a slightly wider lens.
Built around an 18.5mm f/2.8, which offers a traditional 28mm angle of view, the X70 essentially gives you more of a "wide angle walk around camera," as opposed to the normal look of the 23mm (35mm FF equivalent) found on the X100.
Those extra few mm of focal length make the X70 a little more useful for landscapes, broad scenes, and even action. And, it's still "normal" enough for things like environmental portraits, travel and street photography.
With an EVF only design, the X70 saves size, weight and cost by eliminating the hybrid optical viewfinder. We're talking a significant reduction in size and weight; in fact, the X70 is the lightest X camera to date. It's pretty tiny, but given that it shares the same size APS-C sensor and image processor as the X100, the X70 packs a huge image quality punch for such a tiny camera. By comparison, the new Nikon DL series of compact cameras only use 1-inch sensors, which are considerably smaller than APS-C.
And although it lacks an optical viewfinder, the LCD screen on the X70 tilts. Considering how useful the tilt screen is, I'd call this an ok tradeoff. It even tilts all the way up, which essentially gives you "selfie mode." It's also the first Fuji X series camera with touch screen control for focusing, shooting and viewing photos.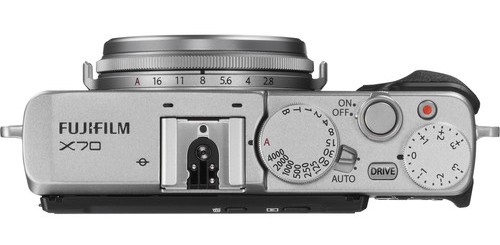 In addition to the standard array of creative options that all the latest Fuji X cameras offer, like Fuji film simulations, Face Detection, Fuji's updated Zone and Wide/Tracking autofocus modes, Interval Timer shooting, Panorama mode and 8 fps continuous shooting, the X70 also has a couple of other things built in, like Auto Macro Mode, which does closeup photography down to 10cm.
The X70 also features a new Digital Tele-Converter. This allows you to effectively shoot at three different focal lengths: 18.5mm, 35mm and 50mm. I haven't actually seen this in use yet, but I can see it being an attractive feature for people who may feel limited by a single focal length.
Overall, the new X70 seems like a hot little camera. "A pocket rocket," as one user described it. Standard X Series image quality in a tiny package. I know (myself included) that as attractive as the X100 is, not everyone can justify a $1,200 fixed lens rangefinder.
However, give us something with a similar feel for about half the price and you suddenly have a viable alternative for a lot of photographers who want a backup, a second body or a super lightweight trail, biking or travel camera. That's how my friend Jason uses it. He loves it. I can see why.
You can check out the Fuji X70 special site here.
[iframe]<iframe width="120″ scrolling="no" height="240″ frameborder="0″ style="border:none;" border="0″ src="http://mer54715.datafeedfile.com/widget/aff_widget_prdt_generate-2.0.php?aff_num=6746&aff_net=1&widget_num=7094&sid=" marginheight="0″ marginwidth="0″></iframe><iframe style="width:120px;height:240px;" marginwidth="0″ marginheight="0″ scrolling="no" frameborder="0″ src="//ws-na.amazon-adsystem.com/widgets/q?ServiceVersion=20070822&OneJS=1&Operation=GetAdHtml&MarketPlace=US&source=ss&ref=ss_til&ad_type=product_link&tracking_id=danhbaisadvph-20&marketplace=amazon&region=US&placement=B019Y5UBPU&asins=B019Y5UBPU&linkId=F5KFEDRDK7CU3GJN&show_border=true&link_opens_in_new_window=true">
</iframe>[/iframe]