Shooting Aerials Over the Chugach Mountains of Alaska
Aerial Photography Flight over the Chugach Mountains of Alaska from Dan Bailey Photo on Vimeo.
These days, "aerial photography" usually means "shot with a drone." For me, it means a lifelong love affair with mountains and dramatic terrain, a pilot's license and a little yellow Cessna 120 that rolled off the production line in April of 1947. It probably wasn't even yellow back then.
Not to knock drones; after all, they allow photographers a relatively affordable way to view the world from above, which is an endlessly fascinating perspective. I've never actually used a drone, although I do have a $20 remote control helicopter I bought at Fred Meyer. It's pretty fun. It drains the batteries rather quickly. I can imagine it's similar to flying drone.
I've even had people tell me I should get a drone. Imagine that. Why would I get a drone when I have any airplane? The way I see it, if I'm going to pay the same $5 to be regulated by the FAA, I might as well go all in and get the maximum benefit of being able to fly all around the sky.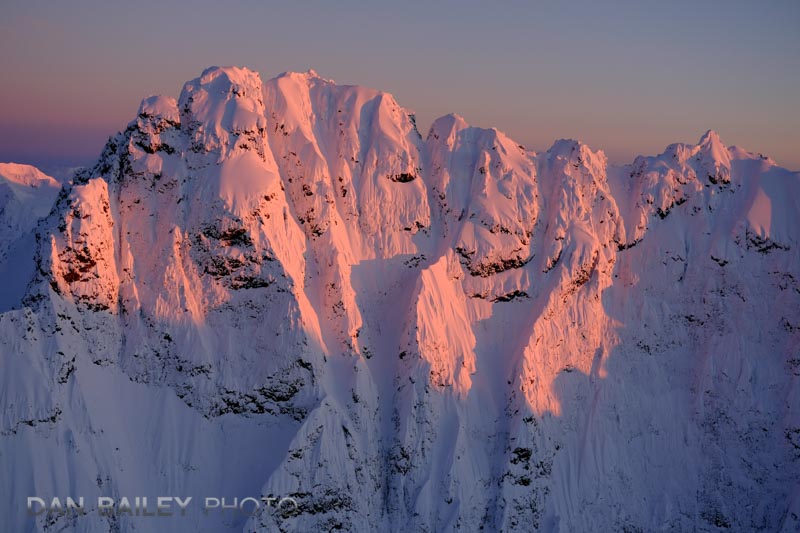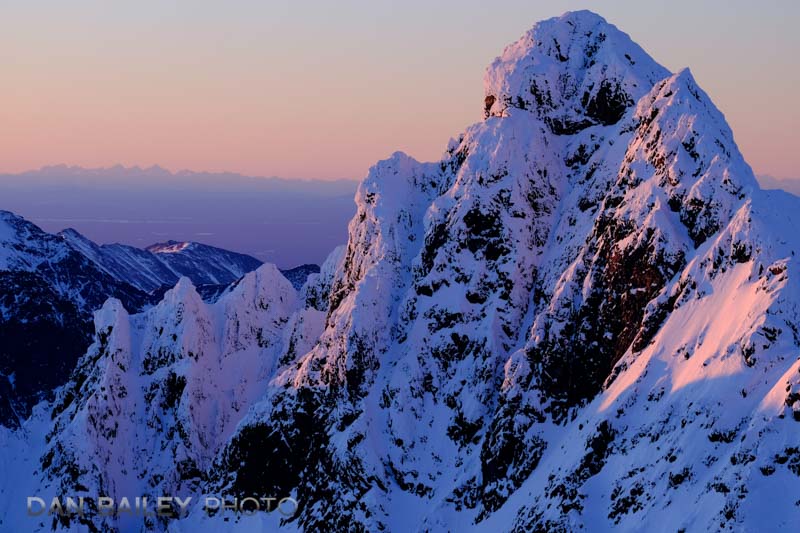 I'm kind of joking here. Obviously, drones are way less involved and less expensive than airplanes. Then again, maybe not. I know drone guys who have almost as much in their rigs as it cost me to buy my Cessna.
For me, though, it's about more than just the viewpoint. It's about being there and having a first person look at what I'm photographing, instead of watching it on a video screen. I like being intrinsically involved in the process of capturing my subject matter and combining two very challenging skills during these brief moments of excitement.
That and the fact that a drone with a 20 minute battery life and a 2-mile range wouldn't even get me within sight of some of my subjects, let alone close enough to take a few photos and get back, before it runs out of power, drops from the sky and disappears forever.
I've been in love with mountains for much of my life. I moved to Alaska 8 years ago and almost immediately started taking flying lessons, and bought my little Cessna about 5 years ago. Although I've shot aerial photos numerous times over the years, I stuck a camera out the window of my Cessna in April 2012. That's when things really opened up for me and I've been hooked ever since.
With everything I shoot, my aerial mountain imagery is some of my absolute favorite and most fulfilling work these days. In my mind, it combines the feel of adventure photography with the skill of action photography and the dramatic subject matter of mountain landscapes.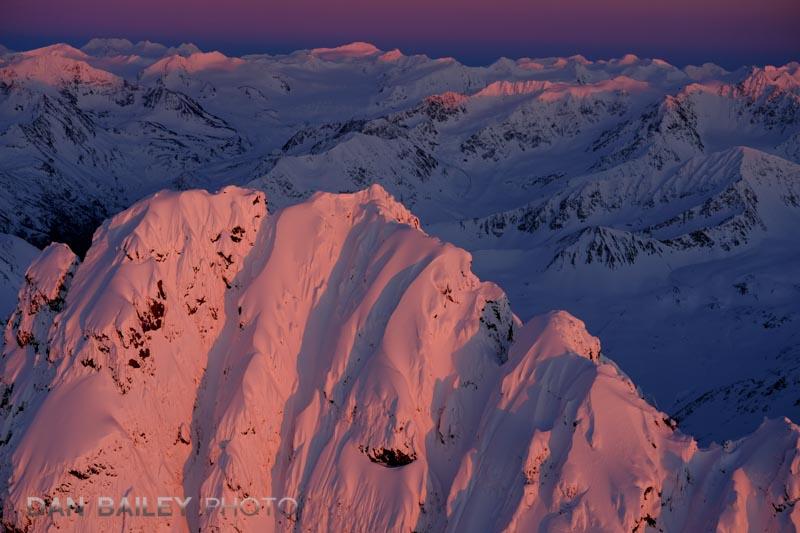 I liken my aerial photography missions to conducting a symphony of light and moment, where everything is is motion, except for the subject itself. I guess those would be the notes on the page. This presents and investing contrast to what I often face when shooting action. Usually, it's the subject that's moving.
When I'm up there shooting aerials, I'm the thing that's moving. I'm flying around these impressive and majestic formations about 70-80 mph, constantly gauging the air currents, the wind, and rising terrain all around me that could get me into trouble very quickly if I'm not careful.
I'm also looking for convergence between shape, shadow and light, just like I would with any other kind of subject matter. That's what drives the whole process. That's the glue that binds it all together.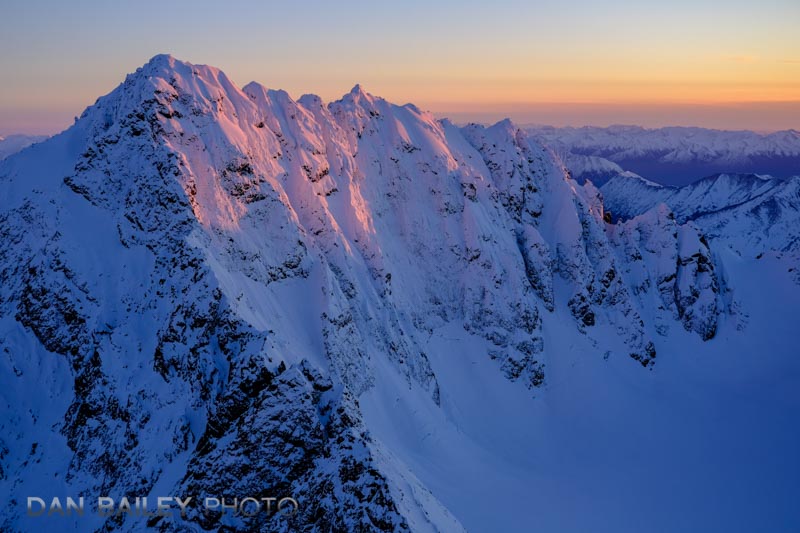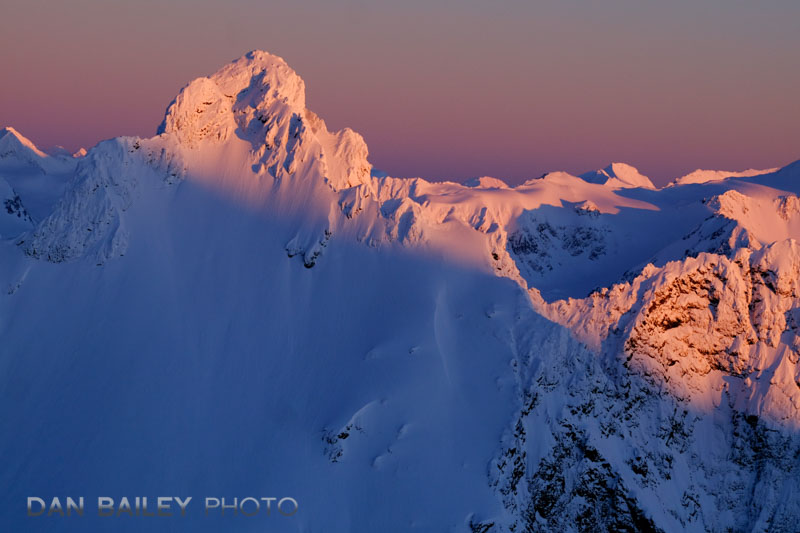 My favorite time of the year to shoot these kinds of aerials is in the late winter and early spring. The days are getting longer by then, it's generally not as cold, and the light is simply gorgeous.
After preheating the engine with an MSR XGK stove and a piece of aluminum duct, I usually take off about an hour before sunset and climb to about 7,000-feet. I pick an area to explore, sometimes revising a quadrant I've shot before, other times venturing over peaks I haven't yet explored in detail.
By the time it takes me to climb to my target altitude, the light is just starting to get good. Depending on where I am and what's around me, I look around for a formation that catches my eye, whether it's a dramatic peak or a juxtaposition between two or more elements in the landscape.
I've already got my Fujifilm X-T1 around my neck, so when I see something I like, I open the window, (it stays open from the prop blast), and shoot a series while I do a fly by, or make a shallow circle or curve around the subject. Left hand on the yoke, flying the plane, right hand on the camera, and using the LCD screen to frame my subjects. Keeps things much safer than if I tried to shoot while looking through the viewfinder. That's kind of a big deal when you're doing this stuff.
As soon as I complete my pass, I look for another subject, or if I see new potential with the same one, I'll circle around for another try. It gets pretty chilly up there, especially in the wintertime, so I usually close the window between passes. Like I said, it's kind of like playing a musical composition, or a series of short pieces that rises in crescendo with the excitement and drama of the setting sun.
Camera Settings
My settings are almost always the same: Continuous Low and Veliva film simulation. I also shoot in straight JPEG mode- no RAW. Why? Because I LOVE how the Velvia color profile does with this kind of subject matter. It gives me exactly what I want- dramatic tones with vibrant colors, inky blacks and rich blues in the shadows.
I couldn't get it any better if I spent an hour trying to tweak the RAW files. All of these are straight JPEGS. That's why I love shooting with the Fuji system so much. The photos look amazing right out of camera, and it brings me back to the days when I shot Velvia slide film, where you get what you get, and if you nail it, you're golden. All I have to do is keep my highlights under control and I'm there.
As a photographer, my goal is to walk away, or in this case, fly away, with a great image. That's the case no matter what I'm shooting. While many images requires some tweaking, If I can minimize that, I'm happy. That leaves me more time for shooting and writing about shooting. And other fun stuff as well.
Lens Choices
I've used a variety of lenses for shooting aerial photography with my X-T1. Although I've done quite a few with zoom lenses, like the XF 18-135mm, and with my X10 and X20, both of which have built-in zooms, these days, I prefer shooting aerials with primes. What I lose in flexibility, I make up for in simplicity and sharpness.
I usually go for a mid range prime and a short telephoto, with my current favorites being the XF 35mm f/2, and the XF 90mm f/2, although I really like the XF 56mm f/1.2 as well; both do an excellent job. Any wider than 35 and it becomes a challenge to keep my wing strut out of the frame. Before I got the new 35, I used the XF 27mm f/2.8 pancake lens quite a bit with very good results.
At these distances, focus isn't really an issue. With the speed and vibration of the airplane, the most important concern is nailing sharpness. Typically, I'll stop the lens down by just one or two stops from wide open to maximize edge to edge sharpness. This also give me high shutter speeds; I like to shoot at least 1/500 sec., if not faster. When the sun gets lower, I sometime bump the ISO up to 400, which helps keep the shutter as high as possible.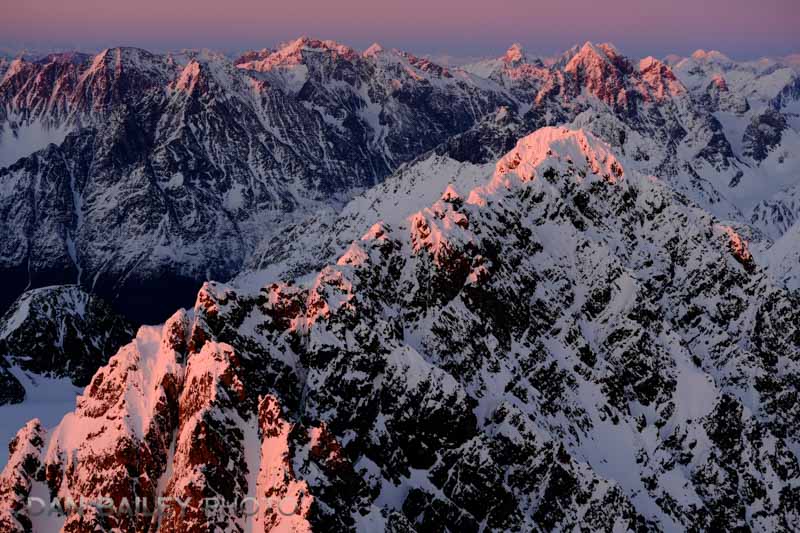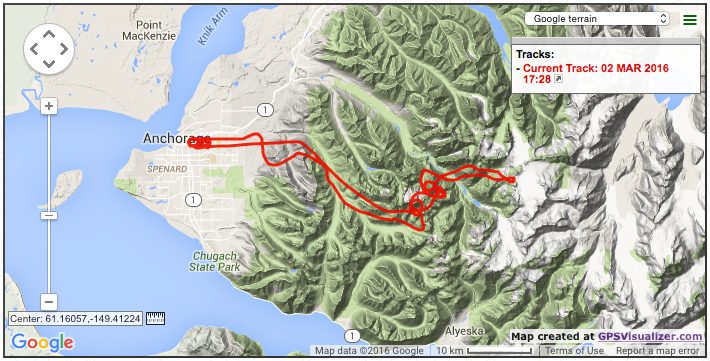 All of the photos in this post are from the same hour-long flight I made last week. Just for fun, I recorded the actual GPS track of my flight path as I circled around the mountains and put together a short video to give you an idea of how I get these shots.
You can check out some of my other aerial photography work here on my blog, and read my photo essay Chasing Alpenglow: Aerial Photography in Southcentral Alaska.  Also, contact me directly if you'd like to purchase any of these images as a print.
Follow @Danbaileyphoto