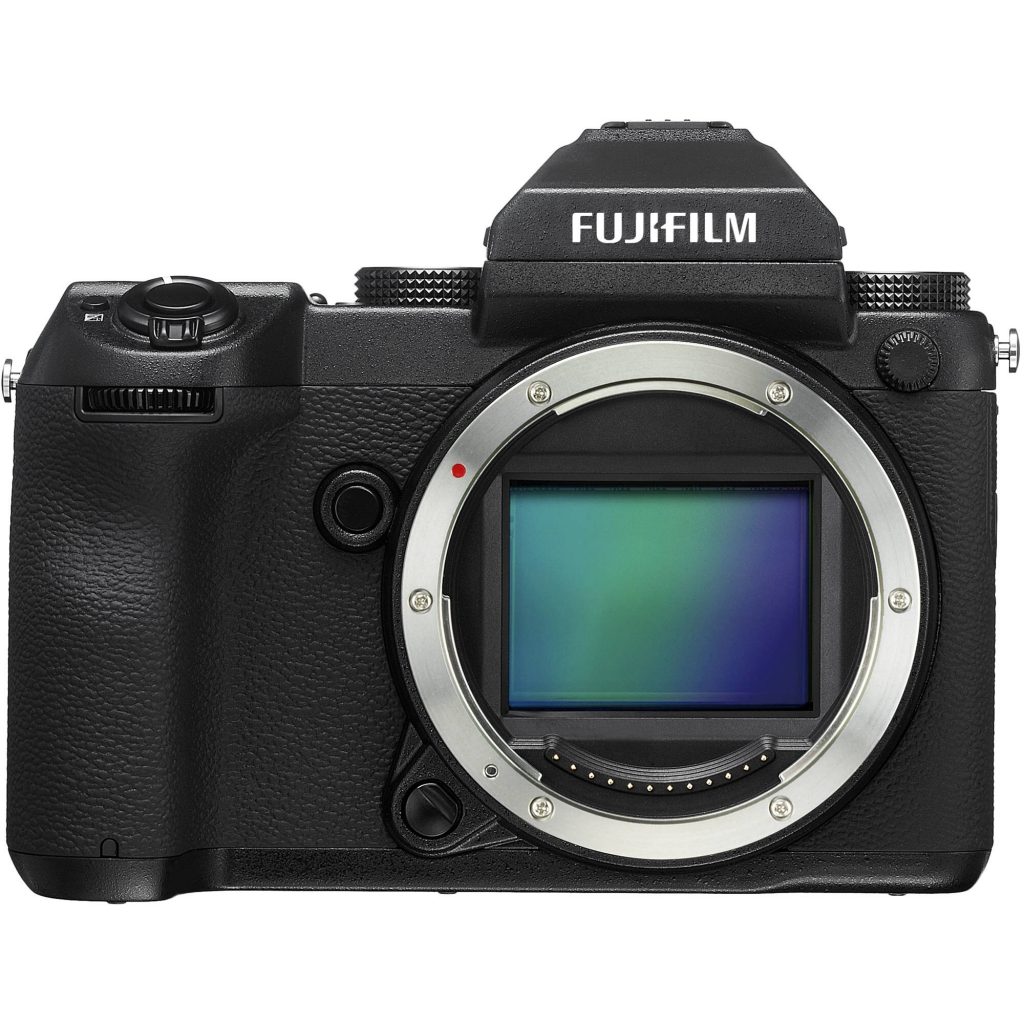 After "winning" PhotoKina last fall with their big announcement, Fujifilm has officially skipped right over full frame and as they unveil the first medium format mirrorless camera, the GFX 50S camera system. 
With a 51.4MP CMOS sensor that measures 43.8 X 32.9mm, the GFX is designed to produce the highest level image quality in a comparatively small and portable body that's designed around the distinct Fuij vibe and the same X Processor Pro image processing engine found in both the X-T2 and X-Pro2.
This is huge. And yet it's not. Given the size of the sensor and the very high resolution that this camera will produce, it's not as big as you might expect it to be. In fact, it's really not much bigger than a Canon 5DS R, and people lug those things everywhere.
Designed for professionals and photographers who want the best possible image quality, the Fujifilm GFX is sure to appeal to studio photographers, high-end portrait and wedding shooters, and I also see it appealing to landscape photographers as well.
Again, I see a bunch of existing Canon 5DS R shooters stopping to take a serious look at this camera. You know, the people who are totally intrigued by the Fuji X Series cameras, but who just can't pull the trigger on the X-T2 because it's not full frame. They just can't get past APS-C; now they don't have to.
Fujifilm has unveiled three lenses for the GFX camera system, a 34-64mm f/4, which will be your standard semi-wide to mid range zoom lens, a 63mm f/2.8, which is the equivalent of a full frame 50mm lens, be a and a 120mm f/4 short telephoto.
In addition, Fuji has also announced a 110 f/2, which will be close to a full frame 90mm, an ultra wide 23mm f/4, (equivalent to a full frame 18mm), and a 45mm f/2.8 (equivalent to a classic 35mm photojournalism lens.)
So is this thing ideal for outdoor and travel photography? Possibly. As I said, there are plenty of photographers who carry heavy, full frame DSLRs everywhere, so size and weight are just not a factor for everyone.
And of course, there are plenty of medium format landscape photographers who like what they see in the X Series, especially the color reproduction that Fuji does so well with their film simulations. These might even be people who actually shot sheets of medium format Fuji film back in the day, and who might really love shooting Velvia and Astia.
Either way, the GFX 50S is a bold and exciting move for Fujifilm. They've clearly demonstrated that they haven't forgotten about professional and commercial photographers who demand maximum resolution. For them, the GFX will offer incredible image quality, extraordinary dynamic range and gorgeous tonal rendition with smooth gradation across the spectrum.
It's a very exciting time to be a photographer, isn't it?
The GFX 50S camera and all six lenses will be available soon-stay tuned for an exact date. See the full list of specs and more photos of the system here.