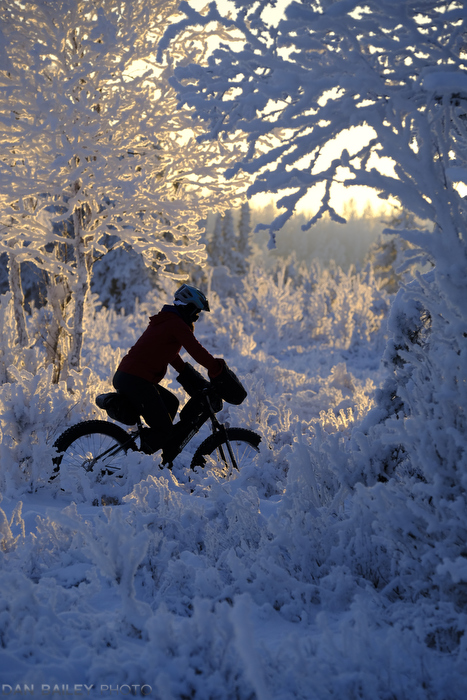 After three dismal, icy winters, we finally got a good one here in Southcentral, Alaska- much to the excitement of pretty much EVERYONE who lives here.
Last week was particularly wonderful, with a mix of clear, cold weather, snow and ice fog, we had a stunning accumulation of hoar frost, rime ice and snow all piled on top of each other on just about every surface in town.
The trees looked absolutely gorgeous. It was like magic. People were saying that all the branches, sticks and twigs looked like big white Cheetos.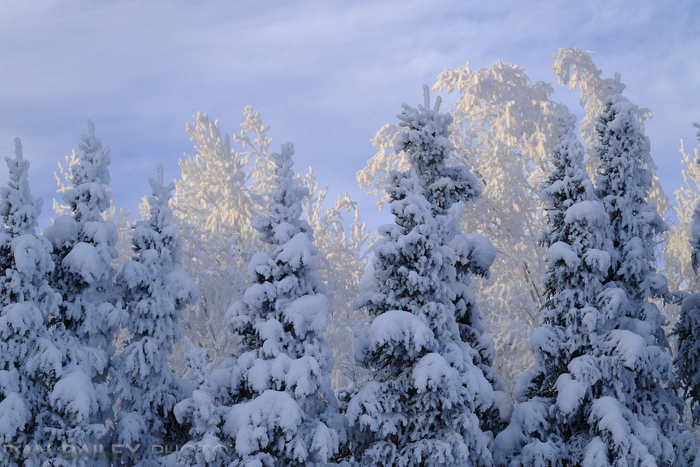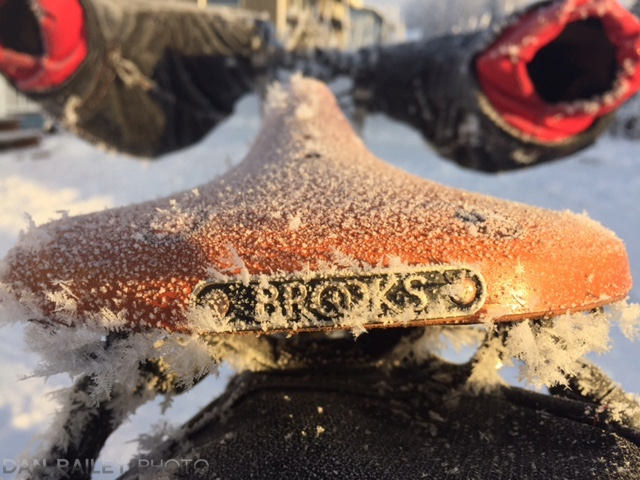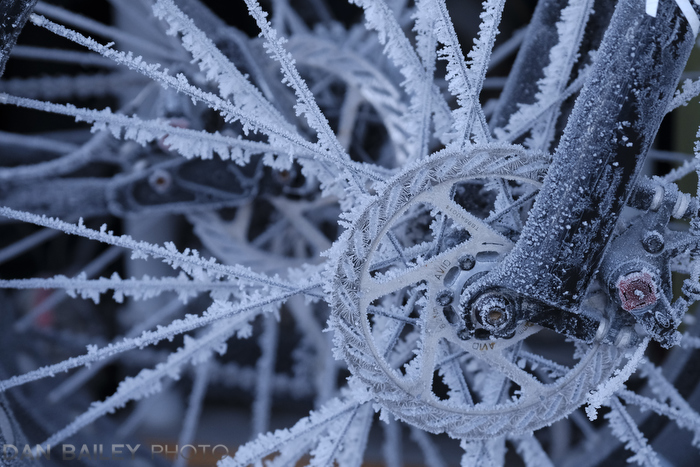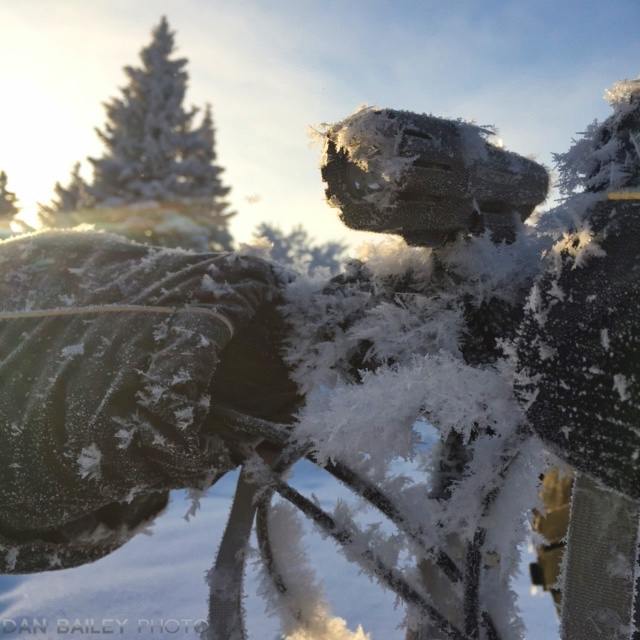 I'd been getting out and shooting some landscapes, but I really wanted to capture an awesome snow biking image in these unbelievably amazing conditions.
I knew I couldn't wait, because you never know what the weather will do from one day to the next. One good gust of wind and all that hoar frost will be gone, just like that. Or else you'll get a cloudy afternoon and the light won't be very good.
As a photographer, you have to take advantage of those great conditions when they happen.
So, last Thursday, we brushed off the bikes and pedaled out on the trails. It was 7 degrees F when we left. Taking off from the house at around 2:30PM, we only had about an hour of good light left, so we made the most of our time and rode to a large open area about a mile from the house.
When we got to the frozen swap, everything looked awesome. The trees were all covered in white magic, and the light was really ice. It was almost visual overload.
It was the kind of scenario where I had an idea of what I wanted to show, but it took awhile to bring those ideas to life.
Obviously, my three main elements were the frost covered trees and the snow biker, but it was a challenge to show them in the best way and narrow down everything into a tight compelling frame.
I played around with different lenses and compositions, and although I was pretty excited about each of my scenes, I didn't want to settle for "really good," I wanted "awesome."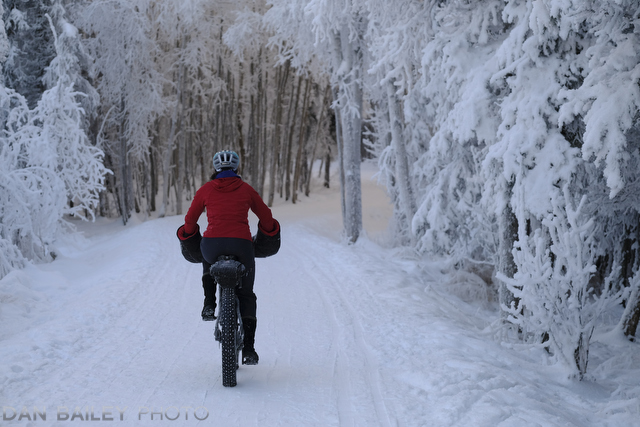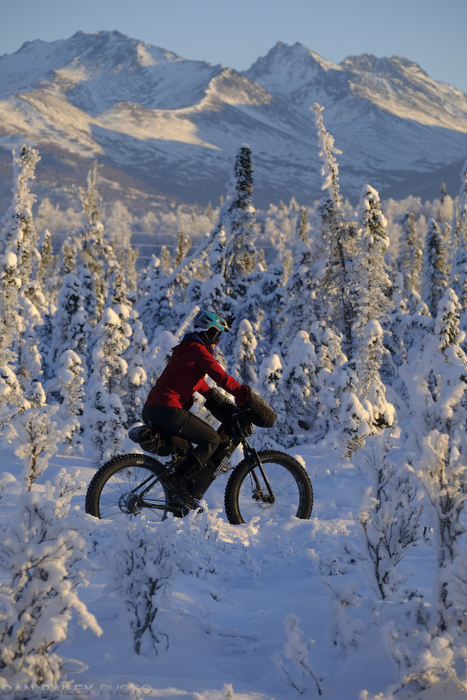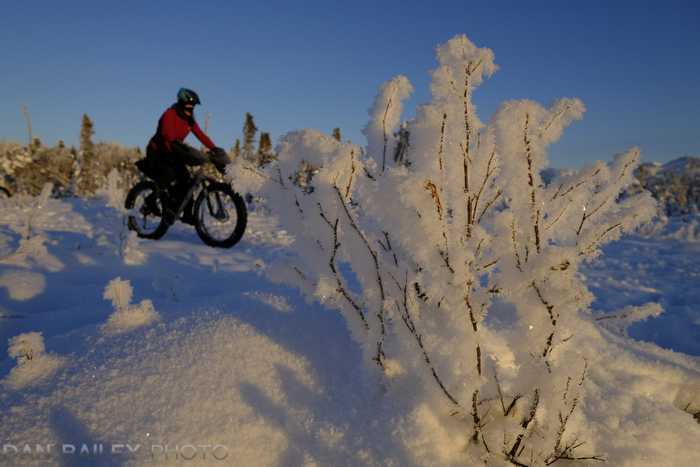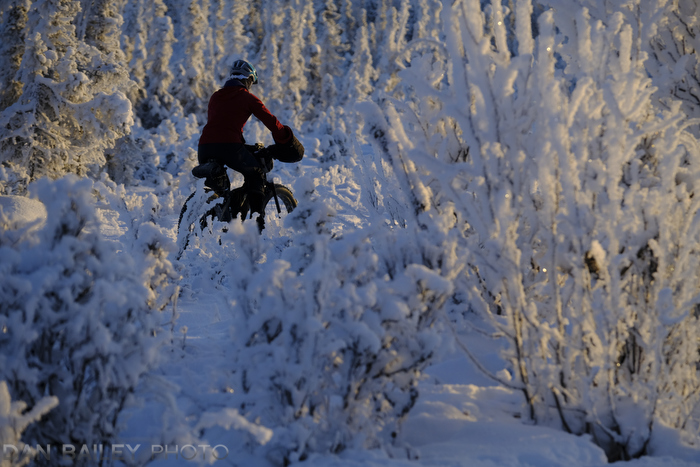 Just after 3:00PM, as the sun was quickly dropping behind the trees, I saw what I was looking for: A backlit section of snow covered trees, lit by golden sun, with nothing but snow and frost all around it. That was it. That as my magic scene.
Looking through the telephoto, I was able to isolate that small section of terrain to compress the background and maximize the stunning visual impact of the scene. I had my biking model ride back and forth through this section along the trail as I shot frame after frame until the light faded. Then I put the camera away and we rode a nice 20-mile loop, finishing in the dark.
This is the kind of scene you crave as an outdoor adventure photographer. I've never seen it so thick and snowy like it was last week, and I'm so glad I got out and shot in these conditions, because the next day, a new storm rolled in with overcast skies and blew all the frost off.
So, moral of the story- when the conditions are great, bundle up, grab your camera and head outside!