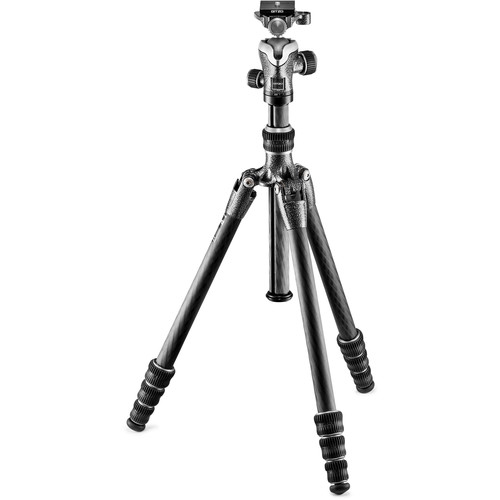 I recently bought my first Gitzo tripod. I always wanted a Gitzo, so without trying to justify my purchase or make up reasons why it was ok for me to drop that much cash on something that wasn't a camera, a lens, a plane ticket, a bike or a guitar, I just threw down my money and bought one.
I got the Gitzo GT0545T Traveler. It comes in two versions, one with a dedicated QR ball head, and one without a head.
Gitzo has recently paired their popular Traveler Series with the new 82TQD Arca-type ball head, and it's pretty impressive. A single large knob acts as both a main control and a friction lock, which I really like. A second knob controls panning/rotation of the head, and a third works the QR plate.
The new 85TQD heads are designed to next perfectly inside the legs when they fold back. That's the main feature of the Gitzo Traveler series, the legs fold all the way back on themselves, which allows the tripod to close to a very compact length of only 14.4″, and weigh less than 3 lbs, even with the head.
With its four carbon fiber leg section fully extended and the center column all the way up, the 0545T extends to 52.4. With center column down, it stands at just under 45."
Considering the fact that I'm not exceedingly tall, and that I'm often using the LCD on my mirrorless cameras to compose and review imagery, this is a perfect height for me. It's also nice, since keeping the center column down increases stability. In fact, Gitzo even includes a short center column with all their Traveler Tripods. It's designed for ground-level shooting, but I can see using it quite a bit when traveling.
I had originally intended to get the larger GT1545T model, and in fact I did buy that one, but the next day, I decided to go two sizes down and exchange it for the 0545T. The 1545 is an extremely nice travel tripod, and probably ideal for many photographers, I just liked the idea of going as small and light as possible.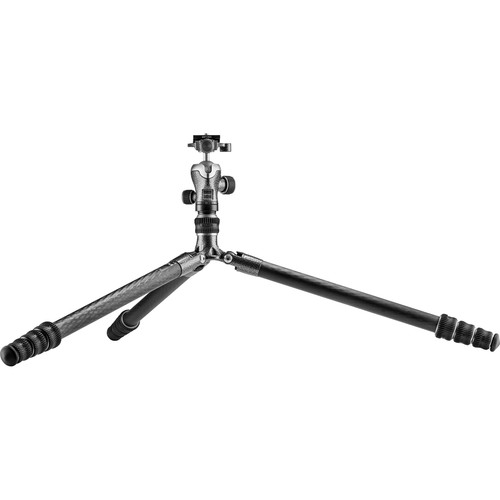 Weight is not a huge concern for me, after all, my Fuji cameras aren't very heavy, and I figured I'd take full advantage of the superb strength-to-weight ratio that the Gitzo 6x carbon fiber legs offer.
Not that I gave up much- the tripod and head are rock solid and will hold any of my bodies and lenses, even my Fuji 100-400. It's rated up to 22lbs, so it will hold most DSLR gear as well.
If I regularly used big glass, I might have gone with the "legs only" model and gotten a more substantial head, but again, if I'm going to bring this thing with me, I need it to be as small and light as possible. Plus I love the design of the 85TQD head.
I've already used it a handful to times, and I really love how it feels and operates. Anyone who's ever owned a Gitzo knows that they're made with the highest quality Italianworkmanship. It's such a pleasure to carry and use, and I knew it would be. I also like that it has a shoulder strap. It's actually a pretty handy feature. Sling it on and go.
As with any gear you'll use on a regular basis, you want something that MAKES you want to use it because it's so well made, with careful attention to every single detail, and that will operate smoothly, year after year.
That's why I bought a Gitzo. It wasn't cheap, but I wan't going for cheap. I wanted something that would last.
I'll be writing a more detailed review after I've used it for a few months, but for now, just know that I'm in love.



@Danbaileyphoto 🙂 I got the Gitzo traveller. I wish it was a little taller, but it's really light and fits in my suitcase.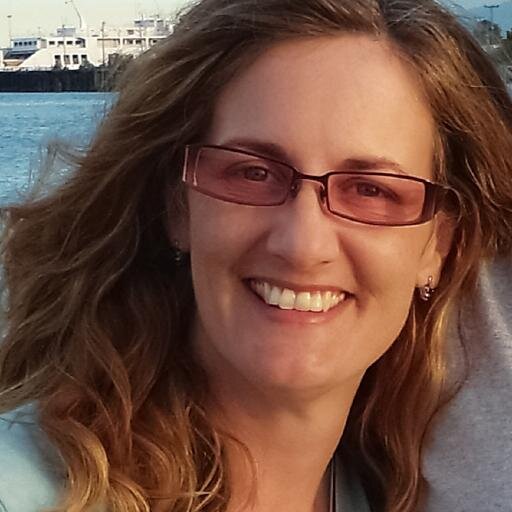 [iframe]<iframe width="120″ scrolling="no" height="240″ frameborder="0″ style="border:none;" border="0″ src="http://mer54715.datafeedfile.com/widget/aff_widget_prdt_generate-2.0.php?aff_num=6746&aff_net=1&widget_num=7558&sid=" marginheight="0″ marginwidth="0″></iframe><iframe style="width:120px;height:240px;" marginwidth="0″ marginheight="0″ scrolling="no" frameborder="0″ src="//ws-na.amazon-adsystem.com/widgets/q?ServiceVersion=20070822&OneJS=1&Operation=GetAdHtml&MarketPlace=US&source=ss&ref=as_ss_li_til&ad_type=product_link&tracking_id=danhbaisadvph-20&marketplace=amazon&region=US&placement=B014EQFYE2&asins=B014EQFYE2&linkId=d4078b0c4e28f272994afe5bfa0fb43d&show_border=true&link_opens_in_new_window=true"></iframe><iframe style="width:120px;height:240px;" marginwidth="0″ marginheight="0″ scrolling="no" frameborder="0″ src="//ws-na.amazon-adsystem.com/widgets/q?ServiceVersion=20070822&OneJS=1&Operation=GetAdHtml&MarketPlace=US&source=ss&ref=as_ss_li_til&ad_type=product_link&tracking_id=danhbaisadvph-20&marketplace=amazon&region=US&placement=B014EQFSL6&asins=B014EQFSL6&linkId=4bffa9d4ac39ca1712b8035bd4267a09&show_border=true&link_opens_in_new_window=true"></iframe><iframe style="width:120px;height:240px;" marginwidth="0″ marginheight="0″ scrolling="no" frameborder="0″ src="//ws-eu.amazon-adsystem.com/widgets/q?ServiceVersion=20070822&OneJS=1&Operation=GetAdHtml&MarketPlace=GB&source=ss&ref=as_ss_li_til&ad_type=product_link&tracking_id=danbaiphoblo-21&marketplace=amazon&region=GB&placement=B016NSFHX2&asins=B016NSFHX2&linkId=b3eb62fb9d4242b4802229500caf61f5&show_border=true&link_opens_in_new_window=true"></iframe><iframe style="width:120px;height:240px;" marginwidth="0″ marginheight="0″ scrolling="no" frameborder="0″ src="//ws-eu.amazon-adsystem.com/widgets/q?ServiceVersion=20070822&OneJS=1&Operation=GetAdHtml&MarketPlace=GB&source=ss&ref=as_ss_li_til&ad_type=product_link&tracking_id=danbaiphoblo-21&marketplace=amazon&region=GB&placement=B016NSFTV2&asins=B016NSFTV2&linkId=ca4c6a12278552fc783173878b4f9c0a&show_border=true&link_opens_in_new_window=true"></iframe>[/iframe]