Join Me for a Live Webinar This Wednesday at 11AM PST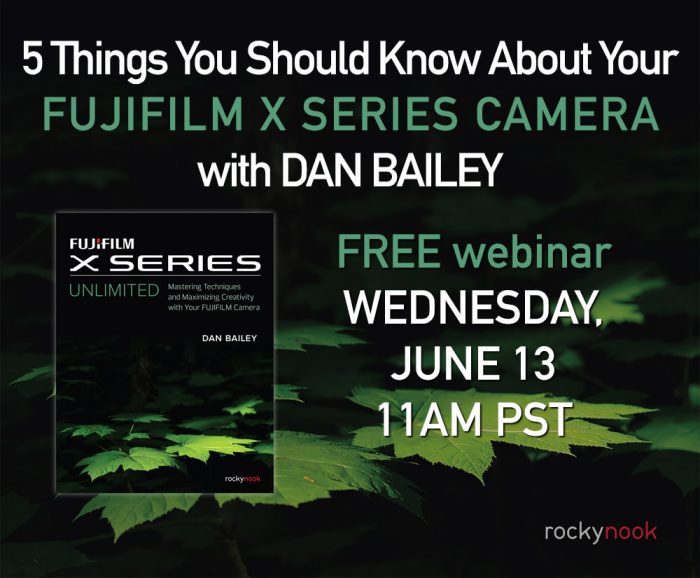 NOTE: This webinar is now over. However, you'll be able to watch the replay on YouTube. Visit this post to see the video and read about how the event went.
This Wednesday at 11:00AM PST, I'll be doing a free live webinar with Mercedes Murray from Rocky Nook called 5 Things You Should Know About Your Fujifilm X Series Camera.
I'll be highlighting some of the information from my new book, FUJIFILM X SERIES UNLIMITED, which is the new paperback version of my bestselling eBook. It teaches you everything you need to know in order to get the most from your Fuji and it's become the essential go-to guide resource for Fuji users around the world.
I'll choose a few of the settings in detail and expand on how I personally use them in my own photography. We'll also be doing a Q&A and Live Chat with participants, so if there's something specific about the Fuji system, or photography in general you've been wanting to ask me, this is a great time to get a personal response!
I'm looking forward to this, and not only because I get to talk about photography and the Fuji cameras, but because I know that I'll get a chance to field questions from you guys as well! Plus you get to see the face  and hear the voice behind the book. 😀
If you would like to purchase a copy of FUJIFILM X SERIES UNLIMITED, you can get it directly through Rocky Nook and use discount code DANBAILEY25 to save 25% on the book.
Follow @Danbaileyphoto