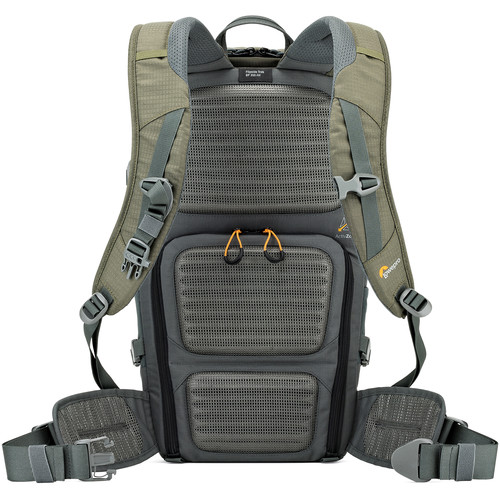 I'm definitely a camera pack nerd. I own a closet full of packs in different shapes and sizes, partly because I've always been searching for the perfect pack, and party because there is no such thing as the perfect pack.
Camera packs started to get a lot better about 7 or 8 years ago. They got more technical and much more user friendly for outdoor and adventure photographers who wanted to cary more than just cameras.
We also need to carry food, water, extra layers and outdoor gear, and, more importantly, we need our camera gear to be easily accessible.
Ideally, you shouldn't have to take your pack off and set it down in order to access your camera or grab a different lens. You'll miss the shot if you spend too much time trying to dig your camera out. You should be able to just undo one or both shoulder straps, sling it around, reach into the dedicated compartment and get your camera into your hands in a few seconds.
Lowepro was one of the main companies to design innovative adventure camera packs, and in my mind, for the size and technical features, they're some of the best packs out there for going light and fast. The original top loading Photo Sport 200, which was my first awesome outdoor camera pack, is still being made. I still use it quite often.
Note: For photographers who need larger technical camera packs that will fit a full selection of gear, including your big glass, definitely check out the Athlete from Atlas Packs.
The Flipside Trek AW Series
Sadly, my other favorite Lowepro pack, the Flipside Sport AW, is no longer being made, but Lowepro now has the long-awaited update, called the Flipside Trek AW, and they look awesome.
The Flipside Trek series takes what was great about the Flipside Sport packs and adds the thing that was missing, which was extra room for non-camera gear.
I still use my little 10L Flipside Sport all the time, but I can't carry very much besides camera gear. There's no place for something like a tablet, and it has very little room for extras. Often times, I cram a sandwich or a small 1/2 L water bottle into the main compartment, but this means using up one of the lens compartments. It works, but it's not really an ideal situation. I'd rather have a separate compartment.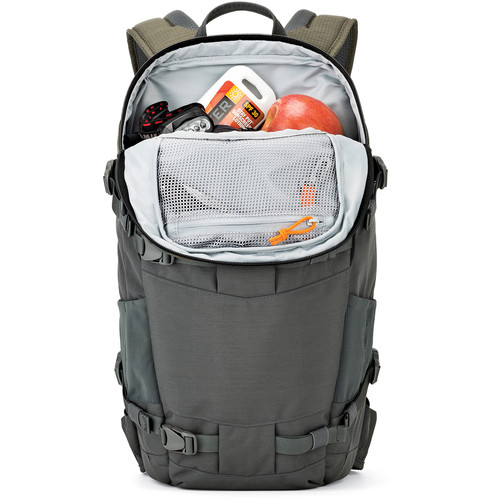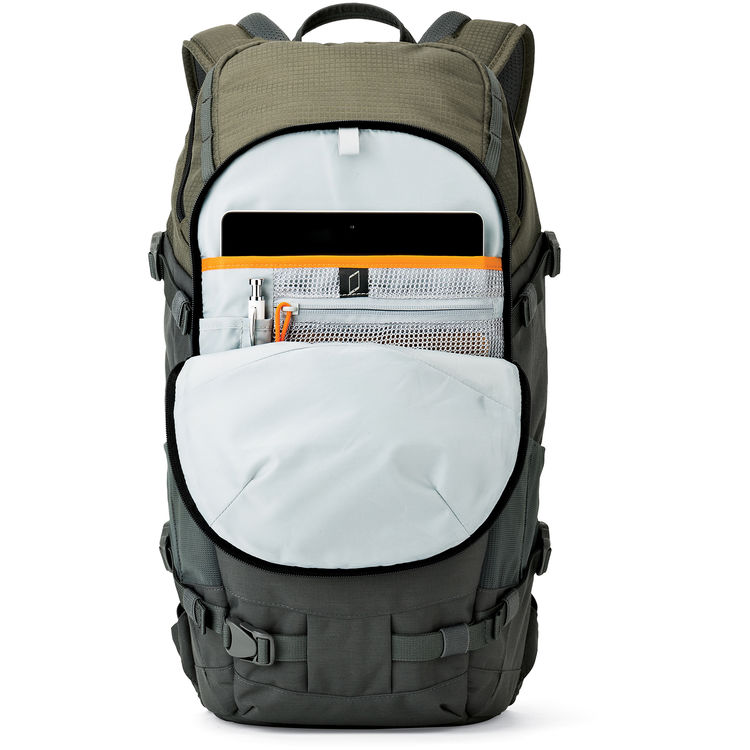 The Flipside Trek uses a similar back-loading camera compartment, but it adds a reasonably sized top compartment for outdoor gear and a small pocket designed to carry a tablet and other slim items, such as phone, hard drive, pens, notebook, etc…
The tradeoff is that the camera compartment isn't quite as big. In other words, you can't carry a really big lens, but if you're using a pack like this, chances are you're going light and fast and leaving the huge glass behind. You can still fit a DSLR or mirrorless body and 3-4 lenses, depending on which model you're using.
The Flipside Trek comes in 3 sizes: 250, 350 and 450. The basic design is the same, but they just have different size camera compartments. With the 250, you can carry a small DSLR or mirrorless camera and 2-3 lenses plus some small accessories, while the 450 is more suited to carrying a larger camera and 3-5 bigger lenses or flash units.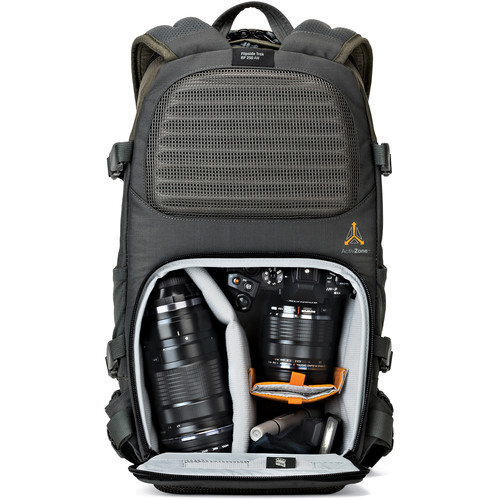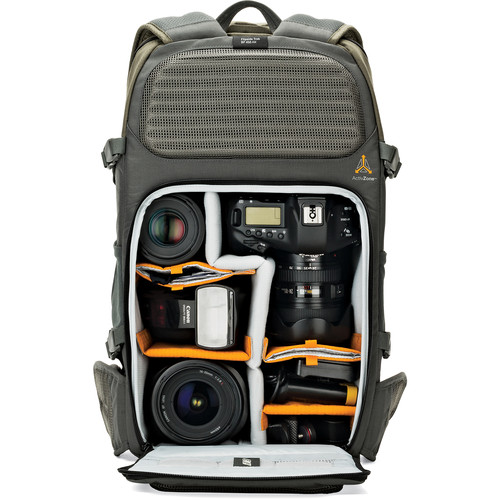 As with all the Lowepro AW series packs, the Flipside Treks have great suspensions systems with padded, ventilated backs, contoured shoulder straps, sternum straps, mesh elastic side pocket, compression straps, a few lash points and a built-in rain cover.
The smallest of the 3, which is the 250 model has a 1-inch webbing waist strap, while the two larger sizes have very nice, padded waist belts with zipper pockets on the side. I love pockets like this, and I use them for carrying extra batteries and a memory card case. I almost won't even look at a pack these days if it doesn't have zipper pockets on the waist belt.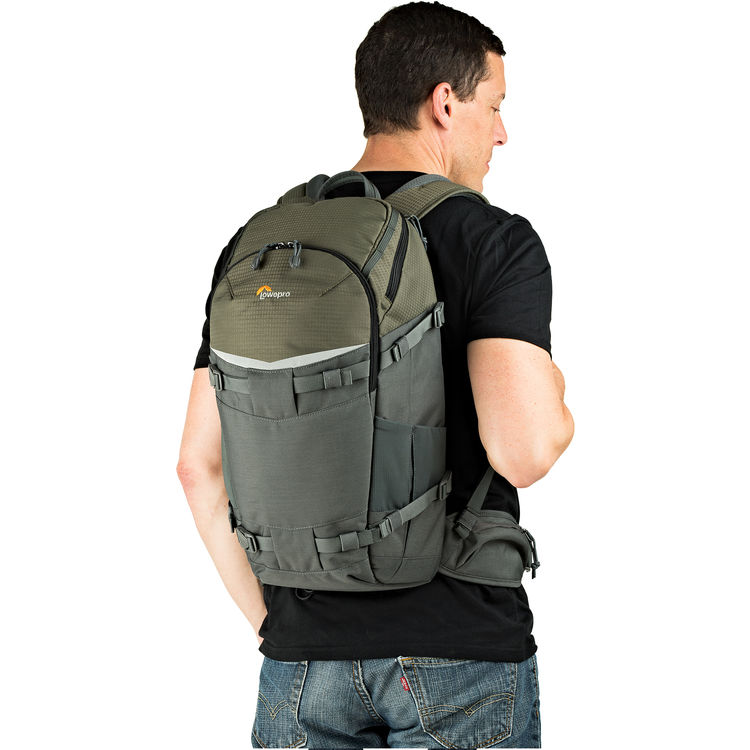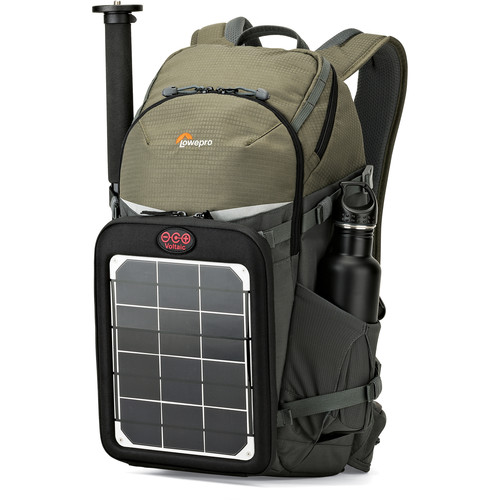 Looking at the new Flipside Trek 450 model, it would easily fit a big lens, like a standard 70-200 or even the Fuji XF100-400 or XF50-140. The two smaller version would definitely hold the Fuji 18-135 lens or the XF90mm. They look like they would fit any mirrorless lens except the two big telephotos I just mentioned.
With the new design and extra compartments, I love what I see in the Flipside Treks. They look really sweet, and they pretty much solved the main problem I had with the older Flipsides. It's as if they've been stalking me for the past few years. Hmmm…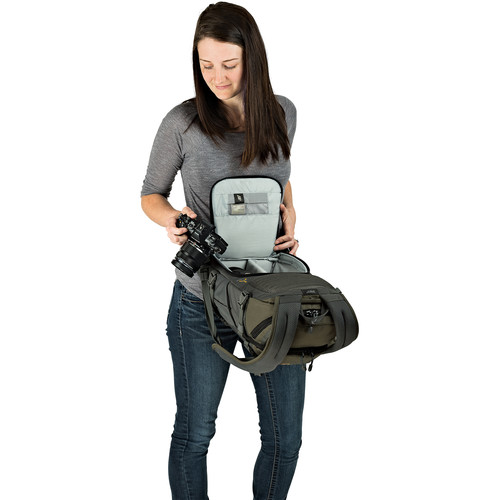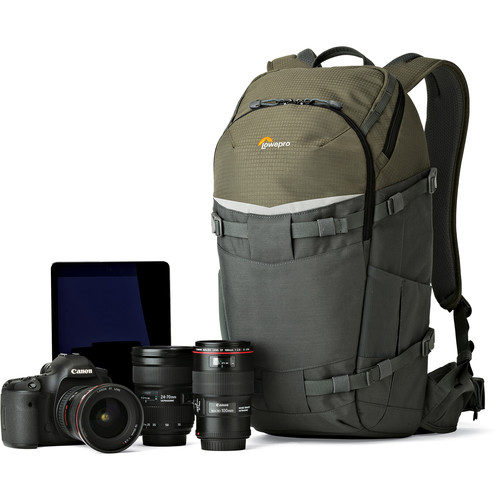 Apparently this series has been out for quite a while, which means I clearly haven't been paying attention. I used the Photo Sport during my two Scotland bike tours last year, but if I'd known about the Flipside Treks, I might have taken one of those instead. Either way, I think they're worth looking at and I may consider the 350 model as a good all around fast and light hiking and outdoor pack for myself.
If you're looking for an awesome, full-featured hiking or biking photography pack, I would highly recommend taking a look at one of the new Flipside Trek AW packs. They're nice and small, they hold just enough camera gear outdoor gear for small to mid-sized adventures, and, going from my experience of beating up Lowepro packs for many years, I'm sure they'll withstand a lot of abuse.
[iframe]<iframe width="120″ scrolling="no" height="240″ frameborder="0″ style="border:none;" border="0″ src="https://mer54715.datafeedfile.com/widget/aff_widget_prdt_generate-2.0.php?aff_num=6746&aff_net=1&widget_num=8093&sid=" marginheight="0″ marginwidth="0″></iframe><iframe style="width:120px;height:240px;" marginwidth="0″ marginheight="0″ scrolling="no" frameborder="0″ src="//ws-na.amazon-adsystem.com/widgets/q?ServiceVersion=20070822&OneJS=1&Operation=GetAdHtml&MarketPlace=US&source=ss&ref=as_ss_li_til&ad_type=product_link&tracking_id=danhbaisadvph-20&marketplace=amazon&region=US&placement=B01K1JSUMO&asins=B01K1JSUMO&linkId=5acd96c5920b804f0c99e10382b4616e&show_border=true&link_opens_in_new_window=true"></iframe><iframe style="width:120px;height:240px;" marginwidth="0″ marginheight="0″ scrolling="no" frameborder="0″ src="//ws-na.amazon-adsystem.com/widgets/q?ServiceVersion=20070822&OneJS=1&Operation=GetAdHtml&MarketPlace=US&source=ss&ref=as_ss_li_til&ad_type=product_link&tracking_id=danhbaisadvph-20&marketplace=amazon&region=US&placement=B01K1JT7Z8&asins=B01K1JT7Z8&linkId=f9958782ad82d2b3dfb6662dceb9a552&show_border=true&link_opens_in_new_window=true"></iframe><iframe style="width:120px;height:240px;" marginwidth="0″ marginheight="0″ scrolling="no" frameborder="0″ src="//ws-na.amazon-adsystem.com/widgets/q?ServiceVersion=20070822&OneJS=1&Operation=GetAdHtml&MarketPlace=US&source=ss&ref=as_ss_li_til&ad_type=product_link&tracking_id=danhbaisadvph-20&marketplace=amazon&region=US&placement=B01K1JTD8Y&asins=B01K1JTD8Y&linkId=bfc6e163622f055453ecec82fb083d90&show_border=true&link_opens_in_new_window=true"></iframe>[/iframe]