Yesterday I did some location photography at Speedway Cycles here in Anchorage. The subject- Tim Reinbold, the head mechanic building up a Fatback snow bike.
In some ways, shooting inside can be way more challenging than shooting outside. For one, there's more gear involved. Since the workshop is basically a dark room lit with overhead fluorescents, I took in my full location lighting kit, which includes a Nikon SB-900 Speedlight, a pair of SB-800s Manfrotto Nano Stands, Bogen Justin Clamps , a Lastolite TriGrip Diffuser and a 3′ x 6′ Photoflex Lite Panel with translucent fabric.
I set up the Lite Panel, which is attached to a light stand with a Manfrotto Super Clamp and a Bogen Friction Magic Arm over the main work stand. That would be my main light source while shooting at the stand and I placed a pair of Speedlights behind it with the dome diffusers on.
That worked well to light the shop with a large, even wash of soft illumination. Then, to add some additional interest, I took the third Speedlight, which was usually fixed to a Justin Clamp, or stuck on the Nano Stand and placed it somewhere else in the shop. I used that one to throw hard directional light onto the scene and add contrast, or else bounce light off of the tool wall. Sometimes I ended up using two directional light sources with only one flash behind the Lite Panel.
For what ended up as my favorite shot, I didn't even use the Lite Panel. I stuck an SB-800 on the a stand about four feet away from Tim and then lit the back wall with an SB-900. I placed it as far away as I could in the right corner of the shop and set the zoom to the 200mm setting so that it would throw hard light through the bike frames and cast those shadows.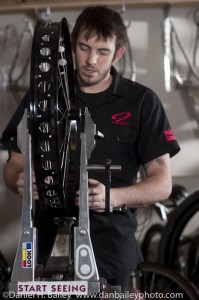 After a few shots, I stuck on the CTO gel to make it look like there was end of the day sunlight streaming in through a window of the shop. It's certainly a feasible look, so I went with it. I love the way it came out. Here's the scene without the CTO gel.
I triggered all the wireless remote Speedlights with the pop-up flash on my D700, which worked fine, even though I was moving around and sometimes standing in front of one of two of the flashes, like the close up shots looking through the bike wheel.
Aside from the lighting aspect, what made this shoot challenging is that Tim kept moving around. I didn't want to disrupt his workflow too much, so I'd just follow whatever he was doing at the time. Unfortunately, sometimes meant figuring out and setting up a lighting scheme right when he was finishing a task.
Overall, this shoot was a great experience in efficiency, because it forced me to be quick, and imaginative with camera angles, lens use and lighting setups. I used everything that I took in there and I was really happy with how all the equipment performed. The SB-900's high temperature cut-off only kicked in once for a minute or two, but otherwise it worked great. That's where the Nikon SB-700 would be a great unit for a shoot like this.
The SB-700 apparently runs a little cooler than the SB-900 and plus it's quite a bit less expensive. If I look to buy another flash unit soon, I might consider the SB-700 as addition to my 800 and 900 kit.