As we close out 2011 and say farewell to what has been a very exciting and awesome year for photography, I thought I'd list my 10 favorite photos of the year. If you'd like to do the same, be sure and submit your gallery to Jim Goldstein's Best Photos of 2011 list.
Anyway, as usual, I had a difficult time narrowing down my best shots. Besides, with 'best' being such a subjective term, I went instead for my favorite images of the year. Stay tuned for more "Best of 2011" blog posts this week. Hats off and sincere thanks to readers who actually remember each of these shots from their original posts earlier in the year.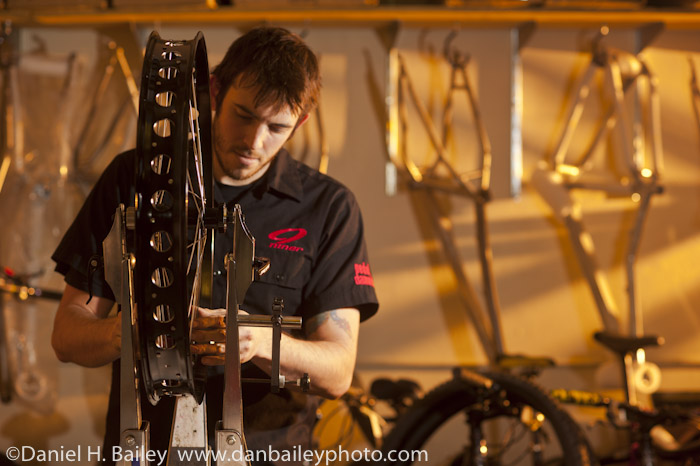 I began 2011 with some new photographic ideas, many of which revolved around expanding the scope of my off-camera lighting skills and techniques. I'd been experimenting with flash for years, but after ending 2010 with some new equipment and a strong vision for where I wanted to take my lighting style, I looked for ways to experiment.
This photo of mechanic Tim Reinbold building up a Fatback snow bike wheel at Speedway Cycles in Anchorage became an instant favorite. I love the dramatic blast of warm light through the bike frames of the back wall, which I created with a gelled SB-900 Speedlight. I was so pleased with this image because it set the tone for what was to come for me later in 2011 with my Going Fast With Light eBook. (Read about this photo shoot here.)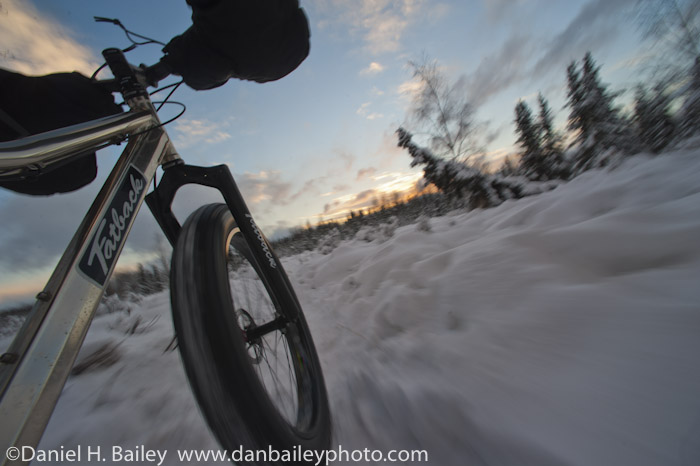 Remember, this one from The Snow Bike and The Super Clamp? I had a great time coming up with this idea on a cold afternoon in January. It might have even been Super Bowl Sunday, but hey, fresh snow and afternoon light called.
I think the reason I had so much fun with this one, was because I just turned myself loose with a vague notion of what the kind of shot I'd wanted to achieve, and then set about trying to make it happen. Creative catharsis. Photographic freedom. Shooting for myself and by myself, which is something that we don't always make time for.
As excited as I was about this shot, I was even more excited when Alaska Magazine chose this shot for a two-page section opener in their August 2011 issue. This was a great reminder that often times our more freeform creative work often ends up being our best work.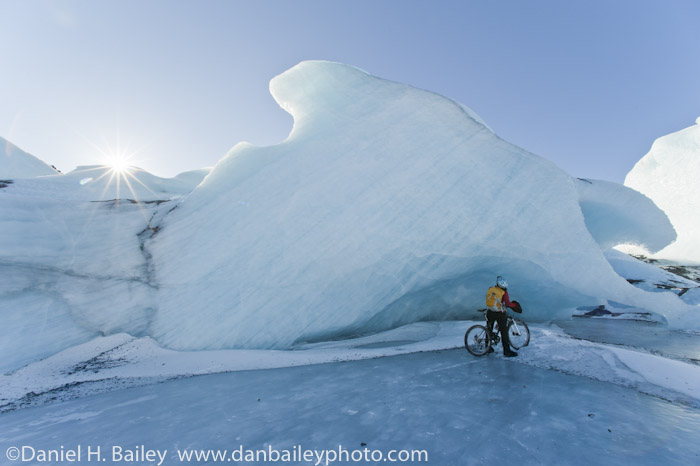 In March of 2011, we rode our bikes out to the Knik Glacier. Aside from being an incredibly cool adventure, it was an awesome photo opportunity As we pedaled down the frozen, snow covered Knik River, up over the moraine, down on to the frozen lagoon and around house sized blocks of ice, I shot hundreds of photos and filled up card after card.
This one turned out to be my favorite, probably because of the sunstar and the fact that it tells the story of just how big these frozen icebergs are. In my mind, it gives a feel for just how intimately we circled among them as we spent the day in this otherworldly frozen landscape.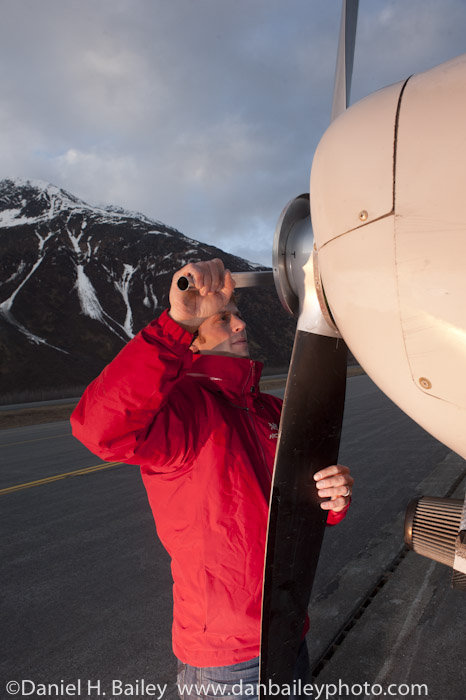 In Alaska, you know it's summer when the skis come off and the bush wheels and floats go on. For the second year in a row, I went out to the Valdez Air Show and Bush Pilot Fly-in and went crazy with the camera. Unlike the year before, though, when I mostly just shot planes, this time I packed a few flashes and a Lumiquest Softbox III.
My creative ideas for photographing the 2011 Valdez Fly-in revolved around shooting bush pilot portraits and capturing not just planes, but personalities and the people behind Alaska aviation.
Although I really like many of the photos that I shot at the 2011 event, this one seems to be my favorite. It's more of a candid shot that shows the close interaction that this pilot has with his plane. I also love the lighting, which was done with a single CTO gelled SB-800 that's sitting on the ground about 25 feet away.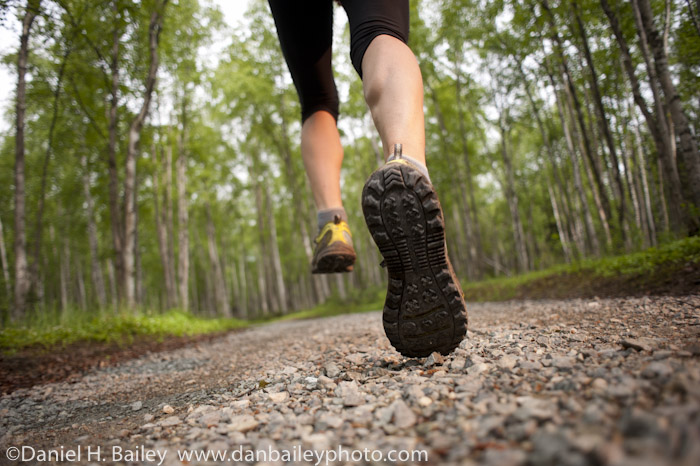 I've been shooting trail running for years, and every time I go out, I hope to create an image like this. I've worked at it many times, and I've nearly been kicked, run over and stepped on, in my quest to capture the perfect shot, believe me.
However, this year, I finally nailed it. Shot in my favorite spot on the Campbell trails in Far North Bicentennial Park in Anchorage, Alaska. To me, this shot has it all: framing, color, background, subject, tones, sharpness. This is the one. Wonder what I'll try to do next time?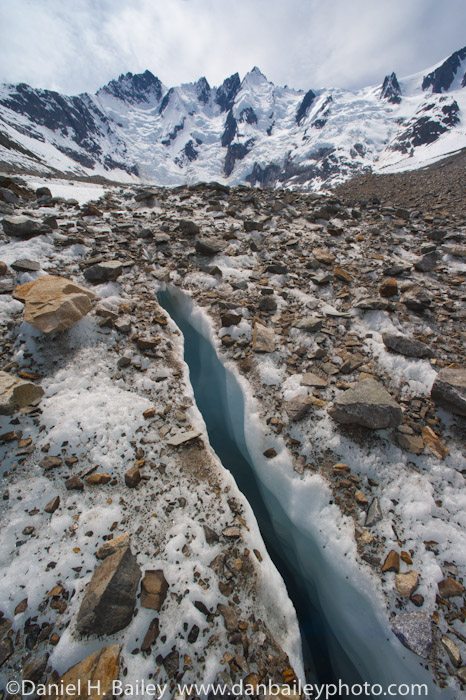 In late June, I traveled down to Skagway, Alaska to shoot another assignment for Holland America's Mariner Magazine. The job focused on the White Pass & Yukon Railroad that follows the historic Klondike Gold Rush route from Skagawy to Whitehorse.
One of the really cool things about this train is that there are a couple of great hiking spots along the way. You can just jump off the train, tromp around for a few hours, and then get back on the return train as it heads back to Skagawy.
Always up for a hiking adventure, I got off at the Laughton Glacier trailhead and hiked literally as far as I could up the trail, onto the moraine and all the way to the end of the rocks before I would have needed crampons, ice axe and a rope. With a light daypack, I moved fast and light, savoring the rugged terrain as it turned from forest, to rocks to pebbles over ice, where rivulets of melting ice trickle down and spill into cracks like this one.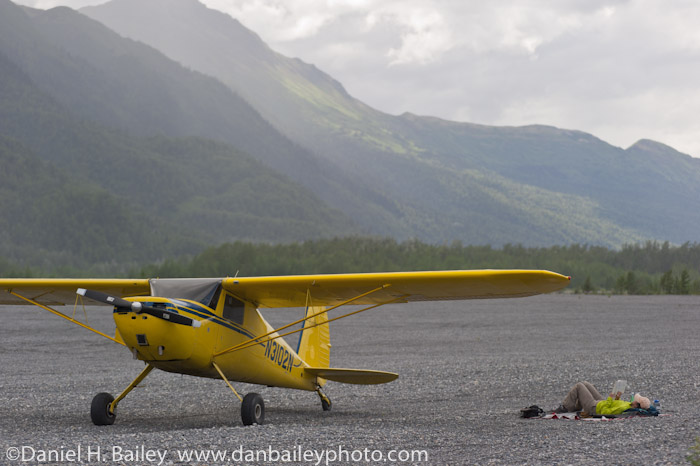 2011 will go down in history as the year when I bought my very first airplane. In May, I purchased N3102N, a 1947 Cessna 120, and spent wonderful summer months learning the ins and outs of flying a taildragger and exploring some backcountry strips around this part of Alaska.
To me, this shot illustrates what my summer was all about. It's my plane and my sweetie during a 4th of July picnic on the Kink River gravel bars. Shot with my D700 and 80-200mm f/2.8 lens.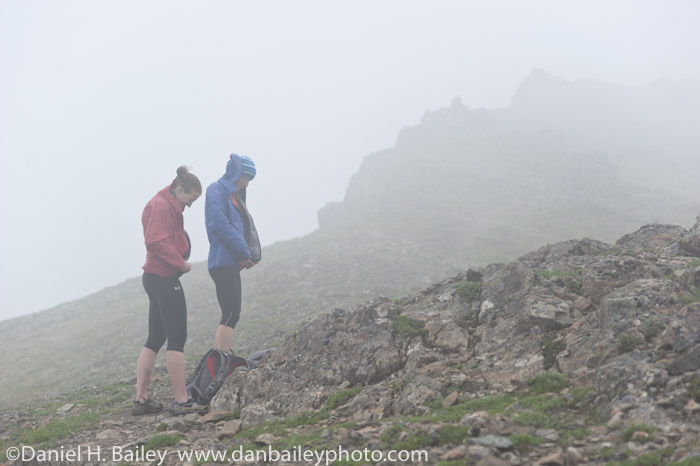 Ah, Summer hiking in Alaska. During what started out as a sunny afternoon run/hike up Wolverine Peak here in the Chugach Mountains, I shot this photo as we popped up onto the ridge and suddenly went from short sleeves to puffy jackets.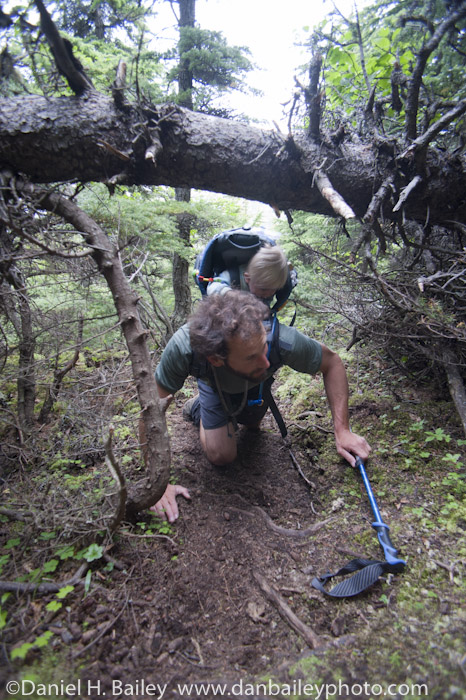 My friend Eric Parsons and I have enjoyed countless adventures over the years. (Do a search on this blog for Eric Parsons and see what comes up.) Well, now Eric has a new adventure partner, his little boy Finn.
Not one to slow down, Eric takes Finn on all sorts of exciting hiking and cross country skiing excursions. One summer day, I went with them and had a great time documenting my good friend, um… not slowing down. Let's just say that he's not one of those over-protective parents. I love the interaction between Finn and Eric here, and will look back at our hike as one of my highlights of the year.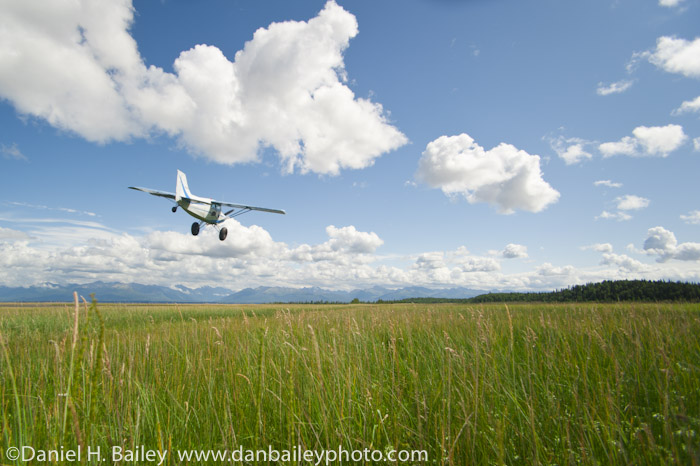 Another aviation shot. One day, my friend Chet and I flew across to the other side of the Kink Arm and landed on the grassy flats. We couldn't have asked for a better day to fly and goof off… er, I mean work. Sunshine, warm temperatures, a slight headwind to make short takeoffs and landings easier, and wonderful serenity in a place where you can only reach by flying.
I shot this as we prepared to leave and head back to town. Chet gave me a couple of low flyovers in his Maule. I put the D700 on high speed continuous and let the shutter rip as he flew by. This one's my favorite. It even made it into the 2012 Alaska Airmen's Calendar.
In August of 2011, I traveled to Barrow, Alaska on assignment. It was the farthest north that I'd ever been and my first glimpse of the Arctic Ocean. Summer officially "closed" when I was there; Barrow saw its first sunset in 84 days, and as the long day came to a close, I waked the beach with my camera and shot this around 1:30 AM.
Although it was hard to choose, this shot of a driftwood whaling boat frame on the shores of the Chuckchi Sea is my favorite from the series. Read more about my trip to Barrow and how I swam in the Arctic Ocean in my photo essay, Notes on a Starless Summer in Barrow, Alaska on Matador Network.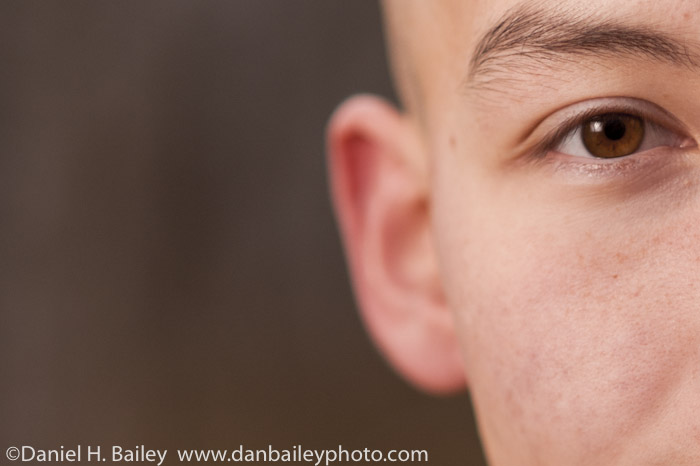 You stick a camera in front of your subject, pop the flash off to the side and click the shutter. Sometimes it's just that easy. Only that isn't how I got this shot. This one was made purely by accident. While zooming in to dust spot this image in Lightroom, I happened to see this exact crop show up on the second monitor. It wasn't what I'd planned, it came about purely by chance.
Being totally blown away by what was staring back at me, I switched to the crop tool and replicated the exact framing and saved the image. Sometimes all is takes is a crop. I love it!