As far as I'm concerned, the iPhone literally represents the future (I'm still waiting for flying cars), and the creative technologies that it has spurned offer some pretty amazing innovations for us self-employed creative types.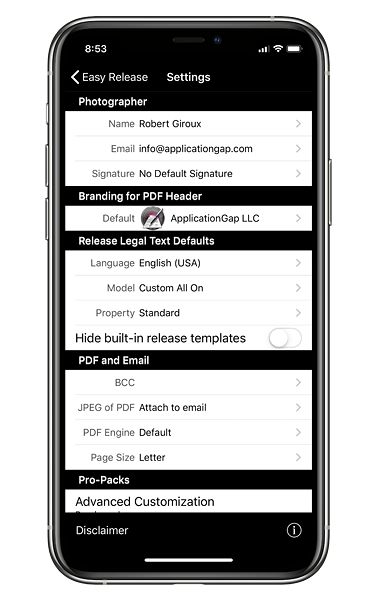 A great example of this can be found with Easy Release, an iPhone app that was just released by Application Gap. Developed by two veterans of the stock photography industry, Easy Release allows you to create model and property releases right on the iPhone. You can obtain a signature right on the touch screen and then email the completed release as a PDF file to yourself.
Most of us carry blank releases in our camera bags, but let's face it, there are times when you find yourself out in the world shooting photos of a great looking model, and for whatever reason, discover that you don't have any spare release forms with you. I almost always have my iPhone, though, so this app could proove to be pretty handy.
I figured that it was definitely worth a try, so I downloaded Easy Release onto my iPhone 3G and created a release for myself. Judging from the pictures on the website, it worked pretty much like I expected it to, and filling out the required fields was just like filling out any other iPhone based form. Signing right on the iPhone produced an acceptable signature, but it's a little hard to get smooth handwriting with your finger; a stylus would probably help.
My quick review? While it's definitely faster and easier to have your models fill out and sign a paper form, having this app could mean the difference between getting a release and not getting one in certain situations. Stock shooters know that released images are much more marketable, especially if you want to sell the shot through an agency.
Easy Release is available through the Apple iTunes Store and costs $9.99.