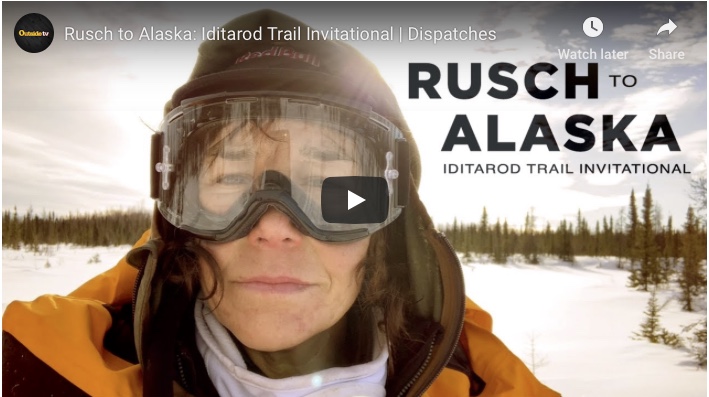 The movie Rusch To Alaska: Iditarod Trail Invitational is now available to watch on Amazon. The 23 minute film, which we shot last winter, takes you on a 350 mile journey with world champion cyclist Rebecca Rusch as she races in last year
I'm extremely proud of this film, because it was not only my first real video project, it was my first time earning a Director credit. We made the short feature for Outside TV, and it combines my own footage, which includes a number of interviews with Rebecca and other racers, race directors and accomplished fat bikers, with Rebecca's own first person Go-Pro Footage that she shot while out on the trail.
The "ITI" as it's called, is a grueling suffer-fest in brutally cold temperatures, and with Alaska's extremely remote setting and unforgiving winter environment, it tests the limits of the competitors like no other event. Many of my friends have competed in the ITI, with a few of them having won it over the past few years.
Even though she's an extremely accomplished cyclist and long time endurance athlete, by her own admission, Rebecca does not do well in the cold. She was terrified of the prospect of riding many hours in the dark under sub-zero temps for days on end, but she faced her fears and embraced the challenge.
All of my footage was shot on the Fujifilm X-T3, which is an extremely capable professionally video camera. I used a variety of the shorter Fuji prime lenses, including the XF35mm f/2, XF50mm f/2, XF23mm f/1.4, and also the XF50-140mm f/2.8.
Read this post to see some of the specific tools and settings I used to film the project. 
There's a lot of really great stuff in this movie, including great scenery, numerous whipeouts and some very introspective and emotional first-person commentary by Rebecca. I'm really proud to have worked on it and so I encourage you to give it look and let me know what you think!