I'm excited to announce that RUSCH TO ALASKA: Iditarod Trail Invitational is now being aired on OutsideTV, and I'm especially honored to have the Director of Photography credit.
This past winter, I had the awesome assignment of filming Rebecca Rusch's Alaska fat biking adventure along the Iditarod Trail, and the episode has finally been released! Rebecca is a professional athlete, and although she's no stranger to suffering through difficult expeditions, the extreme 350-mile Iditarod Trail race was the one race she said she'd never do.
However, after being talked into it by her friend Jay Petervary, who has won the race many times, she accepted the challenge to push her limits in ways that she never had before.
Having worked with Rebecca last summer, she enlisted me to film her adventure, and although I had never done a full-length, immersive video project like this before, I accepted the challenge in kind and jumped in with both feet.
The full 22-minute episode, which premiered this week, alternates between my footage and Rebecca's own GoPro footage out on the trail. A few scenes shot by other people are included as well, since I couldn't be everywhere all the time during the race.
The title photo for the episode is a selfie that Rebecca shot of herself out on the trail. I was blown away when I saw it and immediately knew that it would be the best option for the key art. I can't take credit for the shot, but I did introduce Rebecca to the "Portrait Mode" feature on the iPhones. 😉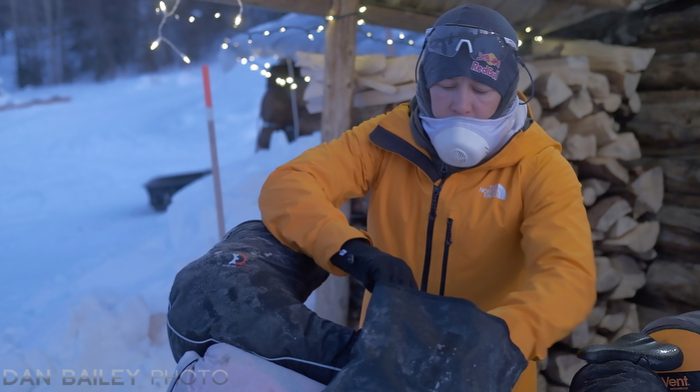 I shot everything on my Fujifilm X-T3, which has full-on pro video capabilities, using a variety of the shorter Fuji prime lenses, including the XF35mm f/2, XF50mm f/2, XF23mm f/1.4, and the XF50-140mm f/2.8.
For most situations, I attached the vertical grip for the X-T3, simply because it gives you those two extra batteries. Shooting video drains them much more quickly; add in cold temperatures and it almost becomes a necessity, especially if you're shooting longer clips. During downtime, I could charge two batteries together by plugging the grip into the wall via the include 9v AC adapter.
For audio, I mostly used the Fujifilm MIC-STI Stereo Microphone, either in the camera's hot shoe, or extending it with a 10′ cable, sticking it on a Manfrotto Justin clap and clipping it to anything I could find that would offer me closer placement.
For all the interviews, I used clip-on lapel mic, and monitored sound via a pair of BOSE headphones that were plugged directly into the X-T3's headphone port.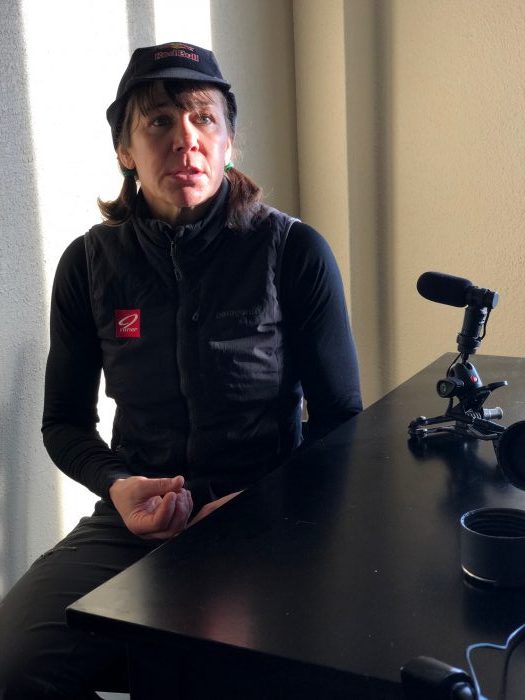 Even though I'm a relative video newbie, I felt that my extensive photography experience translated well to this new format. After all, it's still based on light, framing and being able to recognize key moments as they unfold.
Following with my regular style, I often shot handheld and moved around quite a bit. However, depending on the lens and framing, certain shots necessitated the use of a tripod in order to avoid getting that "shaky" look to the video
Except for scene in bright sunlight, I tried to shoot everything at 48 frames per second in order to give the footage a more "film-like" feel rather than a fast "sports video" feel. I mostly used the stock ETERNA film simulation, which is modeled after Fuji's classic motion picture film.
Throughout the project, I made use of a number of the X-T3's video features, including the ZEBRA SETTING highlight warning, which I kept at 95%, and AF-C CUSTOM SETTINGS, which lets you adjust how the autofocus performs with regards to acquire speed and "lock-on." When shooting stills, you always want the fastest acquire possible, but with film, you sometimes want a slower acquire so that it doesn't look too jumpy.
Overall video performance of the X-T3 was incredible. It worked fine in the cold, down to -20F, the autofocus did great, although to make sure it didn't "hunt" during a low-movement scene, I often locked on, then switched to Manual Focus with RED/HIGH peaking, and I made use of FACE DETECTION AF whenever possible.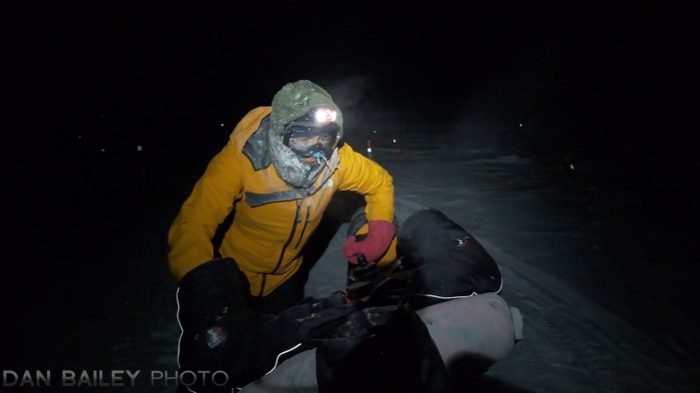 Overall, I'm super excited to see this project finally come to air. I'm really proud of my work on this episode, I learned a ton and was super impressed at how well the X-T3 performed. I definitely look forward to doing more projects like this in the future.
Since filming this episode back in March, I've jumped even more into the world of video. I've even added to my equipment arsenal with the purchase of an ikan Delta 7″ HDMI external monitor. I've found this to be an extremely useful item when shooting the video lessons for my new Photography On The Brain series.
You can watch the full episode of RUSCH TO ALASKA by downloading the free Outside TV app and subscribing to their premium channel. Or you can just do the 7-day free trial.
Huge thanks to Rebecca for including me in this amazing opportunity, and also to Allyson Davis, Kathi Merchant, Revelate Designs, Speedway Cycles and FUJIFILM, and all the people I interviewed for their awesome support.