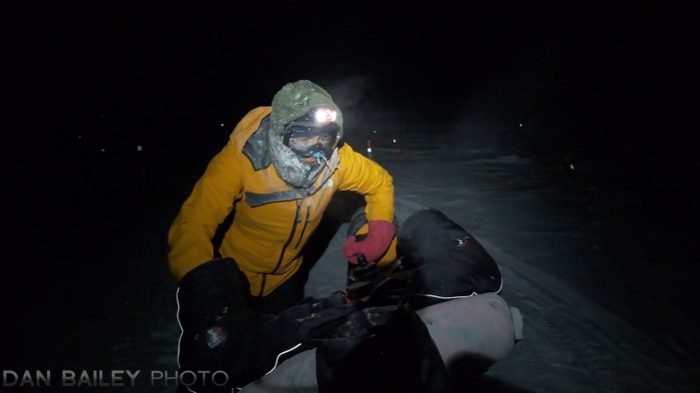 I spent last week documenting Rebecca Rusch's fat biking adventure along the Iditarod Trail Invitational, a 300+ mile ultra winter endurance race that crosses the Alaska Range and traverses through vast sections of wilderness in brutally cold temperatures.
This was a first for both of us. Despite being a champion cyclist and world-class endurance athlete, this was Rebecca's rookie year in the ITI and her first time racing in extreme cold conditions for days and nights on end. And despite my two-plus decades as a pro photographer, this was my first real video project. 
Although I've dabbled with shooting and piecing together short clips for social media, I generally don't consider myself a video shooter. Up until this point, I have resisted jumping in the pool, for two main reasons: one, because I'm endlessly fascinated by the power of still imagery, and two, because I'm terrified of the huge time and equipment commitment that video requires.
However, I took this project on for two main reasons: one, because I'm endlessly fascinated with Rebecca Rusch, and two, because the Fujifilm X-T3 is a highly capable video camera. Oh yea, and because when a client comes knocking at the door, your answer is ALWAYS "Yes, I can!"
No, this was not my X-T3. You can tell because there's no snow and no bike riders in front of it.
Last year, before Fujifilm announced the X-T3, they commissioned a full 9-minute cinematic film called A Different Beyond. The project was shot entirely with the X-T3 camera system and Fujifilm cinema lenses and directed by Matthew Libatique, whose credits include Black Swan and this year's highly acclaimed movie A Star is Born. 
A Different Beyond is a gorgeous film, and it highlights just how capable the X-T3 is for shooting high-end video and film productions. With amazing 4K, 60p 10-bit, 400MB/s video specs, the X-T3 is clearly Hollywood ready, as you can see in the picture above.
Although I'm light years removed from this kind of project, I was blown away when I watched A Different Beyond. Even with my limited experience, I was very intrigued by the quality and door-opening possibilities of what today's cameras technology offers.
That said, my approach to the Rebecca Rusch/ITI project was much more simple, and it closely matched my "fast and light" style. Much of the time, I shot with the X-T3 body and one of my Fuji primes, like the XF35mm f/2, XF50mm f/2 or XF23mm f/1.4. A few times, I used the workhorse XF50-140mm f/2.8.
Often, I used the vertical grip for the X-T3, simply because it gives you those two extra batteries. Shooting video drains them much more quickly; add in sub-zero temperatures and it almost becomes a necessity, especially if you're shooting longer clips. Then, during downtime, I could charge two batteries together by plugging the grip into the wall via the include 9v AC adapter.
Although the X-T3 shoots gorgeous 4K video, I shot entirely in 1080p Full HD at 200 MB/s. (4K requires much more resources, computing power, card space, battery power, streaming bandwidth, etc…) Full HD on the X-T3 still looks amazing and it's perfectly suitable for most outlets.
I used the stock ETERNA film simulation, which looks great and offers very wide dynamic range. It's also highly suitable for color grading, which is often done during the post production stage.
Before the shoot, I spent some time on the phone with one of the Fujifilm Professional Markets Training Managers. He gave me some very good tips to get me started with regards to basic capture settings. That helped a lot.
Keep in mind, these are are all screen grabs in this post, shot at 48 frames per second, with ISO varying between 160 and 3200. I could have shot at higher frame rates, but then you lose the "film" feel and it starts to look like a TV sporting event.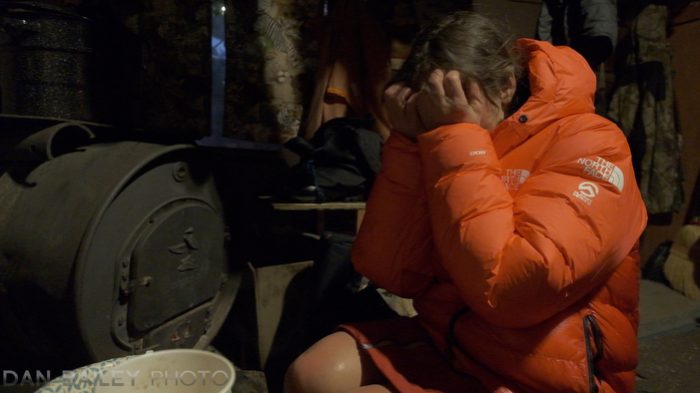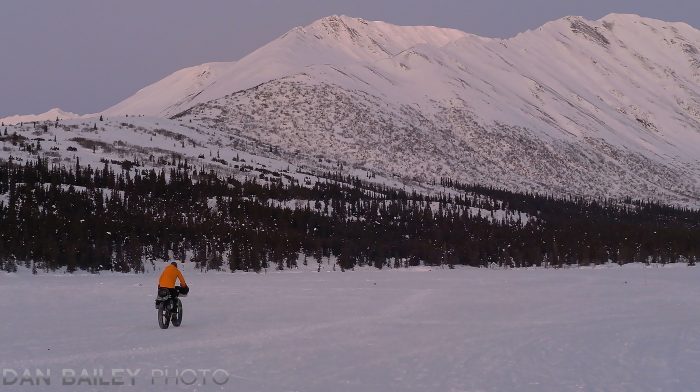 For audio, I mostly used the Fujifilm MIC-STI Stereo Microphone, either in the camera's hot shoe, or extending it with a 10′ cable, sticking it on a Manfrotto Justin clap and clipping it to anything I could find that would offer me closer placement.
I also used an Insignia brand lapel mic, which came in handy for interviews. I monitored sound via a pair of BOSE headphones that were plugged directly into the X-T3's headphone port. Yes…! My audio engineering training finally comes in handy!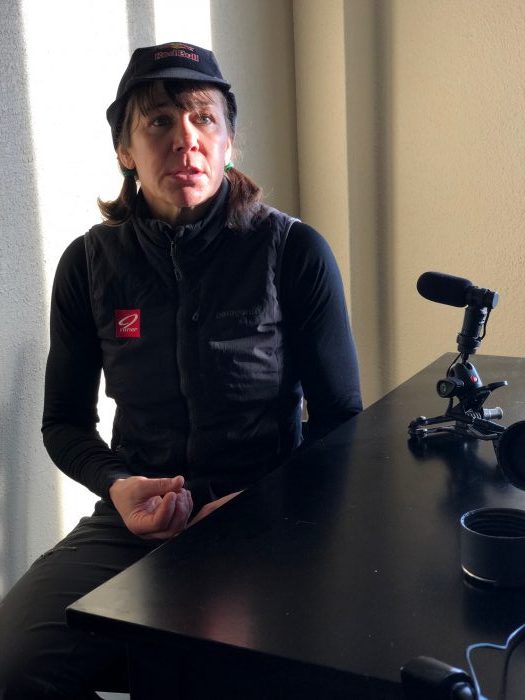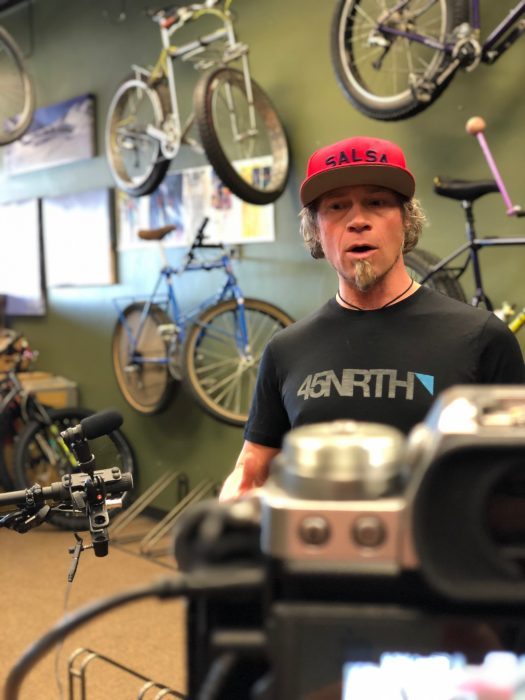 After starting with the pre-race activities, I shot at the start, the halfway checkpoint at Rainy Pass Lodge, and at the finish in the town of McGrath. My traveling/producer companion was Ally Davis, who is Rebecca's Media/Business partner, and we spent the week traveling by bush plane, hanging out in the cold in remote Alaska and capturing different aspects about the ITI.
Although I'm a video newbie, I felt comfortable working in this new format. I feel that my photography experience with light, framing and being able to recognize key moments as they unfold translated well and helped me capture some great clips.
As with my regular "still style," I often shot handheld and moved around quite a bit. However, depending on the lens and framing, certain shots required a tripod to avoid an overly shaky look to the video.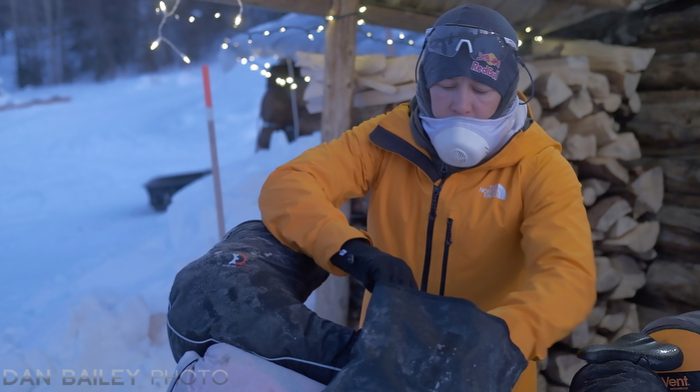 Throughout the project, I made use of a number of the X-T3's video features, including AUDIO SETTING, the ZEBRA SETTING highlight warning, which I kept at 95%, and AF-C CUSTOM SETTINGS, which lets you adjust how the autofocus performs with regards to acquire speed and "lock-on." When shooting stills, you always want the fastest acquire possible, but with film, you sometimes want a slower acquire so that it doesn't look too jumpy.
I also used the HIGHLIGHT/SHADOW TONE settings quite often. In fact, I stuck all of these settings into the X-T3's MY MENU so I could quickly adjust parameters on the fly. And since it has a separate video settings for photo and video, I could easily switch back and forth when I needed to capture stills.
Overall video performance of the X-T3 was incredible. It worked fine in the cold, down to -20F, the autofocus did great, although to make sure it didn't "hunt" during a low-movement scene, I often locked on, then switched to Manual Focus with RED/HIGH peaking, and I made use of FACE DETECTION AF whenever possible.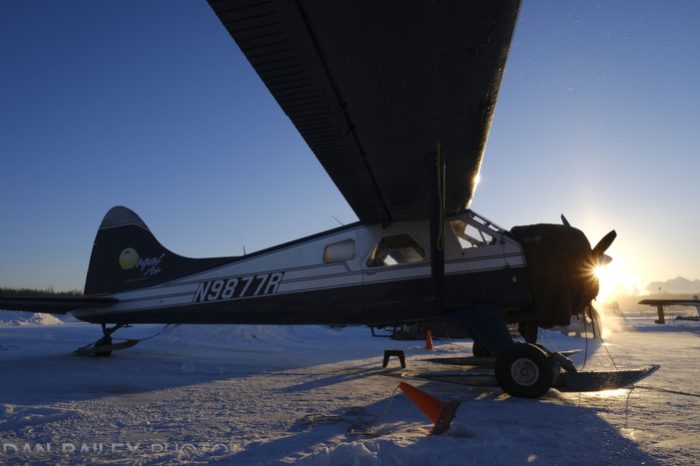 Even though I'm new to this world, I shot with confidence and I feel good about the footage we got. After all, it isn't really the shooting part that keeps me away from doing more video, it's the additional time involved. The reality is that I'm afraid I'll really like it and right now, I can only afford to like it so much.
Fortunately, I won't have to do the editing. We documented Rebecca's Alaska adventure for Outside TV and Red Bull, so their in-house production departments will handle all of the post.
Originally designated for 10 minute shorts, we have enough video for a much larger project, so we're hoping that this will be extended to a full length feature/episode on their channels. I'll be very excited to see how it all ends up.
Bottom line, the X-T3 is an amazing video camera, and it will handle any kind of project you throw at it.
Of course, the real question is, did I suddenly become a video shooter? Am I hooked? Let's just say I'm intrigued. The main reason I took this on is because I have a very good working relationship with Rebecca Rusch and a special admiration (ahem… professional crush) for what she does. I wouldn't have done this for just anyone, and when it all comes down, I still love the magic and power of still photographs.
That said, it was a fun change of pace, a good exercise and a new challenge to dip my toe into this world. I learned a lot, I gained some valuable experience, and as an X-Photographer and X Series guidebook author, I suddenly have a lot more insight when it comes to shooting video on the Fuji cameras.
With my newfound skills and confidence, I'm sure I'll transition into doing more video. I do enjoy putting together short pieces to score myself, mostly because it gives me an excuse to play music at my desk and call it work.
Check out Rebecca's Instagram to read detailed and personal accounts of her ITI race experience; they're quite compelling. And stay tuned for the final film, I'll let you know as soon as it's released.