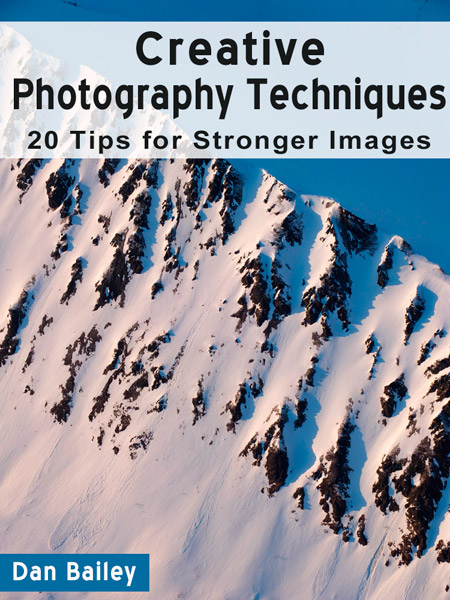 I just published a brand new Kindle eBook called Creative Photography Techniques – 20 Tips for Stronger Images.
In this guide, I present 20 simple tips that help you break out of a creative rut and throw some new excitement into your photography. They're designed to get you thinking actively about your photography, because making powerful images should never be a passive activity.
These 20 tips are all short, concise and easy to remember, and yet they clearly outline a few necessary elements that are needed to produce a great image. They're not meant to be hard set rules, they're meant as ideas to help inspire and jump start your own creativity.
FYI, you don't need a Kindle to read this eBook, in fact, you can read it on just about any device- iPads, iPhones, Android, Macs, PCs, you just the free Kindle app.
Many of the tips I present in this eBook can be found here on the blog, but here you get them all in one place. No need to go digging. It's like your own personal creative guidebook that you can take with you and reference anytime you wish.
No matter if you're shooting landscapes, people, action, sports, adventure, cityscapes, street scenes, your kid's soccer game, or faraway landmarks in exotic locations around the world, these techniques will help you create more dramatic imagery and improve your outdoor and nature photography. Even if you already know all of these techniques, reviewing them again and seeing how they apply with different imagery might give you new insight on how to apply a specific technique to your own subject matter.
Creative Photography Techniques – 20 Tips for Stronger Images is available exclusively on the Amazon Kindle store. The best part- right now, it only costs 99 cents. I've priced it as low as the Kindle store will allow, because I want you to have these tips so that you can add them to your own compositional bag of tricks. Please note that this special introductory price won't last indefinitely, so get your copy before it goes up.
If you're a regular reader here on my blog, then you know how much effort I put into passing on my knowledge and insight in order to help you become a better photographer. I wrote this simple guide because I believe that knowing these techniques can help you get there.
So pick up a copy of Creative Photography Techniques today. You can read it on any device. Also, do me a favor: Please consider leaving a review on the Amazon product page, "Like" the page, and share the link with your other photographer friends on Facebook, Twitter and Pinterest. If you've got an Amazon Associates account, you can even point your readers to the page with your own affiliate link.
Support this site by helping me get these tips out to as many people as possible. Thanks, I really appreciate it. And as always, thanks for reading. -Dan
[iframe]<iframe src="http:///e/cm?lt1=_blank&bc1=000000&IS2=1&bg1=FFFFFF&fc1=000000&lc1=0000FF&t=danhbaisadvph-20&o=1&p=8&l=as4&m=amazon&f=ifr&ref=ss_til&asins=B0092S4PL6″ style="width:120px;height:240px;" scrolling="no" marginwidth="0″ marginheight="0″ frameborder="0″></iframe>[/iframe]