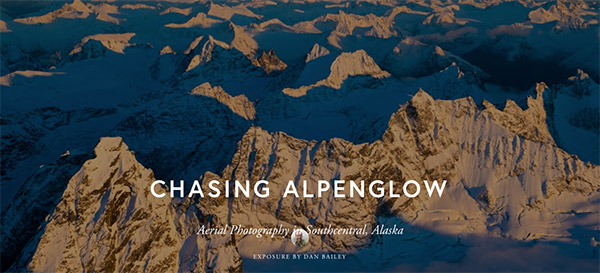 I'm excited to announce my new mini-site: Adventures.danbaileyphoto.com, which will feature some of my favorite image collections as big, pretty photo essays. It's candy for your eyes, with just enough flavor and story information to make you feel like you're part of the adventure as well.
I love writing and posting about my adventures here on the blog, but let's face it, sometimes the format just doesn't do much for the photography. I wanted to find a theme that displayed images the way they should be seen, sometimes as full screen and sometimes as small groups of photos that go together. This new clean format gives you the viewing experience that I would want you to have. I'm really excited about how it looks!
My first story on the site is Chasing Alpenglow – Aerial Photography in Southcentral Alaska, and it highlights a few of the aerial shooting missions that I've done with my little Cessna during the past two years. It takes you on a photo journey over the Chugach Mountains, the rugged Kichatna Spires, the  Neacola range and the Knik Glacier.
Enjoy the photo essay, share it with your friends, then bookmark the page and look for more stories coming soon!